Join the Natural Deodorant Challenge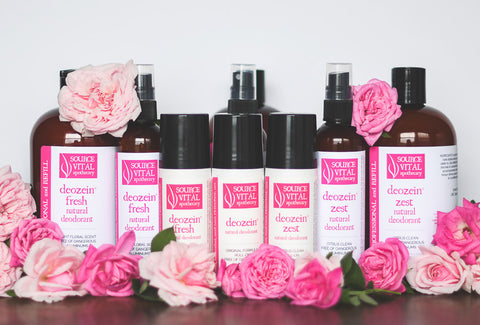 Support Life-Saving Breast Cancer Prevention Services & Win Great Prizes
This October we are hosting our second annual Natural Deodorant Challenge in honor of National Breast Cancer Awareness Month and our friends at The Rose. 
We believe everyone can enjoy the benefits of using a natural deodorant and the month of October is the perfect time to make the switch from traditional antiperspirant deodorants that may contain potentially dangerous ingredients such as: aluminum chlorohydrate, aluminum zirconium, aluminum chloride.
Why Switch to a Natural Deodorant?
Deodorant is one of those personal care products that we use every single day. With growing concern about how our body absorbs products overtime, using clean, non-toxic formulas are a safe option that many are looking for. 
Natural Deodorants Do Not:
Interfere with the body's natural processes to get rid of toxins
Block sweat glands or inhibit the regulation of body temperature
Irritate the sensitive underarm area
Contain potentially toxic or irritating ingredients
Cause the underarm area of shirts to yellow
When changing from a conventional deodorant many people experience what they refer to as a detox period as the body adjusts itself to a natural formula. This can take anywhere from a couple of weeks to a month. That's why the Natural Deodorant Challenge lasts a full month, it gives you a chance to fully appreciate the amazing feeling of going natural.
For more information about the benefits of  natural deodorant click here to read our blog "Six Unexpected Benefits of Switching to a Natural Deodorant."
How to Join the natural Deodorant Challenge?
It's easy! There are two ways to participate in the Natural Deodorant Challenge and be entered to win some great prizes. One is by posting on social media and the other is by entering on our website.
Hint: when you enter by filling out the form on our website, you'll get five bonus entries. Click here to enter now!
To Enter Via Social Media
Visit our Instagram feed at: https://www.instagram.com/source_vital/ 
Look for our Natural Deodorant Challenge post
Tag 3 of your friends in the comments section
Follow @source_vital (on Instagram)
Use #naturaldeodorantchallenge
Note: Each post counts as an extra entry.
Earn 5 BONUS Entries by Entering Online
Give yourself a better chance to win by taking the challenge on our website. Once you fill out the quick and  simple form you'll then have the opportunity to earn 3 ADDITIONAL BONUS entries by sharing the contest with your friends. 
Visit the Natural Deodorant Challenge landing page by clicking here
Fill out the form
Hit enter
Share the link with friends to earn even more entries!
And don't forget to brag about joining the challenge with your friends. We all swat, it is a natural process that is actually good for us. Plus, this is a great way to help women get access they need to life-saving screenings and diagnostics.
Win Great Prizes
When you join the Natural Deodorant Challenge, using the methods above, you will be entered to win our grand prize, which includes: $1,000 donation to The Rose in your name or in honor of a loved one, a year supply of Deozein natural Deodorant and $100 Source Vitál git card. 
In addition we will hold weekly drawings for a year's supply of natural deodorant, so make sure you check back with us on social media throughout the month.
The first weekly drawing will take place on Monday, October 7, the last weekly drawing will be on Monday, October 29. We will announce the Grand Prize winner on November 7. There is no purchase necessary to win. 
Support a Great Cause
This month when you purchase our special edition pink-labeled Deozein Natural Deodorant, $5 from each bottle will go to support The Rose, a non-profit organization that provides mammograms, screenings, diagnostics, treatments and other quality breast care health services to all women, no matter if they have the financial means. 
A mammogram for someone that doesn't have insurance costs over $100. That's an amount that can be too burdensome for manny women. We know one of the best ways to survive is to get an early diagnosis. The Rose has helped more than 500,000 patients - let's work together to allow them to provide life-saving services for even more women. 
---