Source Vitál is now Source Vitál Apothecary! Same Great Products, New Look.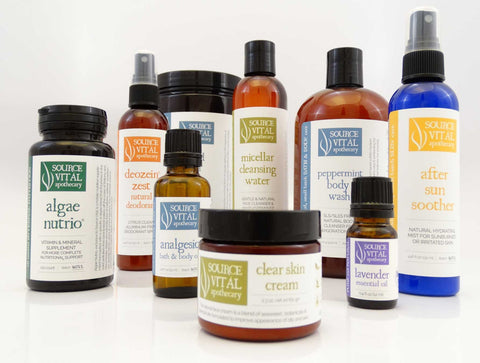 Welcome to the new Source Vitál Apothecary.
After lots of preparation and tweaking we are excited to launch our first repackaging and re-branding efforts since 2009. It's a new look and name for the same great products.
Modern Apothecary
So what is an apothecary anyway? It sounds kind of old world, medicinal and maybe a bit magical. However, an apothecary was essentially a natural pharmacist, a skilled "practitioner," who formulated natural remedies from plants, herbs and other natural ingredients. These elixirs would be handmade to treat a host of common complaints and illnesses.
Just like traditional apothecaries, we formulate elixirs, potions, tonics and regimens to improve the appearance and feeling of health for the skin, body and spirit – just without the mortar and pestle (okay, so we break out the mortar and pestle sometimes).
Handcrafted, Small Batches to Ensure Freshness
Our line is made in small batches and handcrafted from the highest quality natural ingredients. We have formulated each and every product to work in harmony with the body, not against it.
In this way, Source Vitál Apothecary, is truly a modern apothecary brand.  

Real Ingredients
Natural ingredients, derived or present in nature, are the foundations of all skin and body formulations. Nearly all of our products contain a potent cocktail of:   
Mineral-rich seaweeds
Whole plant botanical extracts
100% Pure Essential Oils 
You won't find any other product line on the market that includes the high concentrations of these naturally beneficial, active ingredients.
That's our commitment – natural products made with components of the land and the sea – to feed the skin, enriching it with the nourishment it needs for to be truly healthy, thereby reducing the visible signs of aging, acne, dehydration and inflammation.
No one says it better than our founder Jerry Pope, "A product can be no better than its components."
Personalized Care
Our modern lifestyles are not always conducive to optimal health. Processed foods, hectic schedules, pollution, not enough exercise, all of these impact how we look and feel. Our mission is to undo some of the bad.
There is no one prescription that fits for everyone. This is why we aim to offer a variety of protocols to care for each individual's specific needs. Those needs may involve battling a specific skin condition, fighting the ageing process, restoring vital nutrition, or reconnecting with the spirit.
Our new packaging offers a cleaner, crisper, artisan look that is color coded according to product function. This makes it easier to identify the product that best meets your skin, body and aromatherapy needs.
Here's a quick breakdown of the color categories.

Olive - Facial skin care
Blue - Body care
Orange - Personal care & Hygiene items like our top-selling Deozein Natural Deodorant Spray
Lavender - Aromatherapy
Gold - Sun care products


Our solutions are simple. Developing a healthy skin and body care routine – with products blended from pure essential oils and high quality natural ingredients – will improve the look and feel of the skin. Natural products may not be quick fixes but you will immediately see and feel the benefits of Source Vitál Apothecary.
There is no wrong way to use our products. Everyone's skin is different and we offer a variety of options that can be mixed and matched to develop a remedy that is best for you!
We think you'll love our new look as much as we do. Take a look for yourself at SourceVital.com and let us know what you think in the comments section below.
---