Introducing: Our Partnership With CleanHub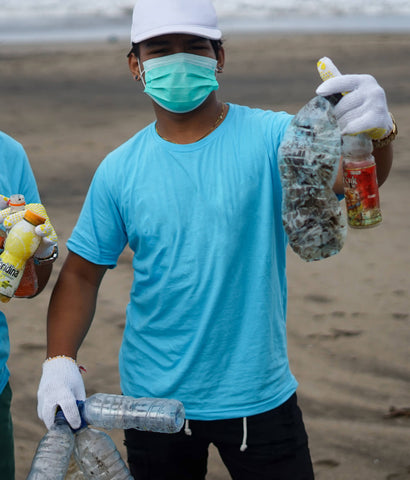 At Source Vitál, part of our mission is to make the world a more nurturing, healing, and peaceful place to live. We understand that it is a work in progress, and we are consistently looking for new ways to become more sustainable and give back to mother earth.
We are excited to announce our new partnership with CleanHub. CleanHub helps to empower brands to minimize their plastic footprint. Through a global network of collection hubs, CleanHub collects plastic before it reaches the ocean and safely processes non-recyclable plastic.
To read more about CleanHub, click
here
. 
How We Make an Impact Currently
We believe in transparency, so we would like to share a few examples of what Source Vital is doing presently to reduce our impact. Our product packaging includes recyclable glass, PET (polyethylene terephthalate) bottles, or (HDPE) high-density polyethylene, also known by the recycling codes #1 and #2, respectively. These are widely accepted by most curbside recycling pick-ups. We are constantly seeking out raw ingredients that are grown and harvested through sustainable, and environmentally friendly methods. Additionally, we have gotten creative in reducing our essential oil waste and making special releases of an essential oil blend, called
Hodgepodge
. 
It's Official: We Went Plastic Neutral
We have made a year-long commitment to become plastic neutral. Plastic neutral means that for every pound of plastic we use, we facilitate the removal of a pound of plastic pollution through CleanHub and our collection hub, properly recycling or repurposing. We were able to calculate our plastic usage based on our 2021 sales, and are committed to collecting 600 pounds of plastic this year!
Our Collection Hub Partner
We are proud to share with you our collection hub partner, Tridi Oasis in Indonesia. Plastic pollution is a huge concern for Indonesia, as it is the second-largest contributor to ocean plastic in the world. Tridi Oasis is a female-led, homegrown recycling company, focusing on recycling PET plastic bottles into PET flakes which can be transformed into sustainable packaging and textiles. Over the past four years, they have built up enough capacity to recycle 750 tons of plastic bottles every month.
You can read more about Tridi Oasis
here
.
How Does It Work?
Our funding finances the collection and recovery of plastic waste with Tridi Oasis and CleanHub who monitor and verify the recovered volumes as proof that the invested money has the intended impact. Here's the best part: thanks to CleanHub, we are able to monitor our impact report in real-time, and then share it with you!
You can follow the journey and live collection updates
here.
We know that becoming more and more sustainable is a work-in-progress, but we are proud to be taking steps in the right direction by partnering with CleanHub. We are so excited to share our progress with you throughout the year, so stay tuned to our social media for updates! 
---