Introducing: Our Custom Body Cocktail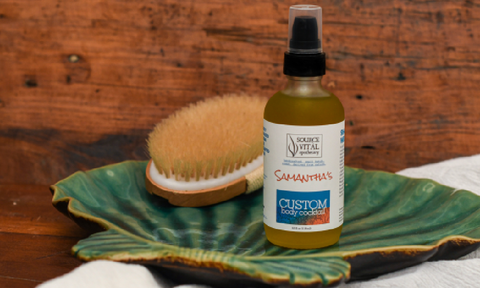 If you've been a Source Vitál Apothecary over the past few years, you know our passion for customized beauty products. It all started with our Custom Facial Cocktail and the belief that your skin wasn't made to fit in anyone else's jar or bottle. 
Since then, we've expanded to products such as our Custom Bath Salts, Custom Facial Masks, and even our Custom Beard Oil. Today, we're excited to introduce the newest member of the custom products family: Our Custom Body Cocktail. 
Simple, Effective Bodycare
Create a body oil that is as unique as you are! A customized experience, our Custom Body Cocktail  allows you to create a formula that is specific to your skin's needs. 
This blend of 100% natural botanical oils can help you to address all of your intentions and concerns in one bottle. To add an aromatic experience, select from some of our favorite essential oils blends. 
To experience the perfect dose of hydration with your specially formulated custom body oil, pump oil into your hands or directly onto your skin and massage thoroughly. To enjoy maximized moisture benefits, massage into lightly damped skin post-shower or bath. 
Is your skin feeling super parched? Try mixing a few drops of our Custom Body Cocktail with our Body Lotion Unscented or Nourishing Body Cream for maximum skin nourishment. 
Developing Your Body Care Ritual
Rituals help us to focus our attention and purpose. Beyond mere habit, it is a devotion. Instead of making hygiene feel like an obligation, we want the experience of self-care to feel special and luxurious. The textures, scents, and good-for-you ingredients offer benefits not only for the body but also for the mind and soul. The result? Pampered, nourished, skin. 
Our Customized Body Cocktails should feel like a little luxury at the start or end of your day – without all the fuss of a lengthy, complicated routine. 
Choosing Your Custom Formula
We have developed an easy 3-step process to create your Custom Body Cocktail. However, some still want a little help. Below is a primer of the ingredients you can choose to add to your cocktail. and we've provided some of our favorite combinations.
Step 1: Select Your Body Oil Enhancement (Select 1)
Aging: Diminish the appearance of fine lines and wrinkles.
Balancing: Reduce the look of sun-damaged skin.
Calming: Hydrating, ideal for reducing skin redness.
Clear Skin: Purify the skin and clear up body acne.
Smoothing: Tighten and tone, while improving the appearance of cellulite.
Strengthening: Improve the skin barrier as well as firmness of the skin. 
Step 2: Select Your Scent (Select 1)
Lavender: A delicate, relaxing floral scent.
Ylang-Ylang: A heavier, fruity, and floral aroma. 
Lemon Geranium: Floral and fresh. 
Cedarwood Vetiver: A dry, earthy, scent. 
Eucalyptus Rosemary: A forest-y aroma with hints of mint. 
Sandalwood Lime: A woodsy scent with a hint of citrus. 
Vanilla: A sweet and soft aroma. 
Floral Rose: A light, rose scent. 
Jasmine: A fruity, sensual aroma.
Neroli: A combination of both citrus and floral scents. 
Sandalwood: A smooth and exotic scent. 
Unscented: No scent added. 
Step 3: Add More "Oomph" to Your Body Cocktail (Shots)
Laminaria: Re-mineralizing, great for ageless skin. Packed with vitamins, trace elements, and amino acids
Arnica: Reduce the look of inflammation, bruising, and puffiness. Great for those with sensitive skin. 
Matcha: Anti-Pollution, a powerful source of antioxidants, especially vitamins A, C, and E, as well as amino acids. Great for boosting skin's radiance.
Aloe Oil: Soothing and moisturizing, an excellent skin hydrator.
Witch Hazel: Calming, gives a clean, revitalized feel, great for reducing the look of inflammation.
Coffee: Renewing, ideal for smoothing the appearance of cellulite.
Calendula: Restorative, helps to strengthen, great for glowing and more radiant skin. 
Suggestions for Body Cocktail Blends
With so many delicious ingredients, we find that many people still want a guideline to help them build their perfect face serum.
Here are some of the recipes developed by our in-house skin care "mixologists." Use these formulas to create your facial cocktail, or adapt these recipes to make your special blend.
Half of the fun is finding your perfect body cocktail blend. So enjoy the experimental process! Because of the nature of these ingredients, there is no wrong way to make your body cocktail. 
For Dry to Very Dry Skin:
Enhancement- Calming
Scent- Any
Shots- Aloe Oil and/or Calendula 
For Sensitive Skin:
Enhancement- Calming
Scent- Unscented, or Lavender
Shots-Arnica and/or Witch Hazel
For Smoother Skin:
Enhancement-Smoothing
Scent- Any
Shots- Arnica and/or Coffee
For Body Acne:
Enhancement- Clear Skin
Scent- Lemon Geranium
Shots- Arnica, Calendula, or Witch Hazel
For Aging Skin:
Enhancement- Aging 
Scent- Any
Shots- Laminaria or Matcha
For Improved Skin Tone:
Enhancement- Balancing
Scent- Any
Shots- Matcha or Calendula
To Help Strengthen Skin:
Enhancement- Strengthening 
Scent- Jasmine, Neroli, or Sandalwood
Shots- Calendula, Laminaria, or Aloe Oil
Expert Tips:
Another great way to customize your body care ritual is to make separate body cocktails formulas for both morning and evening. 
Your morning body cocktail should be light enough to be quickly absorbed and contain a scent you'd like to wear or layer with a fragrance. You could select an invigorating scent or appropriate booster (coffee, anyone?) to get your day started on the right foot. For the evening, you could select more strengthening, or richer ingredients (as the skin repairs itself at night) and a relaxing scent.
Additionally, many of us have more than one body care concern, so keep in mind that you may need to rotate body cocktails or apply at separate times of the day to achieve your desired result. 
Have fun, enjoy experimenting, and indulge in our Custom Body Cocktail. We can't wait to hear your thoughts!
---