How To Personalize Your Easter Basket This Year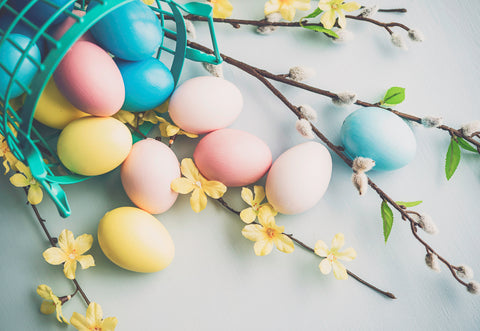 When we think about stuffing Easter baskets, the usual suspects include chocolate, candy, and possibly some other trinkets if you're lucky. At Source Vital, we think it's time to step up your Easter basket game while gifting those you love something that they'll actually use and made exactly with them in mind.

Here are our must-haves for Easter giving, no matter the recipient's age.


For Little Ones
Our Make Your Own Bath Salts are perfect for the youngest on your gift list, particularly if they look forward to bath time. Best of all, they'll be able to enjoy their bath safely and naturally- no harsh chemicals here.

First, you'll choose a scent or function blend to ensure they have a delicious smelling bath. (Lavender is a great choice for those that may have trouble sleeping.) There are 15 scents/functions to choose from! 

Next, you can select a booster or two of your choosing to make your bath even more effective. (Kaolin Coral Clay is great for sensitive skin types, and gives your bath a beautiful orange hue.)

Finally, you can personalize your jar by putting your recipient's name on it. How special is that?



For Teenagers
For those possibly just starting to experiment in the world of skincare and beauty, consider placing a Make Your Own Mask Kit in their Easter basket. This kit is perfect for those who love a little DIY, and it's perfect for sharing with others- they can make a fun get-together out of it. 

First, you'll choose your "care" infusions for skin depending on skin concerns. (Think acne and blemishes, hydration, or oil control.)

Next, you can choose an exfoliant particle to transform your mask into a scrub. 

Then you can choose a variety of boosters to upgrade your mask experiences- such as activated charcoal, hemp seed oil, or our lavender tansy blend. 

Finally, you can personalize the outside of their kit with their name. 



For Adults
For those of us looking for a serious skincare glow, but still wanting to keep it simple, we have the perfect Easter basket stuffer for you. Our Customized Facial Cocktail allows you to gift a personalized 3-4 skincare regimen in just one bottle. 

First, you'll choose your base, depending on your skin type- oily/combination, normal/sensitive, or dry. 

Next, you can choose 1-2 care infusions based on skincare concerns- there are eight to choose from!

Then you'll choose up to two personalized skincare "shots" to make your concoction even more special. 

Finally, personalized it even further with their name or fun saying. 




For Men
You can't possibly forget to fill the Easter baskets of the men in your life. Our Make Your Own Beard Oil is a 100% clean and natural way to tame facial hair and take care of the skin underneath. 

First, select 1-2 options on what beard goals they'd like to achieve. 

Next, choose 1-2 options regarding their skin concerns.

Then choose a scent of your liking- we have 10 to pick from!

Next, select some 'shots' for that extra "oomph."

And finally, personalized with their name.


Additional Easter Basket Ideas
Essential Oil Roll-Ons: With such an extensive variety, you're bound to find something for everyone!

Multisprays: These are perfect for scenting your linens, laundry, and the air. Available in 6 crowd-pleasing scents.

Deozein: Loved by women and men alike, Deozein is one of our best sellers for a reason.
---