Good Hair Don't Care - Your Guide to Using Clean and Natural Products to Care for Your Hair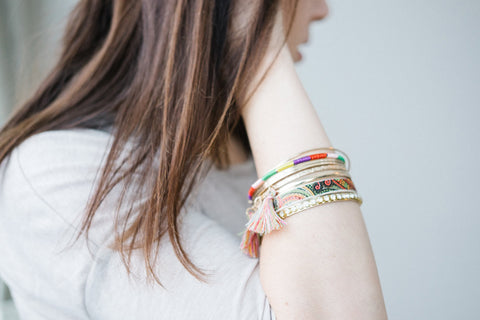 Hair care is sort of the final frontier when it comes to natural products. Luckily, there are now a lot of brands out there making some amazing hair care products with easy-to-use formulas that offer superior performance alongside good-for-you ingredients. 
For those just starting to experiment with hair care products derived from natural sources a few pointers can make the transition a lot smoother.
Think about switching from traditional antiperspirant deodorants to a natural deodorant. Your body needs time to adjust. Additionally, there can be a learning curve in relation to the expectations you have about the way the product feels on the body. This same principle will come in handy when making the switch to green and clean hair products.
Here are some tips and tricks our team members use to keep their hair looking its best. 
Scalp Care 
A healthy scalp leads to a healthy head of hair. Use these natural products to support a healthy scalp. 
Algae Deep Cleanse – Recommended by Kathy Pope, V.P. Vendor & Customer Relations for Source Vitál Apothecary 
"Algae Deep Cleanse makes a great scalp mask to remove flaky, dead skin cells and stimulate the scalp with a refreshing peppermint tingle" -Kathy 
Not just a deep cleanser for the face, this blend of algae, bentonite clay and essential oils also benefits your scalp. Especially for those who struggle with dandruff, Algae Deep Cleanse helps to remove any flaky build-up, helps to restore a sense of balance to scalps that produce too much oil, and the cool, tingly feel of the peppermint cools down irritations and any itchiness.
The high algae concentrations in Algae Deep Cleanse nourishes, feeds and hydrates the scalp without adding excess oils. Over time it will help to restore the feeling of health and balance to an irritated flaky scalp.
For more details about this treatment, check out our previous blog post here.

Relax Scalp – Recommended by CEO Paul Colgin
"After a tense day the
Relax Scalp Oil
is an effective way to calm the senses, so you can sleep without the constant hamster wheel turning in your head. The smell is an instant signal it's time to slow down. By morning you've given your hair and scalp a nourishing treatment too." -Paul

Relax Scalp is a truly holistic experience in that it not only benefits the spirit but the physical body as well. 
Our all-natural blend of pure essential oils, vitamin-rich botanical oils and natural Vitamin E deeply hydrates and nourishes the skin cells and hair follicles on the scalp. Repeated use will promote harmony to the scalp – both dry and oily conditions – and leave the hair looking healthy and revived.
For those struggling with dry scalp, we recommend massaging ½ teaspoon of the oil into the scalp before bed. Be sure to concentrate directly on the scalp versus coating the hair. Those with thicker hair may need to use a bit more oil. Leave the oil on through the night while you sleep and then shampoo hair in the morning,
Hair Cleansing
The right way to shampoo – Hair wash tips from Sophia Peon-Leyva, licensed cosmetologist and part of our product development team.
The days of having to wash your hair each and every day are long gone for many. Some hair types still benefit from a daily wash but for those who like to go a few days. Read on for Sophia's tips on how to properly wash for clean, bouncy hair. 
Note this method is especially effective when used with a natural shampoo that's free of SLS and SLES, such as Rare El'ements Pure Shampoo. 
As we mentioned earlier, the scalp is the focus here. You will want to start with cleansing the scalp and the hair that's closest to the scalp versus the ends of the hair.
Remember reading the directions on the back of your shampoo bottle that says wash, rinse and repeat. Turns out there is actually something to the repeat part (and it's not just a ploy to get you to use more shampoo!). This technique is all about doing several micro washes while you are in the shower, versus one main wash with a big dollop of shampoo.  
Use a dime to nickel-size of shampoo, concentrating on the scalp and hairline. Spend a good amount of time really massaging the product into the skin of the scalp. This is where the excess oil, dirt and bacterial build up – which causes the hair to look dull, lank or greasy.
Also, try using your fingertips rather than your nails to work the shampoo into the scalp. Your fingernails can make micro-tears in the scalp, cause hair breakage and other irritations. The head can seem pretty tough but it's a good idea to use a gentle touch.
During this first wash you may get very little to no lather from your product. That's ok. Rinse and repeat this process several more times. If it's been several days since you last washed your hair, you will want to do several rounds of shampoo for each day you've skipped. The key is using a smaller amount of shampoo and paying good attention to the scalp.
Once the hair is thoroughly clean you will notice the shampoo will start to foam and become sudsy. You can then work the suds into the length of the hair before rinsing and moving on to conditioning.
Sophia also recommends using the Algae Deep Cleanse method mentioned above but focusing on the hairline. This will keep your hair looking less oily and help to clear up the look on any blemishes or irritated skin that is in closer contact with the hair and the natural oil or products that you use to style your hair.       
Moisturizing & Maintenance
Botanical Oils – Recommended by Jackie Yates, Licensed Cosmetologist and the Manager of Inside Sales at Source Vitál Apothecary 
"No matter your hair texture, there are botanical oils that can help you make the most our of your haie. Use as a pre-shampoo treatment or on the ends of the hair to prevent frizz. I love Abyssinian Oil because it's lightweight and doesn't make the hair look like an oil slick!"
Three botanical oils stand out to us for offering amazing benefits for the hair: Marula Oil, Argan Oil, and Jackie's pick, Abyssinian Oil.

Marula Oil is rich in essential fatty acids such as Omega 9 Oleic and Omega 6. Linoleic, which make it a great nourishing hydrator for hair and skin. Marula locks in moisture and protects from water loss in the hair and skin, making it a good friend for those with dry, brittle hair, especially curly, coarse hair types.
The essential fatty acids found in Marula oils are also very beneficial to the scalp and hair follicles. Murula is able to penetrate more deeply into the scalp than some other oils. Oleic acid promotes the look and feel of thicker, healthier hair and some studies suggest it could help to aid in hair growth as well. Vitamin E further helps to promote a regenerative look to the hair.
All hair types that have undergone aggressive hair treatments and are in need of some extra TLC will benefit greatly from the amazing properties of Marula Oil.
This oil, originating from Morocco, is another botanical oil rich in vitamins, minerals and antioxidants that can rescue hair from breakage and damage from chemical treatments. 
It will help encourage the look of softer, manageable hair that tends to have more elasticity, which prevents it from breakage and damage. 
Argan has been the go-to hair oil to fight dryness, frizz and damage from hot styling tools for quite a while now. It is also beneficial to give your conditioner a boost, used as a weekly hair mask and a conditioning scalp treatment and to reduce the appearance of dandruff and flaky scalp.
Those with fine or thin hair will want to avoid using Argan Oil too close to the scalp for styling. It is best to use a small amount on the tips of the hair only. Curly hair types can use Argan Oil to encourage definition of curls and those with thicker hair will appreciate how Argan Oil can make it much easier to comb through their strands. 
One of the best botanical oils for finer hair types, Abyssinian is super lightweight and great at leaving the skin and hair feeling hydrated but not weighed down or greasy. 
Also known as crambe seed oil, Abyssinian is a rich source of unsaturated fatty acids and has a molecular structure that is unique from other botanical oils. This is what gives it its light, velvety texture. 
Use it to promote shine, manageability and protection from heat. Hair will look shiny, bouncy and will be protected from tangles and dryness.
Rosemary and Basil Essential Oils – Recommended by Fran Higgins, V.P. Business Operations and Education for Source Vitál Apothecary
Fran is our resident aromatherapist, esthetician, massage therapist and educator. Her experience with essential oil goes back several decades. Her go-to essential oils for hair include Rosemary, and Basil. Their ability to stimulate the skin and encourage a feeling of healthy circulation is what contributes to their amazing hair benefits.
If you look in any essential oil book, there is bound to be a section bragging about the uses of Rosemary in association with hair loss. Rosemary has been widely researched and studied about its impact on men with male pattern baldness.
While we can't claim that it is a cure by any means, it is effective at stimulating the skin on the scalp, which promotes a feeling of invigoration and the appearance of a healthy, balanced scalp.
In conjunction with Rosemary, Basil Holy is another essential oil that is known for providing many benefits to the hair.
Like Rosemary oil, Basil Holy (also known as Tulsi) is very stimulating on the skin, can discourage the feeling of itchiness and is effective at cleansing the scalp and hair follicles. These properties provide for the appearance of healthier, fuller hair.
Fran suggests mixing Rosemary and Basil oil with a carrier oil, such as one of the botanical oils we mentioned above, to create a daily hair treatment. Add to the scalp and brush through the hair, from scalp to the hair ends) each night to stimulate the scalp and improve the appearance of the hair. This is a helpful ritual for those who are concerned about hair loss.
You can also add a few drops of Rosemary or Basil to your shampoo for a little extra boost each time you wash. 
In addition to these easy and effective natural techniques there are lots of great natural hair care lines on the market. If you are in Houston stop by the Source Vitál Apothecary + Beauty Market, where you can shop for the products mentioned above, plus the salon-quality hair care line, Rare Elements, which is made with natural, good-for-you ingredients. Can't make it in person, give us a call or visit the online store for more information. Wishing all good hair days.
---