Festive and Fabulous: Achieving Radiant Skin with Source Vitál Apothecary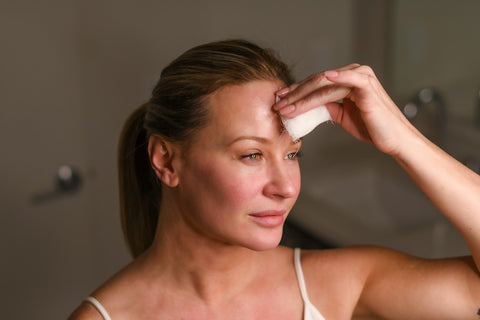 The holiday season is just around the corner, and with it comes a whirlwind of parties, family gatherings, and festive events. It's the perfect time to look and feel your best, and what better way to do that than by getting your skin to glow? 
Your skin plays a vital role in how you perceive yourself and how others see you. It's a reflection of your well-being and a canvas upon which your inner radiance shines. In the following sections, we'll delve into the steps you can take to achieve that coveted holiday glow, with us as your trusted guide.
Exfoliation
Exfoliation is a fundamental step in any skincare routine, and it plays a pivotal role in achieving and maintaining glowing, healthy skin. Whether you're seeking a radiant complexion for the holiday season or year-round luminosity, exfoliation is key for getting rid of dead skin cells, creating a smoother skin texture, and clearing impurities.
For truly radiant skin, try incorporating Aroma Peel into your skincare routine. Unlike harsh chemical peels, Aroma Peel takes a kinder approach, ensuring your journey to healthier, youthful skin is a soothing experience. This mild yet remarkably effective exfoliant is tailored to benefit all skin types, unveiling the radiance and clarity your skin deserves. A unique blend of concentrated, undiluted essential oils goes to work, eliminating dead skin cells, banishing congestion, and breathing new life into lackluster skin. 
Serums & Oils
Serums and oils are concentrated skincare products designed to deliver a potent dose of active ingredients to your skin. This nourishment helps repair, regenerate, and rejuvenate your skin cells, resulting in a healthier and more radiant complexion. These concentrated products work to smooth and refine your skin's texture. They can minimize the appearance of fine lines and wrinkles, helping your skin look more youthful and vibrant. By enhancing elasticity and firmness, serums and oils contribute to a smooth and supple complexion.
Unveil radiant skin with our all-natural face oil formula, Luminous Infusion. This beauty elixir is designed to combat sun damage, dark spots, hyperpigmentation, and even acne scars, making your dream of bare skin confidence a reality. Our carefully curated blend features potent natural ingredients like organic Prickly Pear Oil, Carrot Seed Oil, and Wildcrafted Frankincense Essential Oil known for their efficacy in diminishing the look of dark spots. Regular use on your face, neck, and chest results in a smooth, even-toned complexion that exudes a youthful glow.  For optimal results, pair Luminous Infusion with one of our Algae Serums to create a supercharged skincare cocktail.
Masks
Using a face mask is an essential step in your skincare routine when aiming for glowing skin. These short, targeted treatments offer a range of benefits that can significantly enhance your complexion and overall skin health. Face masks are tailored to address specific skin concerns. Whether you're dealing with acne, aging, uneven skin tone, or dryness, there's a mask designed to target those issues. These targeted treatments can have a transformative effect on your skin, bringing about a noticeable improvement. 
Rejuvenate your skin with our Ageless Algae Mask, offering a 20-minute shortcut to a brighter, more radiant complexion. Packed with nutrient-dense algae extracts, hyaluronic acid, and a potent blend of botanical wonders, this mask is designed for maximum absorption, banishing redness, irritation, and inflammation. Perfect for tired, mature skin, it diminishes the look of pores and imperfections, soothing and cooling while featuring 100% natural, clean ingredients for a luxurious at-home experience. 
Integrating these essential steps into your daily skincare regimen, particularly with the help of Source Vitál Apothecary's meticulously crafted products, will set you on the path to achieving that holiday-ready glow. So, as you immerse yourself in the enchanting holiday spirit, remember that your skincare routine is your secret weapon. Enjoy the festivities with confidence, knowing that your skin is shining as brightly as the holiday lights.
---