Unlocking the Mystical Properties of Jasmine Absolute Oil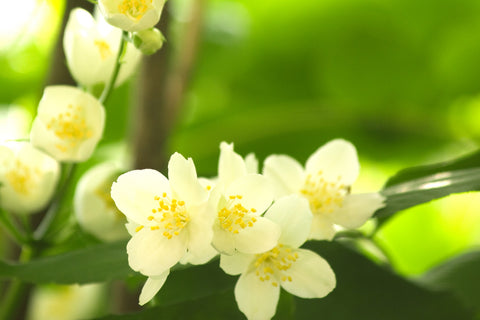 If you've wandered past a fragrance counter in the last few years, you've probably encountered many scents that contain jasmine. (Hello, Chanel No 5!) There's a good reason jasmine is prevalent in many best-selling fragrances: this precious scent has universal appeal to the masses.  
Jasmine Absolute has a reputation for being the "King" of essential oils. Its scent is described as sensuous, warm, exotic, intense, and sweet. Jasmine Absolute has been present for centuries, used in ceremonies, rituals, and festivals. It was originally native to the Arabian peninsula, Africa, and Asia, and didn't reach Europe until the early seventeenth century, in which it was established as a pillar in French perfumery.
These days, Jasmine Absolute is typically produced in countries such as Egypt, Morocco, and India, where we source ours. Beyond its regal scent, there are so many reasons to love Jasmine Absolute. In celebration of this tiny-but-mighty white flower, we're sharing why Jasmine Absolute should be an integral part of your aromatherapy arsenal.
Absolute Versus Essential Oil?
Before diving into the benefits of Jasmine Absolute, it's important to distinguish the difference between absolute and essential oil. What differentiates an absolute from an essential oil is the way in which it is distilled. Most essential oils are steam distilled or cold-pressed, while absolutes are extracted with the use of food-grade chemical solvents. In this case, jasmine flowers are small and fragile and have difficulty standing up to stressors in a traditional extraction process. The final product is also different. Absolutes are stronger in scent, have a thicker consistency, and possess an amber-like color. 
Benefits of Jasmine Absolute
Improves Skins Appearance
Jasmine Absolute is an often sought-after ingredient in skincare, thanks to its antiseptic and soothing properties. It also offers the skin a look of renewal and luminosity to dull, and dry skin.
If your complexion needs a bit of a boost, try seeking out skincare that contains Jasmine Absolute. You'll find it in our Algae Serum Jasmine, which deeply nourishes the face, protects from the signs of aging, and promotes clearer-looking skin. For a refresh around the gentle eye area, check out our Jasmine Fine Line Cream.
Can Improve Mood
Feeling a bit "blah" lately? Jasmine Absolute may help to improve your mood! The sweet, floral scent can help to boost happiness, increase confidence, and reduce anxiety and anger. 
If you're looking to take the edge off of a stressful situation or balance your emotional well-being, Jasmine Absolute would be an excellent addition to your self-care routine. Our Euphoria Natural Elixir can help you to feel more centered. Apply a drop to pulse points as a fragrance, or add a few drops to the palms of your hands, rub them together, and practice deep breathing. 
Promotes Restful Sleep
We know that incorporating essential oils into your bedtime ritual can be incredibly beneficial. Lavender and Chamomile Essential Oils are often sought after for their ability to promote deep sleep, but Jasmine Absolute can also help you rest your body and mind. 
For your best sleep ever, consider diffusing our Tranquil Essential Oil Blend. This blend contains Jasmine Absolute, Blue Tansy, Lavender, and many other relaxing essential oils. Is a diffuser not your thing? Try spritzing our Tranquil Multispray on your linens or in the air prior to your bedtime.  
Increases Feelings of Love
Jasmine has long been associated with being an aphrodisiac, even back in ancient times. In Hindu culture, it is often referenced as the "scent of love." Inhaling the scent of Jasmine Absolute can increase feelings of desire, love, and libido.
For a dose of romance on the go, apply our Attraction Essential Oil Roll-On to your pulse points. Along with Jasmine Absolute, Patchouli stimulates the senses, and Orange counteracts relationship worries. Need to set the mood in your space? Try our Attraction Multispray.
What are your favorite ways to use Jasmine Absolute? Let us know in the comments!
---