End of Summer Sale – 33% Off Skin, Body & Aromatherapy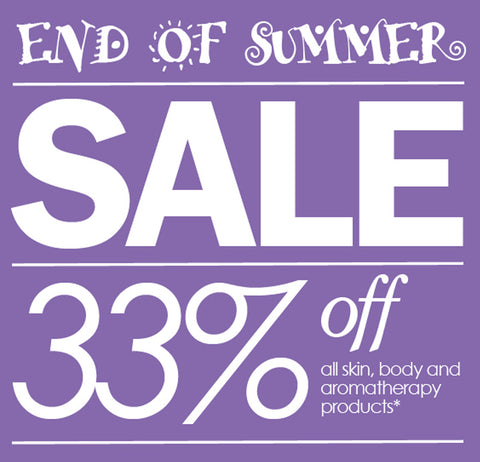 Our remedy for the end of summer blues is 33% off our entire line of natural skin care, body care and aromatherapy products. But just like summer, it won't last forever, so shop today to stock up on everything you'll need for healthy, hydrated skin and restored spirit.
The transition between seasons can wreak havoc on our skin. Changes in temperature, weather, sleep schedules, allergies and stress can be a nasty combination. This is the perfect time to start a healthy personal care regimen that will strengthen and protect the skin, body and mind from the changes ahead.
Here's 5 steps to get you started on the road to great-looking skin and body. 
Cleanse
The first step in any protocol. Our facial cleansers are packed with natural skin loving ingredients and formulated to care for your skin's individual needs.
Step up your shower game with one of our brand new SLS/SLES-free Body Washes. Made with gentle sustainability-sourced ingredients and no PEGs, SLS/SLES (sodium laurel sulfate/sodium laureth sulfate), synthetic fragrances and colors. These cleansers foam up to a nice lather that never leaves the skin feeling dry.  
Exfoliate
Get rid of all the sun and sand weary skin with all natural exfoliators for the face and body. Featuring freshwater silt and natural corundum crystals buff skin to its smoothed, glowing best.
Fall's also a great time to give Aroma Peel, our unique alternative to harsh glycolic chemical peels a try. Great for mature skins or anyone who wants to give their complexion a boost. 
Moisturize
It's time to start locking in the hydration before the cold weather hits. Face creams, serums, body lotions and body butters offer the right kind our moisture for all skin types.
Reinforce/Protect 
Strengthen compromised skin with our powerful duo of Aromatic Algae Extract + Nourishing Body Cream + First Aid Cream. Helps to relieve the feeling of inflammation, dryness and a host of irritations like psoriasis and eczema. 
Add one of our face oil infusions to your routine. Blended with potent essential oils and nutritive botanical oils, these elixirs are gentle but work hard to improve the look and feel of the skin.
Relax
The best part. Sit back and pamper yourself with a luxurious aromatherapy bath. Start with therapeutic Dead Sea Salts and add a Bath & Body Oil for the ultimate bathing experience. Top it off with a beneficial facial mask while you soak.   
And don't forget to set the scene with your favorite essential oil or diffuser blend. When the body and mind are in a relaxed state it can more efficiently begin to heal itself!
There's three easy ways to take advantage of this promotion:
Shop online at sourcevital.com and use discount code Summer33 at checkout.
Give us a call at 1.800.880.6457 or 713.622.2190 (Houston-area calls).
Stop by our new beautiful showroom located at 1291 N. Post Oak Road, Suite 125 in Houston. Call ahead and we'll have your order ready to go!
Remember, you can only get 33% off for the next 4 days – until Sept. 11, so shop now…and don't forget to share with your friends.
*Diffusers, accessories, equipment and gift cards not available for discount.  
---