Earth Day 2017 - Plant a Tree + 22% Off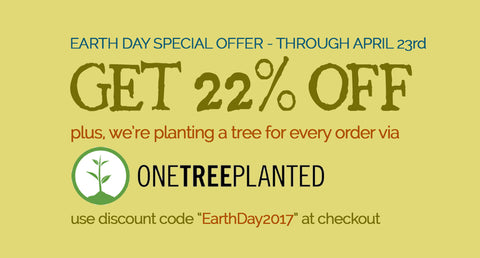 Earth Day is one of our favorite days to celebrate. It is, after all, the inspiration at the heart of our entire collection. From its oceans to the plants that grow from its rich soil, the Earth provides us with infinite gifts.
This year we are committed to giving back to Mother Earth. We will plant a tree via One Tree Planted for every order from April 21 – 23. And you get 22% off our entire product line, plus free shipping when you spend $25 or more.    
Shop now at Sourcevital.com (or give us a call at 1.800.880.6457) and use promo code earthday2017 at checkout.
Here's some of our Earth Day favorites:
Your skin wasn't made to fit into somebody else's bottle, box or skin care regimen. Now you can pick and choose the right ingredients for your skin type and unique concerns. Plus, this multitasker saves you time in the morning and at night.
Using natural freshwater colloidal silt, this facial scrub is a cult favorite among long time Source Vitál users. With properties, similar to alpha hydroxy acids, this exfoliator gently smooths away dry skin and neglect, revealing the beautiful skin underneath.
Life gets busy, when you don't have time to make it to the spa, find your center with our collection of aromatherapy products that are easy to use at work, home or on-the go.

Shop now for 22% off and enter promo code earthday2017 at checkout. Share your appreciation for the Earth's bounty and share this offer with friends and family.
Remember this promotion runs until Sunday April 23, so don't miss out! Accessories, aromatherapy diffusers and starter kits are not included in this sale.
Here's a few more reasons to shop with us on Earth Day (or any day):
Source Vitál Apothecary is completely cruelty free, we never test products on animals and in-fact many of our products are safe for use on pets.
We do not use any synthetic fragrances, scents or colorants and our products do not contain any GMOs or harsh chemicals.
Plus, you can feel good knowing we always use environmental-friendly packaging that is accepted by most curb-side recycling pick-ups or bottled in glass containers that can easily be reused at home.
---