Coconut Oil: Skin Savior or Saboteur?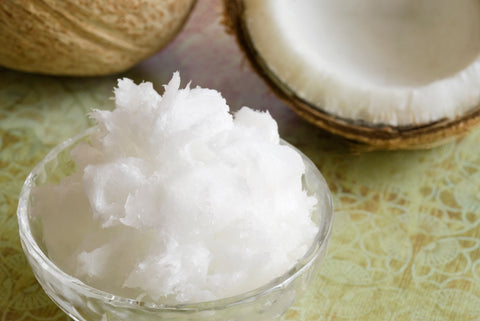 Using Coconut Oil in Your Beauty Routine
From wellness bloggers and foodies, to beauty gurus and your best gal pal, everyone is going "coco-nuts" for coconut oil these days. Touted as a multi-use product, we've personally seen people add some coconut oil to a dish on the stove cooking and baking, and then slather it on their face, body, and hair.
But before you trade in your moisturizer for this hyped all-purpose oil, it's important to determine if coconut oil truly is useful and understand if it can do more harm than good.
The Benefits of Coconut Oil
Let's first look at what's in coconut oil.
It is rich in omega-3 fatty acids and Vitamin E. Omega-3 fatty acids offer several benefits for the skin.
Fight inflammation
Inflammation can weaken and damage skin cells, which leads to premature aging. Omega-3 fatty acids act as a shield against inflammation, preserving healthy, collagen-rich cells.
Protect against free radicals
Either from pollution, sun or other lifestyle factors, free radicals attack healthy skin cells. Omega-3s help to fortify cell membranes, giving them the strength to fight off free radical damage that can reduce the skin's ability to produce collagen. Remember, collagen is the key to plump, bouncy youthful looking skin. So, using ingredients that are high in omega-3 fatty acids (or ingesting a diet rich in these fatty acids) will help to reduce the appearance of fine lines and wrinkles.
Boost the skin's barrier
When the skin's barrier is intact, the skin can better regulate moisture loss. Omega-3s, like what's present in Coconut oil, can help to strengthen the barrier and seal in the moisture we need for smooth, soft, hydrated skin.
Vitamin E is also an antioxidant that helps to guard the skin from free radical damage. It is hydrating and is known for its ability to help smooth the look of scarring, especially when used during the healing phase.
The presence of the omega-3 fatty acids and Vitamin E means the oil will leave the skin or hair feeling super soft and moisturized. The key is to make sure that you are using virgin coconut oil. In fact, we prefer unrefined, cold pressed, virgin coconut oil. Free from additives, impurities, and over-processing, means your body can better make use of the benefits of coconut oil.
Non-virgin, processed versions of coconut oil will not be as easily recognized or absorbed by the skin. When using this kind of oil topically on the skin it is important you are choosing, natural, high-quality coconut oil. 
The Face
Facial Moisturizer
We understand why it may be tempting to use coconut oil as a facial moisturizer. It's natural, relatively cheap, easy to find, and highly emollient – a low maintenance gal's dream. All that said, we do not recommend using it on your face if you're acne-prone. 
Why? It comes down to the saturated fat content of coconut oil. Because of this high saturated fat content, coconut oil becomes solid at room temperature. When warmed by the skin, it liquefies, but once it reverts to a more solidified state, it can clog the pores. If your skin is already oily, or if it isn't well-exfoliated, the added saturated fat of coconut oil can make congestion and breakouts even worse.
Makeup Remover
Although coconut oil isn't ideal for use as a facial moisturizer because of this, it does an excellent job of breaking down stubborn makeup – even waterproof mascara!
For use as a makeup remover, warm between the fingertips and massage into the skin. Be sure to wash your face thoroughly afterward to remove any pore-cogging residue. Note: If you're a contact lens wearer, you may want to remove your contacts prior to using coconut oil around the eye area, as it can stick to lenses.
The Body
Moisturizer
Unless you're suffering from body acne, coconut oil serves as a great body moisturizer for leaving the top layer of the skin feeling soft and protected – without fear of breakouts. From dry cuticles to rough elbows, it can quickly smooth these areas in a pinch. That said, because skin a greater variety of nutrients than just coconut oil can offer, we recommend layering coconut oil on top of another body moisturizer so you can get the best of both worlds.
Carrier Oil
Because coconut oil is so emollient it can serve as an easy carrier oil to dilute essential oils for topical use. Plenty of people are also attracted to the light, somewhat tropical scent, which also makes it so popular for use on the body.
Bath Oil
Coconut oil is also a great option to use in bath soaks for softening the skin. Just beware that using this oil in the bath can make the surface of the tub very slippery, so take care when getting in and out of the bathtub and clean thoroughly with a soap that can cut through any oil residue left after your bath.
Shaving Oil
It also makes for an excellent natural shaving oil in a pinch. Not only is it gentle and fragrance-free, but it lubricates the skin to avoid nasty nicks and razor burn.
To use it on the body, rub it between your hands to melt it, smooth it over the skin, and shave as usual. Note: If not properly rinsed with hot water, it can gunk up your razor, so be mindful of that.
The Hair
Coconut oil can be used as a moisturizing treatment on the hair, but the best way to use it really depends on your hair type.
For curly, dry, or coarser hair types, feel free to slather coconut oil from root to tip to deliver a significant boost of moisture. Dealing with flyaways or split ends? Warm a small amount between the tips of your fingers and apply to ends to smooth the hair.
For straight or fine hair, we would recommend using coconut oil very sparingly. As in, massage-a-dime-sized-amount-on-ends-only sparingly. Although coconut oil can be very hydrating for the hair, it can be much too heavy for straight or fine hair types.
The Verdict
Coconut oil can be useful in your skin care and beauty routine, but it just doesn't offer enough nutritive properties to earn the title of "Skin Care Savior." If you're suffering from dry, flaky, or dehydrated skin, we recommend opting for a tailor-made solution for your skin type. Although more expensive than your typical coconut oil, a custom solution will offer more skin care benefits and more bang for your buck.
In a (coco)nutshell? You're better off saving your coconut oil for your stir-fry.
---