How to Care for Your Neck and Décolleté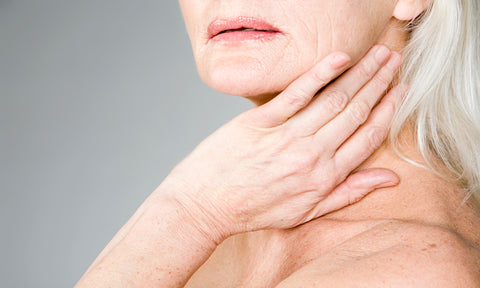 If you're reading this, there's probably a good chance that you have a solid (or are aspiring to have a) facial skincare routine. From creamy cleansers, powerful serums, and nourishing face and eye creams, you're completely covered. 
Although you've given your face the creme de la creme of care, you may be neglecting the area south of your face. When is the last time you truly cared for your neck and chest? If you're having a hard time remembering, you aren't alone. Here's how you can achieve a healthier neck and décolleté! 
What is a Décolleté?
By beauty industry standards the décolleté is the skin south of your chin and encompasses your neck and chest. Unfortunately, this area is often overlooked. Much like our faces, this area is prone to sun exposure and premature aging. Because of this, it's also a very common area for skin cancers to develop. Beyond the threat of skin cancer, this area can experience sagging or crepey skin, dark spots and hyperpigmentation, and other signs of skin damage. 
The skin of your décolleté is thinner and has fewer oil glands than the skin on other areas of your body, so it becomes dry more easily, which means it's also an area prone to wrinkles. Because of the delicacy of the skin around the décolleté, it is one of the first areas that can show signs of aging. 
How to Care for Your Neck and Décolleté
Cleanse (Gently)
We've already discussed that the skin around you neck and chest is very delicate, so you'll want to avoid harsh, stripping cleansers. Instead of vigorously rubbing the skin on your neck and chest, use your fingertips to gently apply your cleanser and rinse with lukewarm water. Seek out a creamy cleanser such as our Geranium Cleanser will help remove dirt and oil and leave your skin feeling supple post-cleanse.
Don't Forget to Exfoliate
Much like our face, our neck and chest can accumulate dead skin cells, causing the skin to have an uneven-looking texture and be older-looking than it actually is. This is important in maintaining a youthful décolleté because it ensures that your skin is properly prepped to absorb treatments more efficiently. Ensure you are looking for a gentle exfoliator, such as our Silt Scrub, which contains volcanic-derived exfoliating microspheres to help reveal more youthful skin.
Treat (With the Right Ingredients)
You don't necessarily need to purchase products specifically designed for the delicate neck and chest area, you can simply use your tried and true facial serums and moisturizers. You should, however, ensure that they contain skin-loving ingredients.  Treatments and moisturizers that contain nourishing ingredients like hyaluronic acid will help to keep your skin moisturized and looking plump, while products containing antioxidants can help protect your skin from damaging free radicals. Looking for a multitasker? Our Jasmine Fine Line Cream is designed to nourish and promote more youthful-looking skin. 
Protect, Protect, Protect
Your best defense against a saggy, crepey-looking, neck? Sunscreen. People often forget to apply sunscreen on the neck and chest,  as we stated before, is actually one of our most delicate areas and can be easily damaged. UV rays from the sun cause collagen and elastin to break down more quickly than they would on their own. Additionally, wearing protective clothing, or a hat, can help further damage from occurring. 
For more information on protecting your skin from the sun, click here. 
Additional Tips for a Youthful Décolleté
-Any products applied to your neck or chest should be done so in long, upward, motions. This helps promote a more lifted appearance and avoids enhancing the effects that gravity can have on this area.
-Avoid "Text-Neck." Unfortunately, this is something we all do. Rather than slumping over your phone, try to bring the phone up toward your face. Practicing your posture can also help!
-Don't forget specialty products. Skincare products, such as peels or masks, can be incredibly beneficial for your neck and chest. Give our Aroma Peel a try, a gentle essential oil-based peel that will help reveal more radiant skin. Our favorite mask for the neck area? Our Chlorella Hydra Facial Mask. This special formula is packed with mineral and nutrient-dense natural ingredients that feed and hydrate deep into all sub-layers of the skin.
-While you're trying to improve the condition of the delicate neck and chest area, consider giving yourself a breast self-exam once per month. For more information, we encourage you to visit therose.org. 
---