Brew Your Own Halloween Potion Using Essential Oils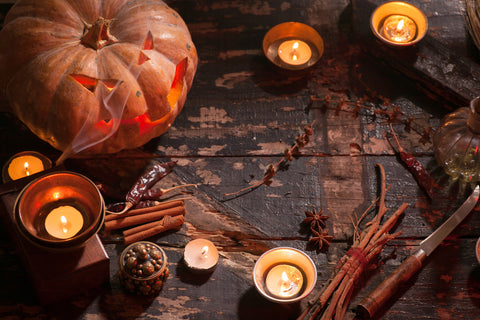 Halloween is just around the corner! To celebrate, we've brewed up a few tricks to make your own potions and magical scents.
These fun DIY essential oil blends spark the imagination and play up the soulful, mystical side of aromatherapy – a perfect match for Halloween.
Wear these spooky blends with a carrier oil as a perfume, pair them with Dead Sea Salts in the bath to escape from a long night of trick or treating, or diffuse in a room to set the mood. And don't forget to breathe deeply!
The Good Witch 
Increase your own powers. This blend promotes a feeling or regeneration that allows one to accept their inner power. Use this power and life force to influence good in the world.
5 parts Lavender
1 part Cypress
1 part Patchouli
1 part Helichrysum (Immortelle)
1 part Petitgrain
My Goddess Blend
A goddess is a woman that is deeply admired and loved. Find the goddess within yourself. Receive all that you deserve.
3 parts Sandalwood
2 part Bergamot
1 part Jasmine Absolute

2 parts Lemon
Run, Goblins, Run!
Vanish negativity and get rid of nasty vibes. Dispel all of the unwanted drama in your life.
2 parts Frankincense
3 parts Myrrh
1 part Sandalwood
2 parts Lime
Sleeping Beauty
Sleep like the dead with this potion for nights when you can't go to sleep, silence the mind chatter, and can't seem to keep from tossing and turning.
2 parts Rose Absolute
3 parts Lavender Official
1 part Jasmine Absolute
1 part Chamomile German
1 part Valerian Root
1 part Mugwort
The Exorcist
Too many ghosts and goblins in your life? Scare the negative energies away and cleanse your psyche.
2 parts Frankincense
2 parts Sandalwood
3 part Tangerine
2 parts Rosemary
1 part Elemi
We hope you enjoy giving our Halloween brews a try! Once you do, let us know what you think. Use these potions as a general guideline, but feel free to add your own favorite oils to make a custom elixir. Click here to visit our essential oil page for more information about single essential oils, blends and our at-home starter kits. 
Note: Remember to dilute essential oils in a carrier oil like Safflower or Jojoba when applying to the skin. It's a good idea to always patch test for irritations.
 Have a safe and happy Halloween from all of us here at Source Vitál!
---