Bath & Body Oils to Soothe, Energize and Make You Feel Amazing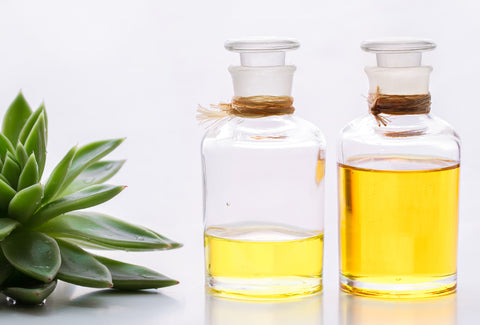 Body oils are one of those beauty products, that until recently, felt too special and out-of-touch with daily life. Right up there with the fabled goat's milk and honey baths Cleopatra used to pamper her skin, body oils are a luxury reserved for the elite. Wrong! There are actually many practical reasons to add bath and body oils into your daily grooming and wellness practices.
Pure and Natural
Body oils tend to be less processed and are typically have very few ingredients. Unlike lotions, creams and body butters, body oils do not need preservative systems and ingredients that keep the formulas stable.
For those wanting to go green and simplify their routine, body oils are hard to beat.
Effective Hydration & Nourishment
High-quality body oils are often made with natural botanical oils that are rich in omega fatty acids, vitamins and antioxidants that protect the skin from environmental damage, which can break down healthy cells and accelerate the aging process.
These oils are extremely emollient and quickly absorb into the skin for a plumped and hydrated feel. To get the most out of your oils, massage them into the skin after a shower, while the skin is still wet. This allows the oils to easily be applied to large areas of the skin. The extra moisture from the water allows for maximum absorption of the oils and all those skin-loving nutrients.    
Aromatherapy Benefits
Essential oil are the soul of Source Vitál's product line. They are the key to our holistic philosophy by connecting the body to the spirit.
Like nourishing botanical and vegetal oils, essential oils provide a number of benefits for the skin and help to support out mental health as well. When you use oils topically on the skin – diluted in a carrier oil – you are appreciating not only the internal benefits of the oil but also the aromatic properties.


The right blend of essential oils can create a natural elixir that serves to care for our concerns:
Dehydration
Improves the appearance of scars and rough-textured skin
Promotes a clear, even-toned look to the skin
Improves the appearance of fine lines and wrinkles
Encourages the body's natural detoxification processes
Comforts aches and pains from exercise or overwork
Diminishes the discomfort associated with swelling and fluid retention
Naturally perfume the body
The original Multi-tasker
Think of all the reported uses of coconut oil. From hydrating the body to taming frizzy hair, oil pulling for healthy teeth, reducing the look of inflamed acne skin and so one. Many body oils offer a variety of uses.
Most body oils can safely be used topically on the skin and on the hair. As with any cosmetic, your individual skin type and hair texture will dictate what works best for you. As a general rule keep heavily scented oils away from the delicate facial skin and do not ingest!
Spa Day – At Home!
The textures and scents can transform your bathroom into a luxurious spa retreat. Draw a warm bath, add some mineral-rich Dead Sea salts and a few drops of your favorite body oils. This will diffuse the scent throughout your bathroom and allow you to soak up all that goodness.
A tip you can try is to first apply the oils directly to you skin and then get into the bath. The oils will have the chance to be absorbed into your skin, with any excess melting into your bath water. Breathe in the scents and let you worries float away!
Bath Oil 5-Pack



Source Vitál Apothecary recently launched a 5-piece sampler set of our most popular bath and body oils. This is the ultimate self-care kit because there is an oil to soothe whatever problem is plaguing you. Specially formulated to be worn straight on the skin or mixed into a cozy bath, these provide little miracles in a bottle.
Set Includes:
Analgesic Bath & Body Oil (0.23 oz.) – Soothe achy feet and sore, overworked muscles.
Stress Relief Bath & Body Oil (0.23 oz.) – Use this on pulse points or in a bath to ease the feeling of stress and tension. Unlike other formulas, this blend is created to release tension and shut off that inner voice that won't slow down.
Serene Bath & Body Oil (0.23 oz.) – Like an aromatherapy glass of wine. Deeply calming and relaxing.
Renew Bath & Body Oil (0.23 oz.) – Feel refreshed and ready to take on the new day. Great to use after overindulging in food and drink or to help energize the body after fighting an illness.
Fluid Reduction Bath & Body Oil (0.23 oz.) – Fight the feeling of swelling and fluid retention. Great for swollen ankles and relieving discomfort associated with hormonal imbalance.
In addition to this set we offer a complete full-size set of Dead Sea Salts and all six of our bath and body oils. This kit includes our Vigor bath and body oil (not included in the 5-pack) that is perfect for cooling you off during the summer and energizing the spirit.  Our complete set is the ultimate bath and body luxury and makes a great gift for someone who needs some serious me-time. 
Simple but beyond plain, body oils are a great natural product to add to your daily personal care routine. Have you used aromatic body oils? What are some of your favorite blends? Let us know in the comments section.   
---