Amazon Prime Day Sneak Peek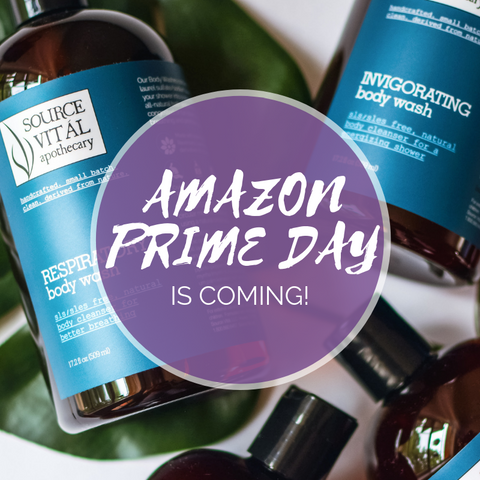 Enjoy 25% Off on Amazon Prime Day
Amazon Prime Day is coming up. Get excited because this year we are kicking off our Prime Day deals a little early.
On Sunday, July 14th we're unlocking our discount code for you to start saving 25% on our product entire catalog on Amazon, plus the full line of Source Vitál brand products* available on our website.
Enter discount code: 25prime2019 at checkout when you shop from 6 PM (Central Standard Time) on July 14th through July 16. It's our biggest Amazon Prime Day Sale ever.
Click here on Sunday to start shopping.
What to Stock Up On During Prime Day
1. Best Sellers
25% off those products you use on the reg sounds pretty great, right? All of our Deozein Natural Deodorants are included in this promotion. Choose your favorite scent and formula so you never have to go without!
Don't forget about our amazing facial cleansers - super gentle and effective Micellar Cleansing Water and Algae Deep Cleanse (now with Micellar technology).
2. Summer Must-Haves
Protect your skin from harmful UV rays with our naturally-derived mineral sunscreen. Sunshade 30 is made with Zinc Oxide, Titanium Dioxide and botanicals like Aloe Vera and Shea Butter for a clean and effective barrier against the sun. Plus it is coral reef safe, and safe for other marine life and animals. 
Take the sting out of sunburns, bug bites, skin rashes and chaffing with our natural and effective First Aid Spray. It is a beach bag must! 
3. New Products
Check out our newly revamped facial masks. Charcoal Clay is great at keeping pores clean - even in this hot and humid weather!
Matcha Cool Mask cools and soothes irritated skin. Post sun or windburn, this mask is the skin saver you need. Lightweight and refreshing it is good for the skin and the spirit.
4. Customized Products
Visit our website to create your very own personalized formulas for the face and body.
Customized products aren't available on Amazon right now, but you can still save when you shop at sourcevital.com or in-person at our Beauty Market in Houston.
Design the most effective face oil for your skin type and lifestyle needs. Mix and match ingredients to make a personalized facial mask in the comfort of your own home. Create the bath soak of your dreams by selecting from our amazing aromatherapy blends, and our special natural elixirs to soothe achy muscles and joints, help you relax or hydrate dry skin. The choice is your's.
Happy shopping. If you need personalized recommendations give us a call at 800.880.6457 or email our sales team at sales@sourcevital.com.
---