8 Ways to Relax During the Holidays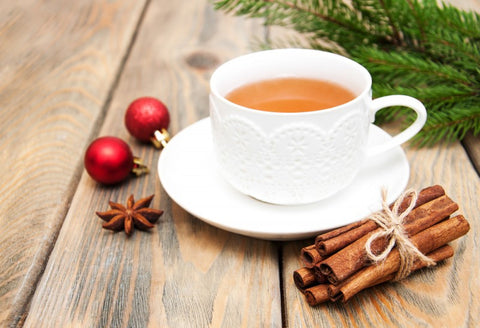 Take advantage of your time off this holiday season by going into full-relaxation mode, before the new year. We're here to offer eight ways to completely unwind during and in-between your busy holiday festivities.
Stretch Holiday shopping can be strenuous on the body between dashing through department stores to toting heavy shopping bags for hours. Online shopping has become so popular for a reason! Take a moment prior to and after your holiday haul to stretch and prevent sore, achy muscles. Soreness develops from lactic acid build-up in the muscle. Loosening your muscles and allowing adequate blood flow can help prevent excessive achiness. Use our Sports Balm after stretching to maximize results!
Take A Dead Sea Salt Bath Add two to three tablespoons of our 100 percent pure Dead Sea Salts and 25 drops of your favorite bath oil to a warm bath and soak for 20-25 minutes. Completely relax, enjoy your "me time," and let any built up tension float away.
Tea Time Nothing is more calming than cozying up next to your fireplace with a warm cup of mint, ginger, or chamomile tea all of which have anti-inflammatory components. Take a timeout and steep two tablespoons of loose tea in warm water, then strain into your favorite holiday cup. Don't forget the honey!
Give Yourself A Manicure Take on your holiday TLC with some nail maintenance. Moisturizer is a must during this season as the air becomes drier and cooler. Take a peek at these festive holiday nail designs thanks to Hello Natural!
Stay Hydrated Maintain beautiful and healthy skin by drinking water often. Seventy percent of the human body is water! Staying hydrated keeps vitals such as muscle function, immune health, digestion, skin, and even your mood, regulated and healthy! Try infusing your next water bottle with fruit and herb combinations like pineapple, black berry, mint or lemon basil raspberry – perhaps a holiday infusion with orange, clove, and cinnamon sticks.
Focus on Breathing Deep, focused breathing utilizes the entire diaphragm, encouraging full oxygen exchange in the lungs. This allows more oxygen to be fully absorbed for optimum respiration of outgoing carbon dioxide. Focused breathing can also stabilize your heart beat and lower blood pressure. Develop these habits and practice 10-20 minutes a day for noticeable tranquility.
Maca Powder Maca root has been traditionally used in Peru as a stress-preventative which increases stamina, boosts libido, and averts fatigue. With a subtle butterscotch flavor, this powder is the perfect healthy addition to any holiday dessert recipe!
Ginger Detox Scrub Ginger is a potent anti-inflammatory root that aids in natural detoxification. Try making this DIY scrub infused with ginger and lemon juice. Start with two tablespoons of fresh, roughly chopped ginger and ¾ cup of 100 percent pure Dead Sea Salts in a food processor. Pulse until the ginger and salt are fully combined. Place into a small bowl and then add the lemon juice. Mix well! You will love the fresh scent of this easy exfoliate! Perfect for packaging into a small glass jar with a decorative holiday ribbon as a quick stocking stuffer.
How do you relax during the hectic holiday season? Whether it's with a cup of hot tea or a warm bath, we hope your holidays are restful and stress-free!
---