Six Healthier Ways to Enjoy Halloween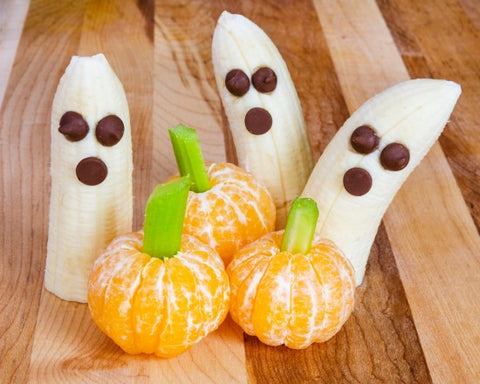 Halloween by design is a holiday full of tasty treats. From trick or treating with your kids, to boozy costume parties. As tempting as it may be to indulge full force, your body and skin may object with stomach aches or breakouts. So, we're here to help with our advice on six ways to enjoy Halloween in a healthier, more holistic way.
Sub candy for healthier alternatives when possible. Fruits and veggies can turn into spooky looking treats! Transform a banana into a ghost by removing the peel and adding raisins to make its eyes and mouth. A clementine or orange doubles as a pumpkin when you add a celery stalk. Get creative, and don't be afraid to turn to Pinterest for some advice.
Use trick or treating as an opportunity to spend time outdoors. Head out a little early while its still light so you can opt for neighborhoods instead of indoor facilities like malls. Stay safe, have fun, and enjoy the fresh air!
If you have a drink (or two), drink plenty of water. Dehydration from alcohol can take a toll on your skin.
Procrastinate on purchasing candy. Waiting until the last possible moment to bring candy into your home will minimize the temptation! Even better, buy candy you don't like.
Eat a heathy meal prior to trick or treating or attending a costume party. If you show up full, you'll be less likely to gorge on unhealthy treats.
Exercise in the morning. An early morning workout is a guarantee that it'll get done, leaving more time in the day to enjoy the festivities.
How are you celebrating Halloween this year? Do you have any tips (or tricks) to share? Let us know by sending us a Tweet to
@SourceVital
!
---