Five Essential Potions and Brews for Halloweek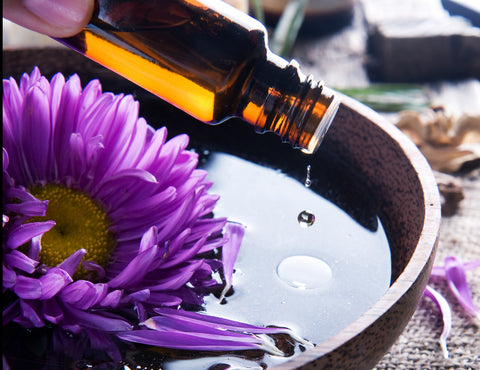 "For the ingredients of our caldron. Double, double toil and trouble; Fire burn, and caldron bubble."  - William Shakespeare from Macbeth
We want to have some fun this Halloween week! Halloween and fall are times of transition and change, making it the perfect time to try something new whether it's pretending to be your favorite costumed character or experimenting with a new essential oil blend. We've come up with a few tricks to make your own potions and magical scents. Wear these essential oil blends as perfume, soak with them as bath oils and salts after a long night of trick or treating, or diffuse in a room.
Perfumes and bath oils: To make perfumes and bath oils, blend your essential oils together, then dilute with a carrier oil such as our Jojoba Gold or Safflower Oil. With aromatherapy, less is more, so there's no need to make the blends too strong. A good ratio to start with is 10-25 drops of essential oil(s) per one oz. of carrier oil. Every essential oil has its own viscosity, so this isn't an exact science, that's what makes it fun! You always need to use a carrier oil unless you have spot tested the oils neat on your skin and you know they won't cause any irritation (Note: Cinnamon and Clove are two oils that can cause irritation)
 Lotion and body wash: Check out our Simples, these are products that are not scented with aromatherapy, making them the perfect carrier products! Simply pour the liquid products into a glass or stainless bowl and whisk in the essential oil blend to the scent strength you desire.
Bath salts: We recommend starting with our Dead Sea Salts. Toss drops of our essential oils blend into the salts, then stir and toss the combination of salts and oil. Pro tip: store your bath salts in a tight container and add baking soda to preserve the salts!
Diffusion blends: Typically, essential oil blends don't have any type of carrier in them. If you're using an electrical diffusion methods, you need to avoid thicker oils like Amber Styrax and Benzoin. For a tea light burner or to simmer in water on the stove, just add a few drops of the blend into the water. Pro tip: carrier oils may smoke, so reminder, avoid carrier oils when diffusing! Here are a few fun blends to spark your imagination and play up the soulful and mystical side of aromatherapy. Above all, BREATHE DEEPLY!
The Good Witch Increase your own powers. Regenerate and give yourself permission to be powerful. Use your power and life force to influence for the good.
5 parts Lavender Official

1 part Cypress

1 part Patchouli

1 part Immortelle

1 part Petitgrain
My Goddess Blend
A goddess is a woman that is deeply admired and loved. Find the goddess within yourself. Receive all that you deserve.
3 parts Sandalwood

2 part Bergamot

1 part Jasmine Absolute

2 parts Lemon
Run, Goblins, Run!
Vanish negativity and get rid of nasty vibes. Dispel all of the unwanted drama in your life.
2 parts Frankincense

3 parts Myrrh

1 part Sandalwood

2 parts Lime
Sleeping Beauty
Sleep like the dead with this potion for insomnia, mind chatter, and restlessness.
2 parts Rose Absolute

3 parts Lavender Official

1 part Jasmine Absolute

1 part Chamomile German

1 part Valerian Root

1 part Mugwort
The Exorcist
Too many ghosts and goblins in your life? Scare the negative energies away and cleanse your psyche.
2 parts Frankincense

2 parts Sandalwood

3 part Tangerine

2 parts Rosemary

1 part Elemi
We hope you give one, or all, of our Halloween potions and brews a try! Once you do, let us know what you think. Have a safe and happy Halloween from all of us here at Source Vital!
---