New Dead Sea Salt and Natural Bath Oil 'Combination' Sets Are Now Available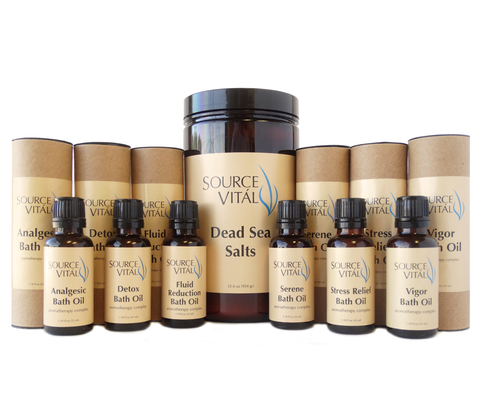 Peanut butter and jelly. Batman and robin. Some combinations were just meant to be. As is the case with our new Dead Sea Salt and Bath Oil combinations, which are now available to purchase (at a discount over buying separately, fyi). First, there's our
Bath Salt + Bath Oil
set which pairs a natural bath oil of your choice with 100% Pure Dead Sea Salts from Israel.  These sea salts allow for a relaxing, luxurious bathing experience on their own and now you can enhance that experience with one of the following bath oils:
Analgesic Bath Oil for sore muscles and joints
Detox Bath Oil for liver congestion, digestion and bacterial issues
Fluid Reduction Bath Oil for cramps and bloating
Serene Bath Oil for nervous tension, headaches and insomnia
Stress Relief Bath Oil for relaxation and well-being
Vigor Bath Oil for revitalization and energy
If you're looking to vary your bathing experience, try our
Bath Salt + Complete Bath Oil
set. This set includes the Dead Sea Salts and all of the bath oils listed above so you can match you need with your bath.
Start shopping now
.
---