Our Favorite Fall Recipes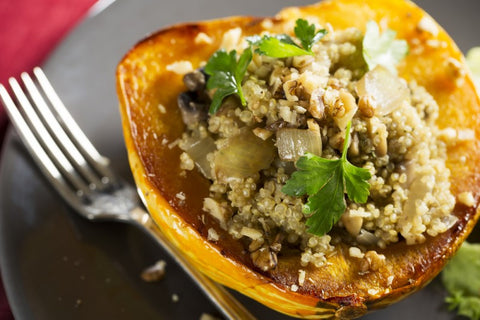 As summer turns to fall, we find ourselves working with a whole new array of nature's delicious resources. Fall is the season of colorful treats, comforting scents and cheerful tastes. If you've got the end-of-summer blues, try out one of these healthy recipes!
Roasted and Stuffed Acorn Squash Let's be real- it's not a fall recipe list without some sort of squash scenario. Squash are a fall staple, and can be used in a multitude of ways. We love this Acorn Squash Recipe from The Cozy Apron because it allows the squash to tie the whole medley together, and visually embodies the spirit of fall.
Fall Salads Summer salad season is a good and beautiful thing. However, fall has plenty to offer in this department. This list of fall salads from Café Sucre Farine incorporates seasonal ingredients like butternut squash, apple cider and candied bacon. Need we say more?
Quinoa Black Bean Pumpkin Soup This soup from Avocado Pesto is gluten-free and vegan-friendly. It combines some of the best fall flavors in delightfully unusual ways, and will leave you feeling full. Serve it nice and warm on a cool afternoon!
Autumn Brittle We didn't forget a treat. Check out this seasonal brittle from Adventures in Cooking. It's found the perfect balance between savory and sweet, and is easy enough to make with kids!
We hope you enjoy these recipes and that they help ease your transition into a new, wonderful season of life. Connect with us on Twitter at @SourceVital at any time for more information!
---