Beat the Heat... the Natural Way!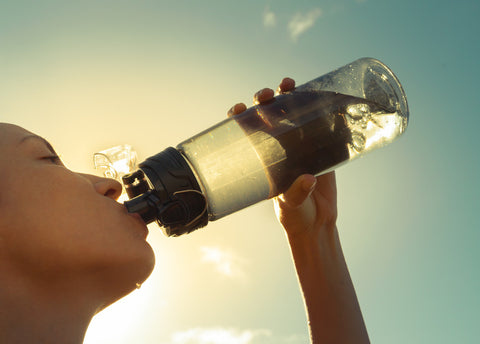 Sunny days are meant for picnicking, swimming, exploring, and spending time outdoors. However, warmth comes with an element of risk. Overheating can be uncomfortable and sometimes dangerous. Don't feel confined to your air conditioning unit – here are our favorite ways to beat the heat, naturally!
Hydrate
It's tough to overemphasize the importance of drinking water, especially during the summer. Refill your bottle constantly as you enjoy time outside. If you get bored with good old H2O, try adding cucumber, lemons, limes, or oranges to provide flavor.
Seek shade
When you begin to notice your body reacting negatively to heat, sit beneath a tree or overhang and breathe deeply for five to 10 minutes. Wear a brimmed hat to lightly shade your face, one of the most sensitive skin areas.
Eat easy
Consume more fruits and vegetables when you will be spending time in the heat. They will help you stay hydrated and provide energy without spurring on lethargy, like a heavy meal might.
Pep up with peppermint
Peppermint's fresh and cool scent is comforting and can distract from irritating warmth. Put one or two drops of peppermint essential oil or Vigor Bath & Body Oil (formulated with invigorating peppermint, eucalyptus & rosemary essential oils) on your wrists or even add them to water.
Chill out
It's weird, but it's proven – thinking cold thoughts will make you less uncomfortable in the heat. If you're going to read outdoors, try a book about icy climates.
Use a mask
Our Cool Mask is a soothing and hydrating gel mask formulated to cool overheated and irritated skin. A combination of aloe vera, algae extract, and essential oils calms the look of redness and the feeling of agitated skin, plus it's perfect for sunburn! Simply apply a think layer over your face and neck, relax for 20 minutes, and rub in the excess product or rinse with water to feel refreshed and invigorated.
Shower and spritz
Keep a spray bottle filled with water in the fridge and take it out for adventures. A quick spritz will revive your skin and fight the hazy mindset heat brings on. We hope these tips help you have a safe, fun and healthy summer.
If you have any questions or comments, contact us on Twitter at @SourceVital. We would love to be of service!
---