10 Holistic Tips for Healthy Skin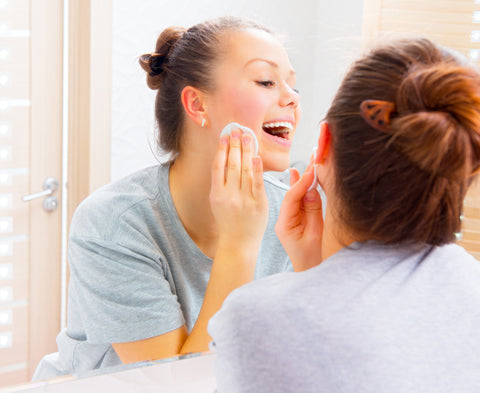 November is National Healthy Skin Month, a month created to raise awareness and encourage people to take care of their skin. It comes at a great time, too. This month signals the beginning of the holiday season where cold weather and sugary food threaten smooth skin. At Source Vitál, our holistic philosophy addresses your skin and body as a whole using organicand natural ingredients. Our goal is to help you choose the regimen that is perfect for your skin and lifestyle.
In addition to finding the products that work for you, bring healthy habits into your lifestyle. Here are our 10 tips to keep your skin healthy in honor of National Healthy Skin Month:
Drink plenty of water. Proper hydration will help prevent water retention, which exacerbates cellulite.

Dry brush and

exfoliate

regularly. Get your circulation going and rid yourself of dead skin cells.

Eat well. Focus on finding foods full of healthy monounsaturated fats and omega-3 fatty acids, such as fish, nuts, olive oil, flax, and avocados.

Don't smoke. Smoking contributes to wrinkles and damages your skin.

Exercise. Physical activity increases blood flow, which delivers oxygen and nutrients to cells, including those in your skin.

Manage stress. Stress, especially during the holidays, can be a big aggravator to your skin, causing acne and other issues. Taking care of your stress will also take care of your skin.

Stay away from HOT! When it's cold outside, a hot bath or shower is tempting. Hot water will dry out your skin and remove natural oils. Opt for warm instead.

Sleep well. Being sleep deprived stresses your body and your skin. Make getting 7 to 8 hours of sleep per day a priority.

Get some fresh air. Being outside in nature helps you stay balanced from the inside out.

Supplement. If you aren't getting all the vitamins and minerals needed to keep your skin healthy, look into taking

whole food supplements

. For more recommendations on how to keep your skin healthy all year long, find a kit on our

website

for the skin condition that bothers you most.
---