Whats in your kitchen? Herbs that heal! (from Guest Blogger Samantha Pope-Cubillos)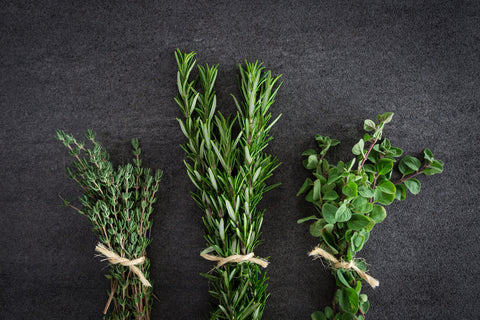 Pharmaceutical companies ignore medicinal spices and herbs because they don't offer the same kind of profit that chemicals and drugs do. Most medical professionals do not know about herbs and spices. Spices and herbs are powerhouse healers!
If you're anything like me…you hate taking a pill every time you get a headache or a sore muscle.  Mother Nature offers us many remedies and it's time to take advantage of them! Please remember that your body is precious and it's very important to pay close attention to what you put into it. You don't have to go to a drugstore to get medicine for what ails you. Just check your pantry, fridge, or herb garden.
Lavender
Infuse the flower as a tea to:
Sooth headaches
Calm nerves
Ease flatulence
Rid halitosis
Peppermint
Infuse as a tea to:
Help digestion
Ease colds
Basil
Infuse as a tea to:
Aid digestion
Reduce mental fatigue
Oregano
Chew leaf to temporarily relieve toothache.
Parsley
Chew leaf to:
Freshen breath
Promote healthy skin
Infuse in tea to:
Rosemary
Chew leaf or infuse in tea to:
Stimulate circulation
Ease pain
Aids in fat digestion
Antiseptic when gargled
Sage
Infuse as a tea to:
Consume after meal to benefit digestion
Helps calm nerves
Soothes coughs
Eases colds
Aid in treating irregular menstruation
Rub on teeth to:
Eat to:
Thyme
Infuse as a tea to:
Aid in digestion
Ease hangover
Alleviate sore throats
Relieve insomnia
Cayenne
Mix in with water or food to:
Improve the circulatory system
Alleviate allergies
Relieve muscle cramp
Improve digestion
Increase pep and energy
Aid in healing for the heart
Garlic
Cut into small pieces and eat to:
Equalize low or high blood pressure
Relief of cough
Have a very positive effect on the immune system
Use raw garlic juice on:
Rashes to stop the itching immediately
Bug bites to stop the itching immediately
Lemongrass
Crush the stalk lightly with a mortar and pestle to release the oils and infuse as tea to:
Aid in digestion
Ease menstrual cramps
Reduce stress
Promote a good nights rest
Reduce fever
Ease flatulence
Use oil from stalks and rub on skin to:
Repel mosquitoes
Act as an anti-fungal
Cumin
Boil seeds in water and infuse as a tea to:
Ease flatulence
Reduce nausea
Relieve morning sickness
Relieve symptoms of the common cold
Check out Source Vital's selection of pure essential oils. Get creative and create your very own medicinal oil, spray, or lotion.
About Guest Blogger, Samantha Pope-Cubillos
Samantha is an avid health enthusiast, owner of Sovi Fit, and daughter of former Source Vitál owner Jerry Pope.
---