Product Spotlight: Deozein, Natural Deodorant Spray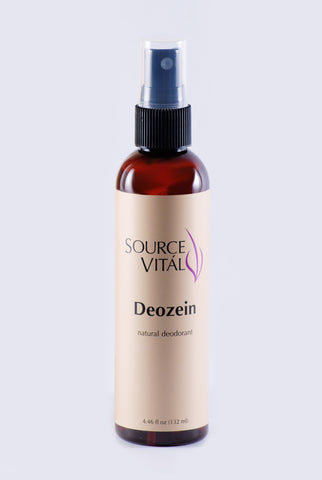 This synergistic formulation of seaweed extracts, mineral salts, & essential oils is designed to kill bacterium that cause body odor. Deozein isn't an antiperspirant - it's a natural deodorant. Perspiring is a natural bodily function & is part of our detoxification & cooling systems and it's unhealthy trying to prevent it. Deozein contains NO Aluminum Chlorohydrate!
Deozein's most active ingredients are purified water, laminaria digitata extract, PEG-16 macadamia glycerides, lavandula hybrida (lavandin) oil, pogostemon cablin (patchouli) oil, salvia lavandulaefolia (spanish sage) oil, melaleuca alternifolia (tea tree) and leaf oil.
Learn more about one of Source Vital's most popular products: Deozein Natural Deodorant.
---