8 Tips for Oscar-Worthy Skin at Home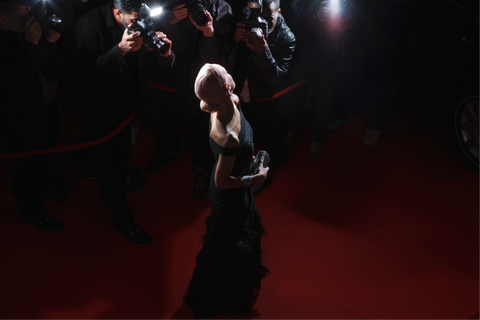 With the 90th annual Academy Awards coming up, all the top celebrities want to look their very, very best on the red carpet. And while most of us aren't lucky enough to have a personal glam squad, it's easier than you think to get your complexion red-carpet-ready.
So before you take all those selfies at your Oscar Night Party, look like a star at home with these 8 tips for achieving youthful, glowing skin.
1) Drink Plenty of Water
We know it's important to hydrate throughout the day, but have you ever stopped and thought about all that water does for us? Water is not just essential for survival, it also offers countless benefits that impact the way we look and feel about ourselves. 
Drinking at least 8

12-ounce

glasses a day help

s

rid the body and skin of toxins

that can make

your

complexion l

ook congested and splotchy

.
Water

maintains

the optimum skin moisture and deliver

s

essential nutrients to the skin cells.
It replenish

es

the skin tissue and increase

s

its elasticity, which delays the appearance of signs of aging.
If you have a skin disorder like psoriasis, wrinkles, or eczema, staying hydrated can help combat the redness and inflammation associated with these conditions.
Water also increases the metabolic rate and improves the efficiency of the digestive system. This in turn reduces bloating and promotes healthy, youthful, and glowing skin.
Drink up!
Source Vital Tip: If you are trying to cut out sodas from your diet, switch to sparkling water! Not only do these drinks have zero calories, but you have several flavors to choose from. Drinking sparkling water can also increase feelings of fullness in between meals, which decreases your need to snack.
2) Break a Sweat
Regular participation in a yoga or spin class can have a positive effect on your skin as well as your mood and body. 
Raising your heart rate at least once a day makes your skin glow.
Exercise increases your circulation and oxygen capacity, leading to an improved complexion and radiant

appearance

.
Working up a sweat can also help lower stress hormone levels, which is linked to skin aging, breakouts

,

clogged pores

,

and a thick middle section

.
An even greater benefit of exercise is that it produces endorphins, a.k.a. the hormones that make you feel good. It isn't just a coincidence that you feel better after you work out.
Source Vital Tip: If you plan to exercise outdoors, remember to wear your sunscreen!
3)

Get Your

Beauty Sleep
When it comes to your beauty regimen, sleep may be the closest thing there is to a fountain of youth. The body repairs itself while you snooze away, leading to a long list of benefits to your skin.
Put down your phone and stop looking at your tablet. Unplug

and just allow yourself to fully rest.
A good night's sleep can mean good skin health because when you're sleep deprived, your body makes more

cortisol, a

stress hormone

c

ortisol

that

can lead to stress and inflammation

that can make your skin look dull

and

sickly

.
While you sleep,

your

body's hydration also rebalances

. So, n

ot getting enough sleep results in poor water balance, leading to puffy eyes and th

ose

under-eye circles we

attempt

to cover up.
Source Vital Tip: Going to bed and waking up at the same times every day are keys to healthy sleep. Set an alarm an hour before your bedtime to remind yourself to prepare for bed, but make sure you get at least 7 hours of sleep.
4) Eat a Balanced Diet  
Naturally gorgeous skin often starts with your diet. What you put in your mouth is just as important as the products you apply on your skin.
Foods get digested and broken down into vitamins, minerals, and amino acids that your body uses to build healthy skin. Crash diets, processed foods and too much sugar can break down healthy skin cells and prevent the body's ability to repair itself.
Not eating enough protein can also be detrimental to your skin's health. A high-protein diet can lead to strong, youthful-looking skin, as protein contains amino acids that create collagen in your body, a substance that thickens your skin so it looks clear and supple.
Another tip for clear skin is to avoid sugar in your diet. Low-glycemic diets have been shown to be beneficial to acne-prone skin. Replace refined, sugary foods with nutritious foods like fruit and vegetables.
Foods high in Omega-3 fatty acids help hydrate and strengthen skin from the inside out and reduce inflammation and redness. Try to incorporate salmon into your diet at least once a week, as this fish has high omega-3 levels.
Further, antioxidant-rich foods and drinks, such as blueberries, dark greens, green tea, and coffee fight the signs of skin aging and leave your skin looking luminous.
5) Moisturize, Moisturize, Moisturize!
Daily moisturizing is vital for healthy skin. Regularly using lotion and moisturizer should be part of any good skin care regimen. Not only does moisturizing helps skin stay young, but it also protects the skin from blemishes, dryness, or oiliness – especially when you choose products made from natural ingredients instead of aggressive skin treatments and harsh products.
It may seem logical to cut back on the face cream when you have a blemish, but the reality is, drying out your skin can make this condition worse! Instead, using a daily moisturizer that's right for your skin type gives you the complexion of your dreams and can camouflage those blemishes.
A great option for celebrity-caliber skin is our Liposome Serum, a nourishing botanical gel for super-hydration. This product is packed with nutrients that encourage your skin to radiate with a healthy luster.
Source Vital Tip: It is most effective to moisturize after cleansing, shaving, or exfoliating your skin. Hot water can strip moisture and oils from your skin that are essential for a healthy complexion, leaving it parched and dry. Replace any moisture loss by applying your moisturizer while your skin is still damp.
6)

Prep Your Skin Like a Pro
The key to natural, flawless glowing skin begins with a fantastic skin preparation. Skin doesn't look its happiest when it's dry, tired, cracked, or oily. If you spend the time preparing your skin before applying your makeup, you won't need to use as much. Good skin prep also helps men get a closer shave and look their best.
There are 5 essential steps to prep your skin (and body) like a pro:
 1) Cleanse Your Face Once a Day
Unless you have oily skin, its only necessary to wash your face once a day, usually in the evening. In fact, depending on your skin type, climate, and the products you use, washing your face too often can cause dryness and irritation.
Source Vital Tip: We recommend using our Algae Deep Cleanse. It was recently nominated as a 2017 Best In Show product at the 2017 Indie Beauty Expo.
2) Exfoliate Gently
Exfoliating once or twice a week is one of the most important steps you can do for a glowy, glass-like complexion. It can help clear blemished skin, lighten red and dark marks left from breakouts, and unclog pores. Exfoliation also beneficial for lightening the appearance of pigmentation caused by age, pregnancy, and hormonal imbalances. It also increases blood circulation, which gives the skin a renewed and healthy look.
3) Prep and Protect with Face Oils
Apply a facial serum for an antioxidant boost and deep hydration. Try our Customized Facial Cocktail with Abyssinian oil, which is high in fatty acids to aid with moisture and suppleness. This will leave your skin with a velvety soft finish that can also double as a makeup primer.
4) Lock in Moisture
The last step in prepping the skin before applying your makeup is to moisturize. It plumps your skin to provide an even surface for makeup application and keeps everything looking soft and smooth all night long.
5) Take Care of Your Hands and Feet
No one wants dry, cracked heels in a pair of fabulous shoes. Put your best foot forward with soft, smooth, and hydrated feet. Our Indie Beauty Expo Best-In-Show-nominated Lemongrass Mani/Pedi Cream will do the trick. In the weeks before a big event, apply a generous amount of the cream on feet and wear a paid of socks to allow the skin to absorb all that goodness.

Keep your manicure looking great, well after your big night out with another one of our Indie Beauty nominated products. Fungal Nail Oil keeps cuticles hydrated, smooth and protects from the look and feel of nail irritations. It truly deserves a round of applause!
7) Wear Sunscreen Every Day
Whether it's sunny or overcast, you should wear sunscreen every day. Sunscreen acts as a shield against the harmful UV rays that penetrate the skin while exposed to the sun.
Sunscreen use shouldn't be restricted to summer alone. Up to 80 percent of the sun's UV rays can pass through clouds. You can end up with a serious sunburn on overcast days, so it is important to wear sunscreen at all times while outside.
In addition to protecting you from the risk of skin cancer, sunscreen also protects essential skin proteins that keep your skin smooth and healthy, such as collagen, keratin and elastin. Your future self will thank you for wearing sunscreen when you were young!
8

)

Enjoy a

Facial

Every Month
A good daily skin care routine is essential for maintaining a healthy looking, fresh complexion, but every so often, we need to leave it to the professionals and treat ourselves to a facial at the spa.
Facials work wonders on tired, wrinkled skin. They encourage lymphatic drainage by flushing out toxins and promoting circulation. Moreover, they are relaxing. With everything going on in our lives, we deserve a time to kick back and relax. What better thing to do for our skin and our health than a facial?
Source Vital Tip: If you are looking for instant results, try an Oxygen Infusion Facial. It's the perfect treatment right before a big event. This facial is like a walk down the red carpet. Delivering powerful vitamins and antioxidants, you will leave with your skin looking dewy and glowing as you prepare for your big night. In the days right before a big event, stay away from facial treatments that encourage detoxification. The last thing you want is a big breakout to steal your spotlight.
Any other tips you want to share? Let us know in the comments below.
---