8 Amazing Benefits of Avocado Oil for the Skin and Hair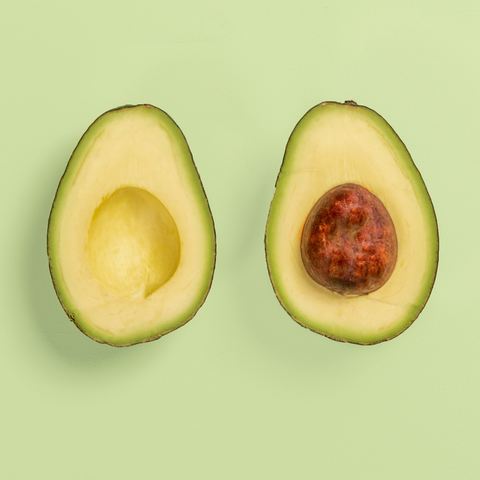 Why You Need to Add Antioxidant-Rich, Hydrating Avocado Botanical Oil into Your Skin and Body Care Routine
Avocado toast may have a reputation for being "basic" but the cold-pressed oil from avocados is anything but when it comes to caring for your skin, nails and hair.
July 31st is National Avocado Day. To celebrate we're breaking down all pur favorite delicious beauty benefits of this amazing oil.
1.
Avocado Oil is Superfood for your Skin
The health benefits of eating avocado are well known. Nutrient-dense and packed with good-for-you fats, avocados truly are excellent for you – inside and out.
Made from the kernel of the plant, pure high-quality avocado oil has a yellow to olive-green color and smells somewhat nutty.
Cold pressed, unrefined avocado oil is high in monounsaturated fats such as oleic acid, as well as lecithin, phytosterols, chlorophyll, carotenoids (like beta carotene), and vitamins A, B, D and E.
Among the many properties, these components nourish, protect cells from free radical damage, hydrate, and support healthy skin function.
2.
Hydrates and Softens Dry Skin

For skin that needs moisture, look no further.

Avocado Oil sinks into the skin, offering effective hydration that actually helps the skin feel and look more balanced – even for combination and oily skin types.

This botanical oil is quite rich and can take about 10 minutes to absorb into the skin.

However, once absorbed, the skin will not feel super greasy or look too shiny, it will appear plumped, soft and glow with health. And because it is able to penetrate into the deeper layers of the skin, that comforting hydrated feel will last quite some time.

For those with oilier skin types, try incorporating this luxurious oil as a part of your nighttime routine. Apply a thin layer of avocado oil to the skin, give it a few minutes to penetrate and then gently wipe away any remaining oil. Using this technique will give you all the benefits without clogging pores.

When normal to dry skin types feel like they could use a surge of moisture, a few drops of pure Avocado Oil added to your favorite face cream will give it just the boost needed for an ultra-hydrating treat.
3.
Comforts Sensitive Skin and Calms the Look of Inflammation
In conjunction with being a great moisturizer, Avocado Oil is one of the most powerful botanical oils for calming the look and feel of inflammation and caring for delicate skin.
Nutrients like lecithin help the body to form new skin while essential fatty acids have been found to promote collagen production. These properties are the key to helping support the body's natural healing processes and promote strengthened, healthier skin.
For many with super sensitive skin Avocado Oil is a great option for providing simple and effective skin care. It can moisturize, soothe and even cleanse the skin without the need to add in other potentially-irritating ingredients.
For inflamed skin conditions such as eczema and psoriasis, Avocado Oil provides a gentle, natural option that can offer a feeling of relief. It sinks deep in to the skin, traps in moisture and reinforces the skin's natural barrier against further irritation.
Massage Avocado Oil onto upset skin and allow time to absorb before covering. To start seeing an improvement in serious skin conditions, it is important to maintain daily treatments. As with all-natural remedies, it won't happen overnight. After a week or so, you should start to see an improvement in the skin.
4.
Improves the Appearance of Acne-Prone Skin

A part of Avocado Oil's ability to calm the look and feel of inflammation includes acne-prone skin.

Oftentimes pimples are a symptom of an inflamed sebaceous glands or clogged pores that have become irritated. Avocado Oil is lower in the types of polysaturated fats that are believed to cause this type of inflammation.

Additionally, Avocado Oil is a good source of vitamin E and other antioxidants which can prevent the oxidization that creates the appearance of blackheads and enlarged pores.

When added to its abilities to support the skin's natural healing abilities (mentioned above), it's no surprise that those with acne can also enjoy the benefits of including Avocado Oil into their skin care regimen.
5.
Fights the Signs of Aging and Diminishes Sun Damage
By nourishing, hydrating and protecting from free radical damage, Avocado Oil can lend a hand in keeping a youthful appearance.
Elasticity is a key component in keeping the skin tight, plumped and free from the visible signs of aging, such as fine lines and wrinkles. The vitamins and fatty acids present in Avocado Oil can retain the look and feel of the skin's elasticity, even as we age.
Some research has also found that eating avocados and using Avocado Oil can protect the skin from UV damage. Sun damage is one of the leading causes of premature aging, so be sure to get in your daily dose of avocado to keep the skin looking smooth and free from spots and discoloration.
To keep your complexion looking youthful, consider adding Avocado Oil into your nightly beauty ritual. This rich and beneficial oil will work hard at improving the appearance of your skin while you sleep. Wake up and delight in the condition of your skin
6.
Makes a Great Oil Cleanser

The thick, luxurious feel of Avocado Oil make it a great option to use for oil cleansing. It is capable of penetrating deep into the layers of the skin to gently remove dirt, excess oil and makeup, without needing to scrub or use any harsh, drying chemicals.

Additionally, by using this oil cleansing method, avocado oil helps to clean up blocked pores and allow the complexion to look and feel more balanced.

A great way to purify deep into the pores is to pair oil cleansing with a warming element. The effect will be similar to the steam used during a facial to open up the pores.

Try filling a sink with very warm water then covering your face and the sink with a towel and steam your skin for a few minutes. Then massage oil into the skin and gently wipe away any excess product.

You can also try applying the oil to your skin and covering your face with a warm wash cloth for a few minutes before wiping away any excess oil. Even easier, but slightly less effective, try cleansing your skin with Avocado Oil immediately after taking a warm shower.

Finish with a splash of cool water to close the pores and give the skin a radiant, toned look.
7.
Promotes Shiny, Healthy Hair and Nails
Not everyone can have a head of hair like Brooke Shields, but we can make the most of what we've got.
Avocado Oil promotes soft, shiny manageable hair by lubricating it against breakage and from become dry and brittle. Even post pool chlorine or a day at the beach with sun, sand and salt, is not match for Avocado oil. It can restore vitality to even the most stressed tresses.

We also love to use Avocado Oil to prevent the look of dandruff caused by dry, flaky scalps.
Try making your own hair and scalp oil by blending together Lavender and Peppermint essential oils with and pure and natural Avocado Oil. This elixir will help clear blocked hair follicles and hydrate the scalp, eliminating the appearance of any embarrassing dandruff.
Avocado Oil also works great as a beard oil to hydrate and tame facial hair of all lengths.
For strong healthy nails, use Avocado Oil on nails and nail beds to keep the skin soft, moisturized and reduce breakage.
8.
Use to Enhance Your Bathing Experience

Lastly, don't neglect to pamper your body with this delicious oil.

Soften the skin by using avocado oil as a carrier oil in your aromatherapy bath. Add Lavender or a few drops of your favorite essential oils with Avocado oil and mix into a warm bath. The Avocado oil will hydrate the skin and prevent it from any dryness caused by the warm temperature of the bathwater.

Continue to condition your skin post-bath by using Avocado Oil as a hydrating body oil – especially good on cracked heels and dry elbows. Be sure to take caution as the oil can make the bathtub and tile floors slippery!

To enjoy all of Avocado's restorative properties be sure to use only the highest quality oil on your skin.


Our Avocado Oil is 100% pure, organic, cold-pressed, virgin and unrefined in order to preserve all of its important properties. It is free of any chemicals, pesticides, synthetic perfumes, fillers, or carrier oils.

For more on how to incorporate botanical oils into your beauty routine click here.
Source Vitál Products Made with Organic, Unrefined, Cold-Pressed Avocado Oil
SV23 Phyto Serum
Fortifying Infusion
Hydrating Infusion
Restorative Infusion
Soothing Infusion
Oil Control Infusion
Acne & Blemish Infusion
Toning Infusion
Charcoal Clay Mask
Chlorella Hydra-Facial Mask
Nail & Cuticle Elixir
Hair & Scalp Elixir
Sir Vitál TAME Beard Oil
Sir Vitál CONDITION Beard Oil
Sir Vitál THRIVE Beard Oil
---
1 comment
---
---