6 Miraculous Uses of Merecul MultiLotion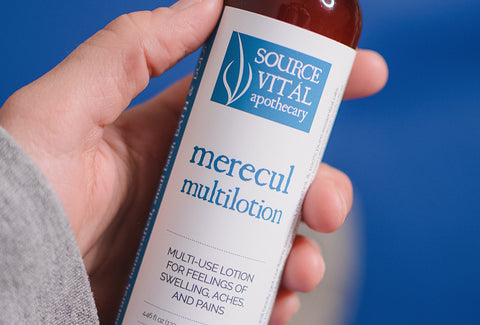 Feeling stressed lately? Battling tight muscles? Tired of having regular headaches?
Wondering if there is a product that can offer some natural relief for all these ailments? 
There is!
Introducing Merecul MultiLotion, a new active cooling lotion that can comfort and soothe whatever troubles you.
Now, if you're thinking that Merecul sounds somewhat similar to "miracle," this is no coincidence. We decided to have a little fun with the name because, for many of us at Source Vitál Apothecary, this is a miracle product with a nearly endless list of uses.
What's in a Name?
We initially developed the product for professional use to encourage the elimination of discomfort associated with bloating and fluid retention. To achieve these goals, the lotion is formulated with more than 17 naturally active ingredients that stimulate the body's natural responses to reduce the feelings of pain, inflammation, and discomfort.
And what exactly makes Merecul so miraculous?
Aloe Vera extract
Natural menthol
Red algae
Lemon Essential Oil
Peppermint Essential Oil
Rosemary Essential Oil
Cinnamon Essential Oil
Cucumber extract
Clary Sage Essential Oil
Wintergreen Essential Oil
Pine Essential Oil
Juniper Essential Oil
Cypress Essential Oil
Thyme Essential Oil
A multilotion is exactly what it sounds like: a multi-use product for men and women alike that you can customize for many different purposes, depending upon your needs as an individual. Also, since "mer" means sea in French, it pays homage to the active red algae that is a crucial element in its formula.
So, when you combine the aquatic ingredients with the versatility of Merecul's many benefits and uses, it's easy to see the motivation behind such a quirky product name.
How to Use Merecul MultiLotion
Many of us have conditions that cause major discomfort in our everyday lives, but that doesn't mean you should have to suffer day after day. Whether the culprit is swelling and fluid retention or feelings of inflammation and heaviness, this unique product is here to help.
To highlight the true versatility of Merecul Multilotion, we've collected six miraculous uses straight from our staff and longtime fans.
1) Reduce Feelings of Discomfort from Swelling and Inflammation
Merecul MultiLotion offers the sensation of instant relief from pain and tightness in the body. Our unique formula calls on the naturally active properties of natural menthol, red algae, Aloe Vera, and peppermint essential oil. This combo works quickly to soothe your joints and muscles in order to promote relaxation within the entire body.
Simply massage a small amount into areas of discomfort, and you will start to feel a cool down almost immediately.
2) Relieve Head and Neck Pain
We all have experienced the pain of a throbbing headache. Sometimes it can get so bad that you feel like you head is about to explode. Whether you suffer from regular migraines, deal with neck pain from looking at a computer screen all day, or recently slept in a weird position, consider adding Merecul to your self-care arsenal.
Merecul MultiLotion instantly cools the skin to help the body start relaxing. Start by dabbing a small amount on your temples or the back of the neck at the first sign of pain. Then, lie down in a comfortable dark room until the symptoms lessen.
Unlike over-the-counter pain relievers, you can reapply as needed and feel good about using a safe, natural option.
3) Provide a Cooling Sensation on a Hot Day
Down here in Texas, it stays pretty warm all year long, so if you're the type of person who runs hot, Merecul MultiLotion is definitely the one for you. Whether you're post-workout or experiencing a hot flash, you'll enjoy a chilling sensation on your skin that will help you cool off on a hot day.
Botanical Aloe Vera, red algae, and natural menthol work together to cool and comfort your skin, while rosemary essential oil provides a stimulating, energizing boost. Give your overheated skin a treat while you relax and unwind on a hot day.
4) Use on Tired Legs or Swollen Ankles
Merecul MultiLotion is great to use on tired legs or swollen ankles after a long day. When you are on your feet all day long, blood flow is restricted, causing fluid to build up in the feet. This can also happen from sitting for prolonged periods of time.
We recommend combining massage techniques with Merecul MultiLotion for multi-symptom relief from swelling and achiness. Also, we encourage you to elevate your legs so excess fluid drains away and swelling decreases. Not drinking enough water can also contribute to swelling, so in order to get the best results with this product, drink up!
5) Alleviate Feelings of Fluid Retention Associated with Menstruation or Hormonal Imbalance
Bloating and cramps are a fact of life for many women. We love using Merecul to pamper the body during those times of the month when discomfort is at it's worse.
Perfect to use before and during menstruation, Merecul promotes a lighter, renewed feeling when massaged onto the lower abdomen and lower back area. The cooling sensation instantly revives any sluggish, heavy feelings, while essential oils like Clary Sage promote harmony and emotional balance.
6) Travel In Comfort
Merecul MultiLotion is a travel bag essential! Battle the stress and discomfort that comes with traveling without having to pack a ton of products.
Traveling can entail long plane or car rides, lots of walking, and adjusting to different time zones or routines. Use Merecul on tired, sore feet while on the plane or rub on the back of your neck for a revitalizing sensation.
And when you travel, you often eat out more than usual because you NEED to try that regional cuisine or celebrated restaurant. If you're feeling a little bloated from overindulging on food or drink, massage a little Merecul on your torso to ease any discomfort.
Remember - Merecul is a very active product, so if you are pregnant or have any potential health problems, check with your doctor before use. We strongly recommend pregnant women restrict usage to the lower legs and ankles.
Have you incorporated Merecul into your daily wellness program? Share your favorite benefits with us in the comments!
---
2 comments
---
---