6 Essentials You Should Be Packing For Spring Break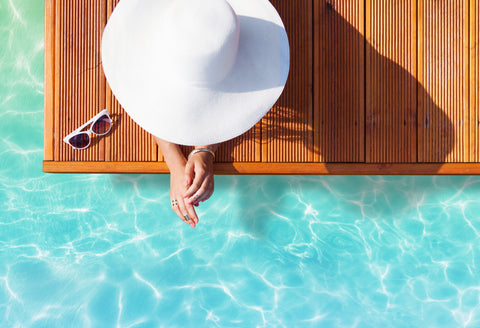 The faintest hints of spring are in the air: the smell of flowers just starting to bloom, warmer temperatures, and spring break just weeks away. Before you get to enjoy the bliss of spring break, you'll need to complete the daunting task of packing for it.
Although we can't help you pack your spring wardrobe, we have all of your beauty and wellness essentials covered. Here are six of our must-haves for your best spring break ever.
Cleaner Hands Spray
Keeping yourself healthy while traveling for spring break should be a top priority for both you and your loved ones. Although hand sanitizing stations are nearly everywhere now, many use controversial ingredients, and leave your hands feeling sticky. Instead, use our Cleaner Hands spray, a natural alternative to hand sanitizer. It is a great way to help protect yourself from the germs that can come with traveling. Our spray formula absorbs in to the skin quickly, is naturally scented with beneficial essential oils, and as an added bonus, is also a great surface cleaner. (Perfect for those grimy plane tray tables!)
First Aid Oil
When packing, you'll most certainly want to look for products that a great multitaskers, and don't take up a ton of space. Enter our beloved First Aid Oil. This pure essential oil blend naturally soothes, calms, and cools the skin. This beneficial oil takes the sting out of insect bites, bruises, cuts and scrapes, and rashes-which is perfect for any unpredictable skin irritations that may occur while traveling. 
Algae & Aloe Cool Gel
Even though we try our hardest to avoid it, a painful sunburn can creep up on us when we least expect it. Having our Algae & Aloe Cool Gel in your travel arsenal can help to alleviate the pain and irritation, almost like a topical band-aid for the skin. Skin-loving ingredients such as mineral-rich algae extracts, aloe vera, and apple cider vinegar work together to give skin a calmed and cool sensation once applied. Best of all, our Algae & Aloe Cool Gel comes in a TSA-friendly size, so you can always carry it on the go with you.  
Allevia Natural Elixir
Have you ever had a moment while traveling when your headache just won't quit, or a queasy stomach gets the best of you? Never get caught empty-handed without a remedy again with our Allevia Natural Elixir. Every ingredient in our formulation was carefully selected to make the head and tummy feel better. For a pounding headache, apply 5-10 drops to the temples or back of the neck, or massage 4-5 drops on the belly to ease an upset stomach. 
Custom Facial Cocktail
When packing space is precious, bringing your entire skincare routine in tow is pretty unlikely. Our Custom Facial Cocktail combines 4 steps in to 1, including toning, a serum, care, and light hydration. Best of all, this product is completely personalized to you, and you can adjust your selections based on how your skin is feeling or the climate of your destination. The only other skincare product you'll need is a cleanser-and we have those in travel-friendly sizes too!
Jet Lag Roll-On 
Face it, we know traveling can be incredibly mentally and physically exhausting. Whether you've spent too much time on a plane,  jumped time zones, or just need a pep in your step, our Jet Lag Roll-On will help keep you fresh and bright-eyed until you arrive at your destination. Jet Lag may also promote restful sleep, curb feelings of indigestion, and diminish sluggishness. Consider this convenient roll-on your aromatherapy on-the-go. 
---