5 Dynamic Duos To Add To Your Summer Beauty Routine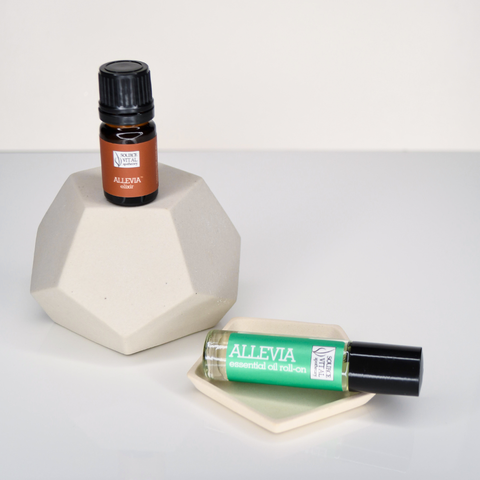 Some of the best things in life come in pairs – Peanut Butter and Jelly. Batman and Robin. Sonny and Cher. Wine and Cheese. 
But what about when it comes to your wellness routine? Name a more iconic beauty duo, no need to wait – we did the hard work for you!
At Source Vitál, most of our products are designed to work together in harmony but there are a few pairings that are particular favorites.
Keep reading to discover some beauty duos (that happen to be perfect for summer) for you to add to your routine.
1. For the Perfect Cleanse: Micellar Cleansing Water + Algae Deep Cleanse
You may have heard of double cleansing, which is exactly like it sounds – cleansing twice. Although this cleansing technique can be used year-round, we love it during the summertime months. 
As we spend more time outdoors, you are likely exposing your skin to pollution, harsh elements, and due to warmer temperatures, sweat, excess dirt and oil.
This product combination will keep skin clean and healthy without a lot of fuss! 
First, apply Micellar Cleansing Water by dispensing a small amount onto a flat cotton round and sweep across the face. 
No Need to rinse! Micellar Cleansing Water will remove excess dirt and oil as well as eye makeup.
Follow up by washing your face with Algae Deep Cleanse. This is a deep pore cleanser that will be extra helpful in keeping pores clean from the impurities that can build up with extra sweat. The cooling tingle is also a nice treat for all the senses when it's hot outside. 
For more information on how to incorporate a double-cleansing ritual into your daily practice, click here.
2. For Soothing Inflamed Skin: Algae & Aloe Cool Gel + Algae Extract Unscented
With prolonged outdoor sun exposure, the likelihood of sunburn and other potential irritations can occur, leading to tight, dry, and even painful skin conditions. 
Forget thick and sticky creams and lotions loaded with questionable ingredients – you only need two products to help you get much-needed relief!
First, Spray on our Algae Extract Unscented after showering or bathing, for maximum absorption. This highly concentrated product contains alginic acid, which will help to strengthen, hydrate, and calm the skin. 
This product is great as-is but if you like a particular scent it is also customizable – just add your favorite essential oil to the spray. We love soothing Chamomile Mixta Essential Oil for sunburned skin.
Next, follow up by applying a Algae & Aloe Cool Gel. This instant-gratification cooling product will help to soothe the feeling of inflammation, improve the look of redness and swelling, and cools to quickly refresh the skin. 
Pro Tip: Planning on a sun-filled day? Keep Algae & Aloe Cool Gel in the refrigerator for the ultimate treat for mind and body. 
3. For Tired Feet and Legs: Analgesic Bath & Body Oil + Merecul MultiLotion
Summertime means longer, busier, more active days. It can also mean extended hours on your feet and more exercise, leaving your feet and legs feeling tired and heavy. 
Give your feet (and legs) some TLC by soaking them in our Analgesic Bath and Body Oil. Simply add a few drops to warm water in the tub, or massage into the affected area prior to soaking. 
Eucalyptus, Peppermint, and Rosemary essential oils reduce the feeling of inflammation and common aches and pains, leaving you feeling refreshed and invigorated. 
After your reviving soak, finish up by massaging Merecul MultiLotion directly on the feet. This "miracle" product contains Red Algae, Menthol, and Arnica which will help to alleviate the discomfort of soreness and heaviness, particularly after an active day outdoors. 
4. For Healthier Travel: Allevia Natural Elixir + First Aid Oil
After cooler weather and months focusing on staying healthy at home, most of us are ready for a getaway. Now, more than ever, its important to approach travel in a much intentional way. 
And, no, no need to drag along the entire medicine cabinet – our healthy travel elixirs are pocket-sized!
The stress of travel can often have you feeling out of whack. Long flights, eating different foods, sleep disruptions are just some of the challenges that can leave you dealing with a pounding headache and upset stomach.
That's where Allevia Natural Elixir comes in handy. Our special blend of essential oils chosen specifically to ease the discomfort of headaches and tummy aches is a quick and easy way to help you feel better without taking over the counter medication.
Apply 5-10 drops to the temples and back of neck for an aching head, or 4-5 drops on your stomach for queasiness. The holistic formula works to help the body find some natural balance.
For bruises, bumps, or scrapes, First Aid Oil to the rescue! This concentrate is perfect to keep in your handbag for those unexpected irritations. 
First Aid Oil doesn't sting when applied, and instantly cools, calms, and soothes. It is a great option to care for minor cuts, burns, rashes and even comes in handy to use on annoying bug bites.
5. For Longer-Lasting Fragrance: Rose Patchouli Body Wash + Camellia Rose Body Lotion
The heat of the summer sun combined with excess sweat isn't a great combination for wearing a heavy perfume, but lighter fragrances can't stand up to the heat either.
The solution: fragrance layering. Fragrance layering is the process of using a similar scented products at each step of your body care routine, which will allow you to gradually build the scent and extend the longevity of the aromas without overwhelming you (or others.)
Start by showering or bathing in your favorite Source Vital Body Wash (We love our Rose Patchouli for Summer.) 
After cleansing, and while skin is still damp, apply your favorite Source Vital Body Lotion or Cream (Like our Camellia Rose.) This creates more depth in the scents you choose to wear, and scent tends to like to linger on well-hydrated skin. Win-win. 
Do you have any favorite Source Vital product duos? Let us know in the comments below!
 ABOUT THE AUTHOR
Tr
acey Ellis is a beauty enthusiast with over a decade of experience in the beauty industry. You can find her in the lab, manufacturing Source Vitál Products. Tracey is a New Yorker living in Texas and spends her time cooking and spoiling her miniature husky, Tabasco.
---