The Best 4 Things To Drop In Your Bath Before You Soak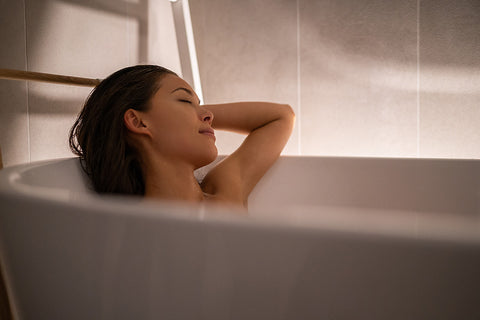 Nothing says "relaxation" more soaking in a warm bath. When you use the right ingredients, your usual soak can have many additional health benefits.
From relieving muscle pain to sleeping better, there are many things you can add to your bath to elevate your experience. In this blog, we explore the best bathing products you can add before you soak!
Algae Powder
When it comes to using algae powder for your soak, there are two different types to choose from.
Calcareum Algae Powder is rich in calcium and magnesium. Adding this highly nutritious, organic product to your bath prior to soaking may reduce the appearance of stretch marks and acne scarring. It can also detoxify and exfoliate your body.
If you're after more hydration, then look no further than Laminaria Algae Powder! This bath product can help hydrate dry skin, as well as improving the appearance of cellulite. Laminaria Algae Powder is high in alginic acid, which is excellent if you're wanting plump and youthful looking skin.
Dead Sea Salts
Dead Sea Salts provide gentle cleansing and exfoliation, making it perfect if you're wanting a relaxing way to spend the night. It's also incredibly hydrating and can help reduce redness due to its high magnesium and calcium content.
If you have sensitive, dry or itchy skin, then a relaxing Dead Sea Salt bath is a must-have in your skin care regime. The salts gently remove dry and scaly skin, while also reducing itching, when used as an exfoliant.
Dead Sea Salts can also help soothe aching muscles. Whether it's from an extensive workout or from sitting at your desk all day, the anti-inflammatory properties may help reduce any soreness or stiffness.
Himalayan Salts
With 84 different minerals, each with a unique benefit for your health and skin, Himalayan Bath Salts are an excellent addition to your bath.
These salts can help reduce inflammation and protect your skin from external irritants. Himalayan Bath Salts are also great if you experience eczema or psoriasis, as the salts are hydrating and rich in minerals.
Himalayan Bath Salts can also hydrate your skin for a plump and healthy appearance. These salts are beneficial to relieve any muscle soreness or tightness.
Essential Oils and Essential Oil Blends
If you bathe on a regular basis and want to mix things up, then add some drops of essential oils to your bath. Essential oils come in a range of aromas and blends, each with a unique benefit for your mind and body.
For those who are after a good night's sleep, adding Lavender, Sage or a combination of both to your bath can help promote a good night's sleep. Full of calming properties and sedative benefits, these oils can help you unwind before going to sleep for the night.
If you're after a stress-reliever, then opt for a blend of Lavender, Marjoram and Petitgrain Bigarade. This fusion of oils helps ease the mind and body of any stress you may feel or carry throughout the day.
Need a quick and easy detox? Then look no further than this spicy blend of Rosemary, Cinnamon, Patchouli and Sage! When these oils work harmoniously, they help expel unwanted toxins from the body, leaving you with a rejuvenated feeling post-soak.
If you're prone to tight and sore muscles, then you can incorporate our complex essential oil blend into your bath for a natural recovery. This complex essential oil is also a winner if you're prone to migraines.
Enhance Your Soak Today
You can elevate your bathing experience by investing in natural and organic bath products at Source Vitál Apothecary! Our collection of salts, essential oils and powders will enhance your soak.
---