30 "Dirty" Ingredients We Won't Use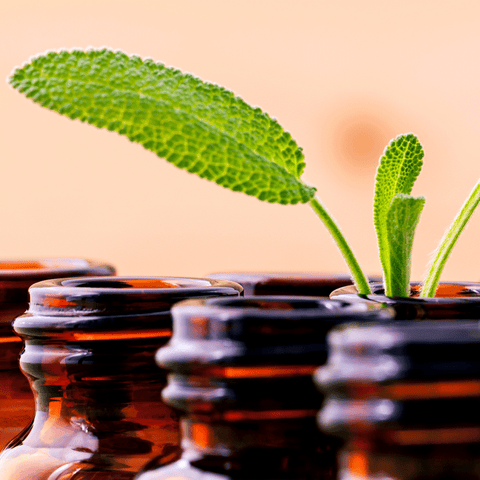 For more than 30 years we've been dedicated to making high quality botanical skin, body and grooming products.
During the past three decades the definition of what makes a "natural product" has gone through a pretty drastic evolution. For one, the public is well educated about ingredient safety and demand transparency about what they are putting in and on their bodies. Technology has also provided us with more sustainable methods to source ingredients. 
From the beginning Source Vitál has formulated our products with high concentrations of natural, effective ingredients. Most product lines boast about active ingredients in the 5-10% range, while our active ingredient list for each product ranges from 35% to 91%. No fillers, just lots of seaweeds, botanicals, mineral salts, clays and essential oils.  
It is very important to us that our products are as clean and safe as possible. Honoring our 30 years here's a list of 30 "dirty" ingredients you won't find on our labels or in our bottles. You can also read more about our ingredient guarantee by clicking here.
30 Ingredients We Avoid
1. Aluminum chlorohydrate
2. Aluminum zirconium
3. Aluminum chloride
These aluminums are present in many traditional antiperspirant deodorants. Some studies have linked them with serious health issues, such as cancer, but there remains to be much conflicting data about whether they actually prove to be unsafe for daily use. We have formulated our natural deodorant without these three ingredients.
4. Baking Soda – A great option for many natural home applications, but we don't use it in our deodorant as it can be irritating to the under-arm region.
We do, however use small amounts of baking soda in our bath salts to keep them shelf stable. Since bath salts are diluted in water, when used, this prevents any irritation.
5. DEA (diethanolamine)
6. MEA (monoethanolamine)
7. TEA (triethanolamine)
These are ammonia compounds that are often added to cosmetics as emulsifiers and foaming agents. Ethanolamines are linked to cancer, organ toxicity, reproductive issues, and skin irritation.
8. Parabens (such as ethylparaben, butylparaben, methylparaben, propylparaben, isobutylparaben, isopropylparaben, and other ingredients ending in -paraben)
Look, the truth is, our cosmetics need some type of preservative system. Without it, any water-based product, like your moisturizing cream, will start to grow bacteria. Gross, right. We have made it a priority to use naturally-derived preservative systems to keep our products safe and stable.
9. BHA (butylated hydroxyanisole) – Preservative linked to cancer and hormone disruption.
10. BHT (Butylated hydroxytoluene) – Toluene based preservative with some data that suggests it caused cancer in animals. Generally, it is considered safe, but we choose. to not use it in our formulations.

11. MIT (methylisothiazolinone) – Widely used in cosmetics as a preservative, MIT is a potential neurotoxin and may impair fetal development. It has also been shown to cause allergic reaction.
If a cosmetic product claims to be "paraben-free", check to see if it contains MIT.
12. Microguard – Used as a preservative in many products. This ingredient is a safety concern because some regard the components in Microguard to be an organ system toxicant.
13. Synthetic Fragrance – You can usually tell if a product contains synthetic fragrance ingredients by the unnaturally strong scent, though some synthetic fragrances are used in "fragrance-free" products to mask scent.
These chemical combinations cause everything from headache and allergic reaction to rash, respiratory distress, and possible reproductive issues.
We rely on essential oils and botanicals to naturally scent our products.
14. Phthalates (such asdibutylphthalate (DBP) or dimethylphthalate) – Phthalates are often used in skin care, makeup, hair care, and nail polish, and are listed by the European Union (EU) as an "endocrine-disrupting compound of high concern". They can also negatively affect fertility and fetal development.
Phthalates are generally not found on ingredient listings because they fall under the federal "fragrance" loophole. But we don't use "fragrance" so there is no fear of phthalates hiding in our products.
15. SLS (Sodium Lauryl Sulfate) and SLES (Sodium Laureth Sulfate) – SLS and SLES are esters of sulphuric acid used to make products like shampoo, face wash, and toothpaste foamy.
They are known penetration enhancers, altering the epidermal structure and allowing other chemicals to more easily sink into skin, and are often contaminated with chemical carcinogens. These ingredients have also been shown to irritate skin and eyes and may cause permanent eye damage.
16. Benzalkonium Chloride – Used as a preservative and surfactant it has been found to be extremely allergenic and can cause soft tissue damage.
17. Formaldehyde – Research has shown formaldehyde to be a carcinogen, a skin and lung irritant, as well as an organ- and neuro-toxin.
18. Urea (such as Imidazolidinyl urea or Diazolidinyl urea)
19. DMDM hydantoin
20. Quaternium-15
21. Bronopol
22. Hydroxymethylglycinate
These man-made synthetics, used as preservatives, may release formaldehyde, a human carcinogen, which can lead to allergic reaction, reproductive issues, and skin and eye irritation 
23. Methoxyethanol – An ingredient used to make products more fluid may cause cellular damage as well as being a potential neurotoxin and causing developmental toxicity.
24. Petrolatum – This petroleum-based moisturizer can be contaminated with impurities that can be detrimental to your health. Petrolatum also can create a barrier on the skin that prevents the absorption of moisture, therefor leading to dry, parched skin.
25. Oxybenzone – An ingredient often found in sunscreens, ranks in as one of the highest risk ingredients according to the Environmental Working Group. Health concerns include skin irritations and the possibility as an endocrine disrupter.

Also look out for these other risky ingredients used in making traditional sunscreens; Benzophenone; Diphenylmethanone; Diphenyl Ketone; Benzoylbenzene; Phenyl Ketone; 2-Hydroxy-4 Methoxybenzophenone; Benzophenone-3; (2-Hydroxy-4-Methoxyphenyl), and Octinoxate.
We choose to go with natural, mineral sources for sunscreen such as zinc and titanium dioxide, which are also safe for coral reefs and other marine life.
26. Talc – An ingredient that has been used for generations, talc can be contaminated with asbestos that can be a respiratory toxin and carcinogenic. It has also been lined to ovarian cancer.
27. Synthetic Colorants – Artificial color ingredients are petrochemicals that are often tested on animals due to carcinogenic properties. They also cause skin irritation, allergic reaction, acne, and possibly ADD symptoms.
Any color present in our products comes from natural sources, such as the vibrant green of Spirulina seaweed, golden Turmeric or the beautiful blue-green tone of Blue Tansy Essential Oil.
28. GMOs (Genetically Modified Organism) – This is a term used widely in foods, but is also a concern in personal care, especially with essential oils and botanical ingredients. Many common crops, like corn or soy, have been genetically modified to ensure more efficient production but some research has indicated that the some of the natural nutrients and essential properties of these plants have been removed through the GMO process.
At Source Vitál Apothecary, we have spent years developing relationships with reputable suppliers that provide documentation stating that they do not use GMOs in any of their products.
29. Animal by-products (such as Lanolin, Keratin, and Placenta Extract)
In addition to not testing our products on animals, and working with vendors committed to the same, the vast majority of the products we make are also vegan. The only exception being honey and beeswax, which are in our lip balms and some moisturizers.
Here are a few of the animal-based ingredients you won't find in our formulas.
Hyaluronic Acid made from rooster combs - ours is vegan!
Lanolin – Other than the humane factor, pesticides may also be present in lanolin via pesticides given to the sheep to prevent them from getting lice and other unwanted pests. Lanolin can also be a skin irritant for some.
Placenta Extract – Used as a source of collagen could prove to be an endocrine disruptor, especially for estrogen and progesterone, leading to hormone imbalances.
30. Palm Oil – A widely-used ingredient, which has caused over farming and potential for deforestation. Palm oil can also be troublesome to the digestive tract when absorbed by the skin. n
Additional Ingredient Efforts
Pharmaceuticals – It is a part of our naturopathic philosophy that many man-made pharmaceuticals, while being a quick fix, can actually weaken and suppress the human immune system, making us more susceptible to illness. Many cosmetics include synthetic, pharmaceutical-grade ingredients that may work on fixing the symptoms of an underlying problem without truly addressing the overwhelming cause.
Rosewood Essential Oil – This isn't a "dirty" ingredient, per se, but we are working to limit, and eventually eliminate, the use of Rosewood oil due to severe deforestation of Rosewood trees. 
Benzoin Essential Oil – Again, there is nothing inherently wrong with this oil. We actually find it to have great benefits for the body, however, we are finding it increasingly difficult to source pure, unadulterated versions of this oil.
Benzoin is a resin that can yield a rich, extremely thick oil. Unfortunately, it is often mixed with carriers or fillers that make it easier to mix into a recipe. This practice is in violation of our internal ingredient standards, so we are working to eliminate the use of this oil until we are 100% confident that we can get the purest, highest quality oil.
---