Holiday Happiness Starts Early: Explore Source Vital Apothecary's Gift Guide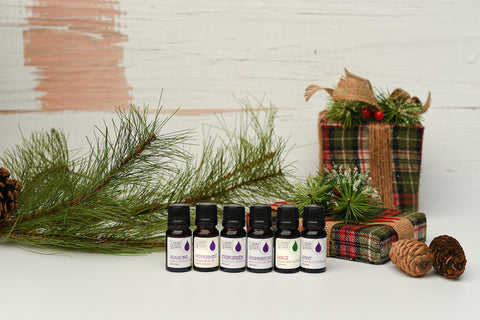 The leaves are falling, and the aroma of pumpkin spice is in the air, which can only mean one thing: the holiday season is just around the corner! While it's true that Santa hasn't donned his red suit just yet, it's never too early to start your holiday shopping. This year, Source Vitál Apothecary is excited to present our Early Bird Holiday Gift Guide for 2023, ensuring you have a stress-free and joyful season.
What's New This Year?
In our effort to help you create special memories and spread joy this holiday season, we're excited to introduce our new gift sets for 2023. These thoughtfully chosen collections are designed to make your loved ones feel truly happy, like the star on top of a Christmas tree.
We've updated one of our best-selling kits this year to include a few new customer favorites for the ultimate in head-to-toe pampering. Say farewell to holiday stress with our Stress Relief Bath and Body Oil. Continue your spa-like experience with our delightful Lavender Body Lotion and invigorating Mint Body Scrub. Finally, recenter your senses with our Balanced Multispray. 
Pick up one for whoever needs a little spoiling in your life. 
This year, we've expanded our Holiday Scents Gift Set to include two more seasonal favorites, our Respiratory Essential Oil Blend (perfect for cold and flu season!) and our Spirit Essential Oil Blend. In addition to our new scents, you'll get to experience our Evergreen and Seasons scents, Magi Essential Oil Blend, and Peppermint Essential Oil. This exclusive 6-piece set encapsulates the cherished holiday moments of feasting, family, and spreading goodwill.
Knock-Your-Socks Off Gifts
Are you ready to turn your gift-giving game up a notch this holiday season? Source Vital Apothecary is here to help you accomplish just that with our dazzling presents that are not only show-stoppers but also heartfelt expressions of your love and appreciation for those special people in your life.
Unwrap the ultimate holiday luxury with our SV23 Phyto Serum. This exceptional serum, featuring 23 plant-based oils, bestows your skin with a youthful, radiant glow – the perfect present for the season of giving.
We believe in the magic of plant-based oils for skin and overall well-being. SV23 is an embodiment of this belief, combining 23 of nature's most potent botanicals, each carefully chosen for its skin-loving properties. This holiday season, share the gift of age-defying radiance, and let your loved ones sparkle with the luxury of rejuvenated skin.
Unwrap the perfect holiday present for budding aromatherapists! Our 10-Piece Beginner Set, featuring 100% Pure Essential Oils and "The Portable Essential Oils" book by Anne Kennedy, is your ultimate gateway to natural wellness.
Simplify the world of essential oils with 10 versatile options that address common health concerns. "The Portable Essential Oils" guide by Anne Kennedy provides ailment-specific essential oil therapies, including insights into 50 versatile oils and 250 remedies. This pocket-sized guide is your ticket to safe, convenient wellness solutions.
This holiday season, share the gift of well-being and empowerment with the Holiday Aromatherapy Starter Set. It's the ideal present for anyone eager to explore the wonders of natural remedies.
Custom Creations for Everyone
The joy of giving knows no bounds, and with our selection of customized gifts,  you can make every present an unforgettable experience. The beauty of customization is that it caters to everyone, from the pickiest to the most eclectic tastes.
This holiday, indulge your loved ones with the gift of personalized self-care through our Customized Body Cocktail. It's more than just a body oil. It's a heartwarming gesture tailored to make their festive season even more special. Crafted from 100% natural botanical oils, this unique blend ensures their skin is pampered with love and care.
Why opt for a Customized Body Cocktail? Because it's a present that offers personalized hydration, addressing their specific needs, leaving skin supple and soft. With a choice of twelve delightful all-natural scents or an unscented option, you're giving a gift that caters to their preferences. Plus, the 4 ounce size means they can enjoy the magic of your thoughtful present for a while. This holiday season, wrap up the joy of self-care and spread the love with a Customized Body Cocktail – the perfect gift for those you hold dear.
This holiday, surprise your bearded and mustachioed loved ones with a special gift: the ability to personalize their grooming experience with our Customized Beard Oil. It's more than just an oil; it's a grooming adventure designed to make them look sharp and feel fantastic during the festive season. For those sporting facial hair, beard oil is the secret to keeping their whiskers healthy, caring for the skin underneath, and maintaining a dapper appearance. 
Our Customized Beard Oil allows them to craft a formula that's uniquely theirs, tailored to their specific needs. The process is as easy as identifying their beard goals, selecting their skin type, adding their preferred scents, and choosing ingredients for further personalization. This holiday, grant them the gift of confidence and impeccable grooming that lets them embrace the festive season in style.
With new gift sets, knock-your-socks-off presents, and personalized gifts for all, we're excited to add an extra dose of holiday magic to your celebrations. From luxurious skincare serums to aromatherapy starter kits, we've curated a collection that promises to light up your loved ones' faces with delight.
This season, make your holiday an experience to cherish. Whether you're seeking age-defying radiance, aromatherapy adventures, or personal pampering, we have the perfect gifts to make your festivities truly magical. So, get a head start on your holiday shopping and spread the joy with Source Vital Apothecary's Early Bird Holiday Gift Guide!
---