2017 Holiday Gift Guide: 7 Safe & Natural Gifts for Everyone on Your List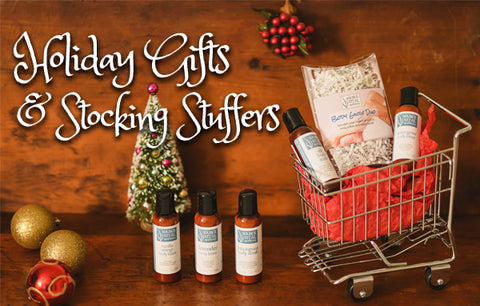 What truly makes this the most wonderful time of the year is gift giving. It really is better to give than receive! We've created seven safe and natural gift sets that will encourage your loved ones to slow down, enjoy life, and spend some time caring for their mind, body, and spirit.

We use personal care products every day to smell great, look our best, and feel ready to take on the world. Skin, body, and aromatherapy products are great gifts because you're giving your friends and family something just for them. And when those gifts are made with high-quality ingredients, you're providing your loved ones a sense of luxury you can't find at the mall.
Simplify your holiday shopping experience with the Source Vital 2017 Holiday Gift Guide. And if you see something you love, it's ok to pamper yourself a little, too!
NEW for This Season
NEW - Body Glow-Duo – $17.95
We love customization, as you can add a personal touch by mixing and matching the perfect gift. Choose from our selection of decadent body lotions and all-natural body scrubs packed with good-for-you ingredients. These items are the perfect size to sneak into a stocking.
Gift Set Includes:
(1) Body Lotion and (1) body scrub of your choice (2.23 oz. each)

NEW - Bath Oil 5-Pack – $19.95

Ah! Let go of life's worries with this ultimate self-care kit. Specially formulated for topical use on the skin or to create a luxurious aromatic bathing experience, our Bath and Body oils offer relief for whatever ails you. Consider pairing this item with our 100% pure Dead Sea mineral salts for an at-home spa experience.
Gift Set Includes:
Analgesic Bath & Body Oil (0.23 oz.) – Soothe achy feet and sore, overworked muscles.
Fluid Reduction Bath & Body Oil (0.23 oz.) – Fight the feeling of swelling and fluid retention. Great for swollen ankles and relieving discomfort associated with hormonal imbalance.
Stress Relief Bath & Body Oil (0.23 oz.) – Use this on pulse points or in a bath to ease the feeling of stress and tension.
Serene Bath & Body Oil (0.23 oz.) – Like an aromatherapy glass of wine. Deeply calming and relaxing.
Renew Bath & Body Oil (0.23 oz.) – Feel refreshed and ready to take on the new day. Great to use after overindulging on holiday sweets and spirits! 

NEW - It's Chilly Outside – $19.95
This gift set is perfect for taking care of skin and health during the winter months.
Gift Set Includes:
Lavender Body Lotion (2.23 oz.) – Perfect to protect skin against the cold.
Peppermint Organic Lip Balm – Moisturize your chapped lips!
Respiratory Inhaler — Breathe easier when your nose gets cold and stuffy.

Classic Holiday Gift Sets & Stocking Stuffers
Shop 'Til You Drop Gift Set – $19.95
From bath salts to body lotion, this gift set is the perfect collection for anyone in your life that deserves a little extra pampering.
Gift Set Includes:
Serene Bath Salts (4.4 oz.) – Perfect for a relaxing bath after all the holiday shopping.
Stress Relief Bath & Body Oil (0.23 oz.) – A special treat to help your body and mind unwind.
Tranquil Multispray (2.23 oz.) – Enjoy a long winter's nap by lightly misting sheets and pjs before bed.
Tranquil Inhaler – A great pick-me-up for any time of the day.
Lavender Body Lotion (2.23 oz.) – Use for soft, silky-smooth skin!

Holiday Skin Care Gift Set –$17.95
Show up to your holiday parties with glowing skin, courtesy of some of our most beloved facial products. This gift set will help cleanse, smooth, tone, and moisturize skin to look healthy and youthful, and it works well on most skin types.
Gift Set Includes:
Algae Deep Cleanse (2.23 oz.) – This peppermint-infused cleanser has reached cult status among our longtime fans.
Toning Infusion (0.23 oz.) – Boost to your complexion with this active face serum.
Silt Scrub (2.23 oz.) – This exfoliant will make your skin feel extra smooth.
Moisture Cream (4.4 oz.) – The perfect go-to moisturizer!

Holiday Bath & Body Gift Set – $17.95
With this set, you get a little bit of everything - making a perfect holiday gift!
Gift Set Includes:
Lavender Body Lotion (2.23 oz.) – Enjoy silky-smooth skin, and enjoy the heavenly lavender scent.
Stress Relief Bath & Body Oil (0.23 oz.) – Conquer holiday stress!
Lemongrass Body Scrub (2.23 oz.) – The lemongrass scent leaves you feeling fresh and clean.
Deozein Natural Deodorant Spay (1.01 oz.) – Meet our best-selling product! This safe deodorant keeps you feeling fresh without any potentially dangerous aluminums, baking soda, or other irritating ingredients.

Holiday Scents Gift Set – $21.95

Who doesn't love the smell of the holiday season? Use any of these essential oils by themselves or make your own special blend to fill your home with the scent of holiday cheer!
Gift Set Includes:
Evergreen Essential Oil Blend (0.4 oz.) – The smell of a Christmas tree forest.
Magi Essential Oil Blend (0.4 oz.) – With Frankincense and Myrrh, this scent pays homage to the Three Wise Men's gifts to Jesus.
Peppermint Essential Oil (0.4 oz.) – Fresh and happy – the perfect candy smell!
Seasons Essential Oil Blend (0.4 oz.) – This combination of cinnamon, nutmeg, and citrus is reminiscent of holiday baking. Yum!
Looking for more gift ideas? Visit our entire holiday collection at sourcevital.com.
Wishing everyone a Merry Christmas and Happy Holidays!
---