Summer Skin Prep & Protect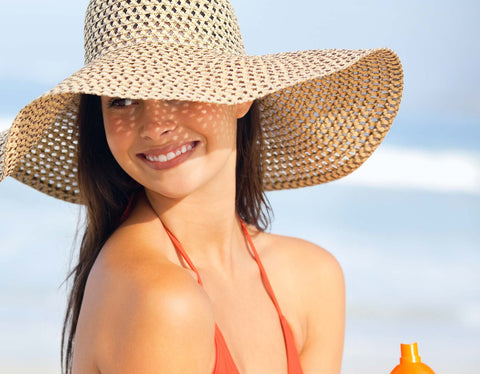 Get Happy Healthy Skin this Summer!
Summertime is the perfect season to enjoy a variety of activities: go to the beach, catch some sun, take a vacation, the possibilities are endless. But one thing is for sure, while we are having fun we tend to ignore our skin.
I know I'm guilty of going swimming and being so tired after the pool that I don't feel like washing off all that chlorine. So that means the next day my skin feels tight and dry and gross. Well, here is a routine that will help prepare your skin to weather the elements.
Cleanse.
First things first, remove your makeup! Sounds silly but this is one of the single best things that you can do for your face. Something as simple as taking off makeup at the end of the day is beneficial because it removes all of the contaminants from the day. Stuff we don't always think about like pollution, allergens, dirt, tar (if you smoke), and don't even get me started on the condition of my full face of makeup after a hot and humid day in Houston. So give your skin a break and get rid all of that bad stuff!
Source Vitál's Micellar Cleansing Water is a perfect product for everybody! If you're the type that religiously washes your face, you will love Micellar Cleansing Water because it is amazing at removing excess oil, dirt, and makeup, especially eye makeup. If you don't like washing your face, you'll love Micellar because you don't have to do anything other than apply the cleansing water to a cotton round and wipe. I suggest using one in each hand so you can clean the face twice as fast. 
Purge. 
So your skin is your first line of immune defense for your body and that means that it is exposed to a lot. If you make a regular routine of really cleansing the face, your skin will love you.
Exfoliate and deeply purify skin at the same time using Source Vitál's Algae Deep Scrub. The scrub contains all the wonderful things you love about Algae Deep Cleanse, but we've added natural corundum crystals and powerful Lithothamnium Calcareum. It's a briny coral-like red alga that provides essential magnesium and calcium that allows the body to get rid of unwanted material. The corundum is effective at gently buffing away rough skin without damaging the skin.
Skin that is cleansed, exfoliated and pure of all impurities will glow with radiance and health!
Moisturize.
The harsh conditions that we expose our skin to can rob our skin of vital moisture. For healthy-looking skin, we must replenish this loss with the correct type of moisturizer suited to your skin type.
Sensitive/Dry/Irritated Skin: 
Source Vitál's Hydrating Infusion paired with Sea Tonic will definitely set your skin up to hold on to some of that moisture! Start by lightly spritzing your face and neck with Sea Tonic, next apply 4-7 drops of the infusion into the palm of your hand, and then add 4-7 sprays of the Sea Tonic into your palm as well.
Apply the combination of the two to your entire face, neck, chest and back of your neck. If you have any left over, apply down your arms as well.
This wonderful facial infusion is specially formulated with 100% pure essential oils and nutritive vegetal oils to naturally hydrate the skin and encourage the look of healthy, supple skin. Try pairing it with one of our Algae Serums for a potent skin care cocktail that will make your skin glow.
Finish with a facial cream like our most popular facial moisturizer, Soothing Cream. Soothing Cream is rich in emollients to soothe the skin, lock in essential moisture and is good for irritated, dehydrated skin.
Normal/Combination Skin:
For those with normal/combination skin, switch out Hydrating Infusion for our Toning Infusion face oil. This combination of natural oils promotes a balanced, clear complexion. The cooling dose of Peppermint provides an uplifting, cooling effect that's great in warm weather.
Finish your face off with Moisture Cream, our lightweight moisturizer that protects skin from environmental damage and quickly soaks into skin without any greasy residue.
Oily Skin:
And we can't forget our friends with oilier skin types! Oily skin still needs hydration. In fact, spending too much time getting rid the oil, only makes the skin overcompensate with even more oil. We battle oily skin with our Oil Control Infusion. This blend brings harmony to the skin, improving the appearance and feel of greasy skin. Apply this with Sea Tonic, using the same method as described above.
Lastly, apply a thin layer of Clear Skin Cream to the entire face, neck and chest. This formula has a powdery-soft finish that people with too much shine love. Plus, the seaweed extracts and botanicals in this formula encourage a clearer looking complexion, especially for congested skin.
Quickly and effectively spot treat any breakouts with our Acne & Blemish Infusion. Those spots will be gone before you know it, without any harsh chemicals!
Now, go face the day, you amazing skinned person you! Go into the sun and enjoy yourself, but please, don't forget your sunscreen. And stay hydrated, because a happily hydrated body results in beautiful skin. ;)
---