Hooray! Sandal Season is Here – Put Your Best Foot Forward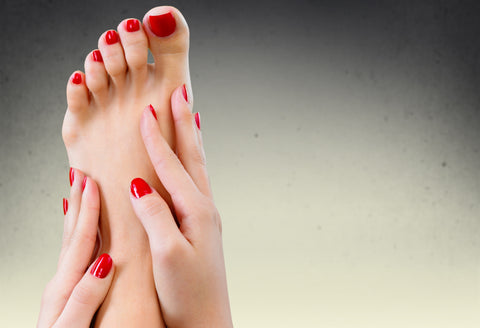 One of the best feelings after a long cold winter and rainy spring is to shed all those extra layers of coats boots, socks, scarves, sweaters, etc. for looser, more breathable summer clothes.
Of course, with that comes sandal season. We've got some great products and tips to help you put your best foot forward.
Here are three main steps to get your toes and feet looking their best this summer:
Exfoliate

Protect

Moisturize
Exfoliation
Before you slip into those flip flops or strap into those sandals exfoliation is a must. No one wants to look at dry, scaly feet!
Source Vitál's Silt Body Scrub to the rescue. This hardworking, yet gentle scrub will leave hands and feeling super soft and silky smooth Dry, flaky, calloused skin will be soft and hydrated. Formulated with natural Colloidal Freshwater Silt, red algae extract and a blend of 100% pure essential oils, this product will be your feet's new best friend.   
Use Silt Body scrub to give yourself an at-home mani/pedi. Massage a generous amount on feet and hands, concentrating on any rough areas and cuticles. If you have the time leave this on the skin for a few minutes to get the most out of all the powerful natural ingredients.
Rinse thoroughly. Now it's time to protect!
Protection
Wearing open shoes and going barefoot makes the feet especially vulnerable to skin irritations. Think athlete's foot, dirt, grime, coulisses and extreme dehydration. This is the time to give both feet and hands an extra layer of protection.
Our Fungal Infusion oil blend for skin and nails protects nail beds from flaking, yellowing and a variety of unsightly common concerns. This powerful blend of natural oils like Tea Tree, Lemongrass and Lavender inhibit the look and feel of fungal infections and promote a healthier appearance for skin and nails. Plus, it smells great and provides essential hydration – no harsh, drying chemicals here.
Massage Fungal Infusion into nail beds and the skin around the nails. Use every day for continued protection and nails that glow. You will see immediate results with this product. If polishing nails allows plenty of time for the oil to absorb, may need to remove any excess residue before adding polish.
Use this to treat hands and feet after getting a mani/pedi service.  
Moisturize
The most essential step for touchably soft hands and feet is moisturizer.
Our Lemongrass Mani/Pedi Cream is rich is Shea Butter, beeswax, seaweed extracts and a blend of powerful essential oils that leaves hands and feet deeply nourished, hydrated and velvety soft. Like Fungal Infusion, this deeply hydrating contains the same essential oils that protect skin from a multitude of irritations.  
Massage onto feet and hands to moisturize, soften and protect skin from environmental damage. The clean, fresh scent is an instant pick-me-up that's perfect for the warm summer months. Love this cream, it also makes for an excellent body moisturizer.
After Sun Soother
It is extremely important to always wear sunscreen, even on overcast days. However, if your feet are stinging from a bit too much summer sun, here are some products to take out the heat.
Cool Body Mask – Another body product that your feet will love. This gel-like formula is instantly cooling to the skin. With Aloe Vera and skin-loving essential oils, this mask is also great for relieving tired feet after walking or standing all day.
After Sun Soother – Take this to the pool, beach or anytime you are going to be in the sun. This fast-acting mist soothes and calms skin exposed to the elements. Point and spray the affected area for quick relief.
These steps will have your feet and hands ready to show off in no time. This protocol is also effective for men's feet and hands. They need some pampering too!
How you prep fingers and toes for the summer? Let us know in the comments below.
---