Introducing Orangemint Body Butter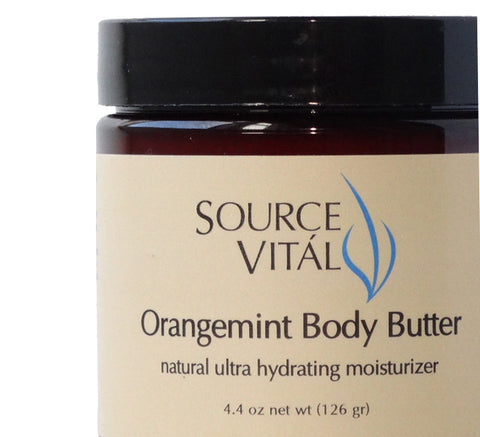 Rich creamy Shea Butter, bright and crisp orange, refreshing peppermint. Our newest body butter is so yummy you may be tempted to take a bite. But don't! This rich body moisturizer has been carefully formulated to pamper your skin with luxurious hydration that last all day long.
Just in time to get your skin in tip-top shape for the summer, Orangemint Body Butter banishes dry flakey skin, ashy knees and elbows for skin that is smoothed, soft and glowing. The best accessory for your summer wardrobe.
While thick and concentrated, this body moisturizer is great for all skin types, especially dry, dehydrated skin, and easily massages into the body without feeling greasy.
Like all Source Vitál products we have packed our body butter with skin-loving ingredients. Natural antioxidants guard skin from environmental pollutants for healthy, youthful-looking skin and 100% pure essential oils add a lightly sweet and stimulating scent that's great for mind & body.
Pure Plant Botanicals
Shea Butter, beeswax and other natural emollients guarantee long-lasting, deep hydration. Cucumber, aloe vera, green tea, ginseng and elder flower extracts soothe, calm and protect the skin from free radicals, environmental damage and other irritants that can make the skin look dull, lifeless.                                                                                                                      
Seaweed/Algae
Orangemint Body Butter is enriched with laminaria digitata, a brown deep water algae that is the ultimate superfood. Considered to be the one true, whole food source on the planet, it is rich in vitamins, minerals, trace elements, beta carotenes, amino acids and enzymes. These seaweeds help to feed the skin with the vital elements needed for good health.
100% All-Natural Essential Oils
Citrus oils and peppermint are some of the most popular essential oils in aromatherapy because they smell great and offer great skin benefits. Orange essential oil smells just like a fresh cup of orange juice. It balances the skin and uplifts the spirits. Peppermint is instantly cooling (great for the hot summer months) and stimulating to the skin and the senses. Additionally, peppermint is known as a natural insect repellent!
We offer one of the most active lines on the market. With one use you will immediately see and feel the difference.
Orangemint Body Butter is available in three sizes.
Full Size: 4.4 oz. $28.95 

Travel: 1.2 oz. $12.95

Professional: 16 oz. $79.00
Source Vitál Tip
Get the most out of Orangemint Body Butter by pairing it with one of our body exfoliators such as Silt Body Scrub. Prep skin by gently sloughing away dead skin cells and then lock in moisture with a thin layer of the body butter. This will give you healthy-looking skin that has that lit from within glow. Ready for shorts, summer dresses and even bathing suits.
Don't forget about the fellas, this body butter is also a great option for men.
Click here to give Orangemint Body Butter a try today!
---