Celebrating Nature's Gifts This Earth Day With 22% Off All Skin, Body & Aromatherapy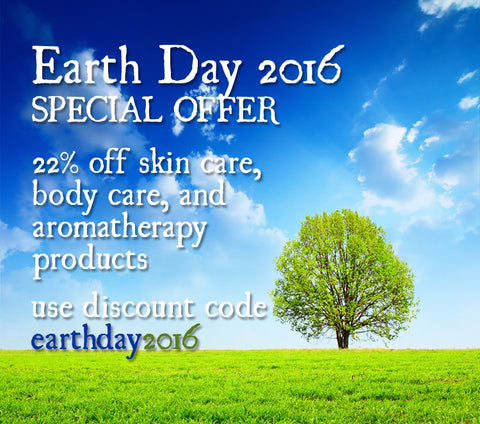 The Earth and its oceans are at the core of each and every Source Vitál skin care, body care and aromatherapy product.
Our active ingredients are gifts straight from nature: seaweeds from non-polluted waters, plant-based botanicals and 100% pure essential oils.
We believe in a holistic approach that relies on the bounty of the lands and seas to feed skin, body and spirit with all of the vital nutritional components needed to function at an optimal level. What we put into each bottle and jar works with the skin and body, not against it.
That's why every day truly is Earth day for us, so in honor of this recognition, we're offering 22% off all skin, body and aromatherapy products, with special reduced shipping of $4.22 (it is April 22 after all). 
If you want to get into the spirit, here's a look at some of our favorite "earthy" products.
Earth
Remember the fun and freedom of playing in the sand or making mud pies as a little kid? We can help you channel your inner child with some of our favorite "dirty" products.
Algae Deep Cleanse – One of our most popular products, Algae Deep Cleanse is a rich seaweed paste that may look a little scary but actually feels divine on the skin. Peppermint tingles while the seaweed deeply cleanse pores to give you a fresh and clean-looking complexion.
Silt Scrub – Actually kind of looks like dirt, however that's just the colloidal freshwater silt, which contains naturally-occurring humic acids that offer the same benefits to the skin as glycolic acids. Use this gentle exfoliator once a week to help the appearance of blemishes and smooth away dull skin. Also available in a special formulation for the entire body.
Fango Facial Scrub – This is a powerful, yet soothing, combination of seawater, marine sediments and essential oils micro-exfoliates for smooth, clear-looking skin. Perfect for oily, congested and acne-prone skin.
Air
It's amazing what simply stopping and taking a deep breath can do for the spirit. Aromatherapy is a great way connect with your surroundings or get away from whatever problems your lugging around.

Essential Oils – We search the world for the finest. Most effective and highest quality essential oils. Take advantage of today's special to stock up on your favorite oils or get start up a home kit. Some of our favorite oils are Lavender, Peppermint, Lemon, Rose, Orange, Jasmine, Tea Tree, Ylang Ylang, Eucalyptus and Frankincense.
Or try one of our specially-formulated essential oil blends that are perfect for a much-needed pick-me-up or use in an aromatic diffuser to feel like you are instantly transported to a spa retreat.
Water
The foundation of our bodies and essential for life, purified water is the beginning for many of our products.
Micellar Cleansing Water – Our newest product, micellar water has been used for over a hundred years to gently cleanse and purify the skin. Our take on this cult beauty favorite is the ultimate multi-purpose product offering a face cleanser, makeup remover and hydrator in one. The perfect essential to take with you on your summer travels. Plus, it's great for men too!

An aromatic bath can enhance your emotional, intellectual, spiritual and physical well-being. Transport your mind and body with our collection of Bath oils and Bath salts formulated with pure essential oils and salts from the Dead Sea. Once you give these a try a normal bath will never do! Now's the perfect time to try out Complete Bath Oils/Dead Sea Salts Set.
Fire
Fire can both destroy and renew. For us, we are all about taking the heat out of painful skin irritations. We never use harsh chemicals and always aim for skin that is calmed, smoothed and comfortable.

Soothing Cream – Our best-selling face cream, Soothing Cream, relies on the soothing and comforting properties of Lavender, Chamomile, Immortelle, Aloe Vera extract and rich Shea butter for velvety-soft hydration. This is a great product to use on chapped, wind burned, irritated and aging skin.  

First Aid Products – Take the sting out of minor burns, bug bites, rashes and other minor first aid injuries with our all-natural first aid remedies. They are instantly cooling and smell as good as they work!

After Sun Soother – The best defense against sunburns (and skin cancer) is before you go outdoors but if you find yourself with a little too much glow our After Sun Soother is what you need. This fragrant soothing mist enriched with Aloe Vera, algae extract and essential oils cools sunburns, chapped and irritated skin. A must have for your summer travel bag!
After Shave Soother – Say goodbye to razor burn with this new product formulated specially for men. Cucumber, aloe vera, algae extract and essential oils balance, soothe and protect the skin all in this one product. Also a great face moisturizer for those days you don't feel like shaving. Give it a try along with our new Orangemint Natural Shaving Cream and our best-selling Deozein natural aluminum-free deodorant, in our new Men's Personal Care Trio Set.

Shop now for 22% off and enter promo code earthday2016 at checkout. Share your appreciation for the Earth's bounty and share this offer with friends and family. Remember this promotion is good for today (4/22) only!
Here's a few more reasons to shop with us on Earth Day (or any day):
Source Vitál is completely cruelty free, we never test products on animals and in-fact many of our products are safe for use on pets.
We do not use any synthetic fragrances, scents or colorants and our products do not contain any GMOs or harsh chemicals.
Plus, you can feel good knowing we always use environmental-friendly packaging that is accepted by most curb-side recycling pick-ups or bottled in glass containers that can easily be reused at home.
---