5 Effective Ways to Unwind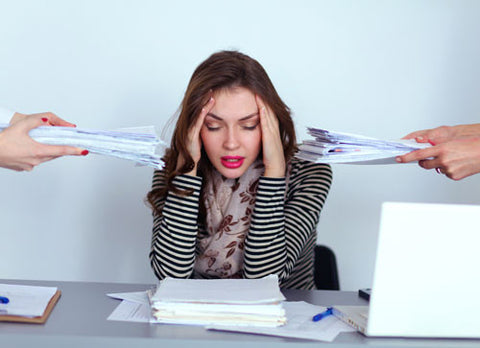 Between work and kids and buying groceries and trying to get that run in and offering to stay late to work on a special project and cooking dinner every night (or trying to choose which take-out restaurant to order from), life can be pretty stressful.
Sometimes you just need to relax, unwind, and turn your brain off. We feel you. And we're here to help. Try these five simple and effective tips to be less stressed.

1. Relax in the tub
Who doesn't love a nice warm bath? Whether you have time for a bath once a month or once a week, it's always nice to soak and let your stress melt away. Next time you take a dip in the tub, try adding in some bath salts or bath oils, like Stress Relief Bath Oil. Add a healthy 25-50 drops to bath water, light a candle and soak for 20 minutes of relaxing bliss. You can also try adding a special blend like Silt Bath Stress Relief for a luxurious spa-at-home feeling. All-natural Colloidal Freshwater Silt and a blend of pure essential oils like Lavender, Pine, Basil and rare Melissa can help you chill out while enhancing your skin and improving total well-being.
2. Diffuse and de-stress
At Source Vitál, we are big fans of aromatherapy diffusers. They are an easy way to spread soothing aromas throughout a room, transforming any space into a spa. Whether you use an electric diffuser or simple reeds, diffusers are a helpful way to decompress with ease. Just use a few drops of your favorite essential oils, breathe in and let the scent carry you to your happy place. Some of our favorite oils to unwind are: Lavender, Basil, Geranium, Rosemary and Chamomile. Rose is great to lift the spirits when going through emotional stress.
3. Eat well
Eating well might seem like an obvious solution, but we all know it can be harder in practice than in theory. However, when you stay dedicated to your health, your whole body and mind can feel better. Plus, many foods and beverages can aggravate your stress, like caffeinated drinks or excess amounts of sugar. Try eliminating some of these stress-enhancers from your diet and adding in a whole food supplement to give your body a boost. At the end of the day, you'll feel better when you eat better.
4. Exercise
Leave your worries behind and break a sweat. We all know the countless reasons exercise is good for us but it is one of the quickest ways to literally loosen up. It doesn't have to be anything too strenuous either. A 10-minute walk around your office building or stroll around the neighborhood can be effective at clearing the mind and energizing the spirit.
5. Unplug
That's right. We're talking about turning off all your favorite electronic devices. Many of us might joke about unplugging, but how many of us actually do it? Next time you're feeling stressed, instead of running to your phone or laptop or bingeing on Netflix, try stepping away and making time to just be. It's amazing how much easier it is to unwind when you're unplugged.
Finding ways to let go doesn't have to be stressful. From eating well to taking baths, unwinding always starts with first making time for yourself.
Try these tips and let us know how they work for you. Do you have any de-stressing methods of your own? Share the love and comment below.
---