No Foolin' Friday 40% Off Flash Sale – Today Only!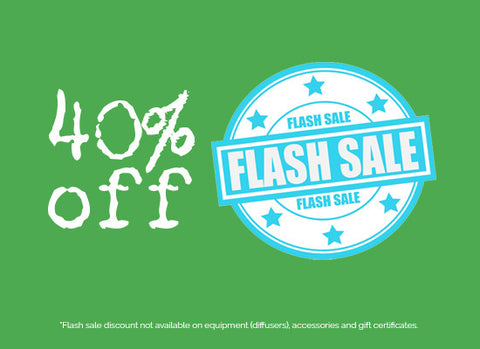 It may be April Fool's Day but this is no joke. Today only enjoy 40% off our entire line of skin care, body care and aromatherapy products
(Use discount code FLASH40 when you checkout).
To celebrate spring shed that dull, winter skin and welcome in the warmer weather with healthy, glowing skin and a positive, energized spirit.
That means exfoliation, hydration and high-quality natural ingredients that are just as good for the body as they are for the soul.
All Source Vitál products rely on ingredients present in or derived from nature and formulated using our unique combination of seaweeds, whole plant botanicals and pure essential oils. We've included the highest concentration of active ingredients of any product line in the market. You will feel the difference and see the difference immediately.     
Now is the perfect time to stock up on your favorite products for skin, body and spirit, or give something new a try.
New & Improved Facial Moisturizers & Eye Creams:
We recommend trying out one of our new and improved facial moisturizers and eye creams. You will fall in love with the smoother, more luxurious textures while your skin will respond to potent ingredients that will effectively protect and hydrate skin.
Naturally Exfoliate:
Add in a good exfoliator to your skincare ritual, like our Silt Scrub botanical exfoliant, and your skin will be in tip-top shape for the season.

Natural Aluminum-free Deodorant:
Don't sweat the small stuff! Our #1 selling product Deozein Natural Spray Deodorant now comes in a new fresh citrus-mint scent. Deozein Zest is free of aluminum chlorohydrate, zirconium and other harmful ingredients common in today's deodorants. Formulated with a unique blend of essential oils such as Lime, Lemon and Spearmint and infused with Laminaria Digitata seaweed extract and Ammonium Alum, this liquid spray eliminates body odor to keep you smelling fresh all day. Perfect for men and women. Some love the scent so much they even use it as a body spray.
New Men's Products:
And don't forget about the men. Our new Orangemint Natural Shave Cream and After Shave Soother are instant hits. 

Orangemint Natural Shave Cream provides a close, conditioning shave and will even help reduce the appearance of blemishes and other skin irritations. Packed with 100% pure Seaweed extracts to nourish and purify, and pure Blood Orange and Peppermint Essential Oils to stimulate the face and spirit, this is not your grandfather's shave cream.
Throw out those alcohol-based aftershaves and give our new After Shave Soother a try. Seaweed extract, Aloe Vera, Cucumber and a proprietary blend of pure essential oils balance and nourish the skin. Plus it smells great!
Shop at sourcevital.com and use discount code flash40 when you check out or give us a call at 1.800.880.6457 (713.622.2190 locally).

Remember 40% off is good for today only, so shop now…don't be a fool and forget to share this discount with friends and family.
*Diffusers, accessories, equipment and gift cards not available for discount.  
---