A Love Letter to Source Vital Products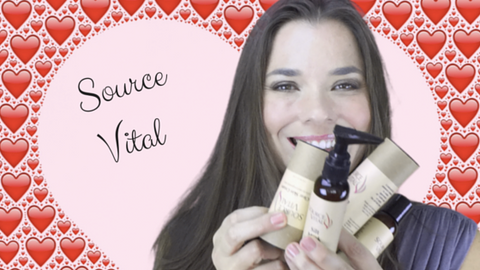 Dear beloved products,
They say you can only have one great love in your life…
But I've gone through several "contenders," and to be honest, most of them have been duds – something you wouldn't, as my grandma would say, "write home about."
I've tried different facial cleansers in my day. I've tried a lot actually, but I've never found one I was entirely satisfied with. Until I met you, Algae Deep Cleanse. Every day that I used you, it felt like a vacation, a day at the spa. I loved the way you smelled with your lavender and peppermint and geranium, all parts of you working to cleanse my skin deep down.
But then I met you, Silt Mask. With your sandalwood and other properties reaching even deeper, my pores had never been so cleansed. I even made a video telling the whole world how I felt about you.
But my skin care routine still wasn't complete. There was another piece to the package. Algae Serum Neroli. I had never met anything quite like you before. I thought my own skin was too – I don't want to be frank, but – too oily for a moisturizer, but how was I to know this serum was the perfect compliment. The oils blended into my skin to create the perfect hydration. It was unlike anything I had ever felt before.
But what about the blemishes? Don't we all have imperfections from time to time? Then I found you, Clear Skin Cream, and you helped heal my skin's imperfections. 
It's not that one of you is better than the other. It's not that we have one and only one answer to all of our problems. I've found that the perfect solution comes in a package. 
And I know now that I can't choose one over the other, but I will take you as you are, because together it just all works.
XOXO
Lori Stevenson
Lori Stevenson is a holistic lifestyle blogger and freelance writer at www.accidental-blogger.com. She writes about "hot topics in the holistic scene" and is a propagator of all things healthful and beautiful. 
---
3 comments
---
---