You're Invited to Our Holiday Beauty Market!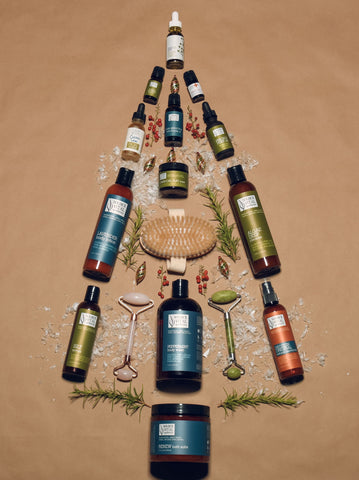 This year in the spirit of celebrating the holiday season as well as supporting small businesses, we've decided to host our first annual Holiday Market in our newly expanded showroom!
On Black Friday, Small Business Saturday, and Cyber Monday (November 26, 27, and 29th) We'll be offering discounts* on Source Vital and Sir Vital Products, as well as showcasing some of our favorite Indie, CBD brands. and much more! 
In addition to some amazing discounts, we will be hosting three raffles and giveaways each day during the holiday market. 
Holiday gift list have you feeling overwhelmed? Not to fear, our 2021 Holiday Gift Guide is here! Find something for everyone on your gift list, and maybe something for yourself too! (You deserve it!) Click
here
 to view our e
ntire holiday assortment. 
*Retail customers receive 40% off in-store Source Vital and Sir Vital Products (excluding holiday kits, starter kits, and travel sizes.) 
Don't know where to start? Let us help! Here are a few of our best selling gift-sets:
The ultimate multi-masking gift set for the skin care addicts in your life or anyone who wants to keep their skin on point in between visits to their esthetician. The kit comes with3 full size, versatile face masks to improve the look of breakouts, combat the signs of aging, and soothe dry, sensitive skin. Gift Set Includes: Charcoal Clay Mask, Ageless Algae Mask, and Matcha Cool Mask
$49.95 (a $74.95 value, you save $25.00!)
The smells of the holiday season brought to you by this delightful set of 100% pure essential oils and diffuser blends. Set the mood for memories of food, family, and holiday goodwill with natural, synthetic-free, good-for-you holiday aromatherapy. Gift Set Includes: Evergreen Essential Oil Blend, Seasons Essential Oil Blend, Magi Essential Oil Blend, and Peppermint Essential Oil $29.95 (a $74.80 value, you save $44.85!)
Give the gift of skin that glows with holiday cheer. This 4-piece set works great for all skin types and includes some of our most popular products to cleanse, care, and moisturize. Gift Set Includes: Algae Deep Cleanse, Silt Scrub, Toning Infusion, and Clear Skin Cream $17.95 (a $59.80 value, you save $41.85!)
Transform the grooming process for anyone who wears a beard with this 2-piece gift set. Our duo includes a minty-fresh face wash and hydrating beard and face oil made with high quality, natural, and organic ingredients. Gift Set Includes: CLEANSE face wash and CONDITION beard oil $28 (a $38.00 value, you save $10.00!)
This 6-piece gift set is all about banishing the feeling of holiday stress. Like a relaxing trip to the day spa, this kit has everything needed to melt away tension and inspire joyful memories. Gift Set Includes: Stress Relief Bath & Body Oil, Stress Relief Body Wash, Serene Bath Salts, Lavender Body Lotion, Tranquil Multi-Spray, Tranquil Inhaler
$24.95
(a $54.70 value, you save $29.75!)
Bring your list, check it twice, and join us at the Holiday Market! We can't wait to see you there!
Houston Beauty Market
1291 N Post Oak Rd
Suite 215
Houston, Texas 77055
---