Sir Vitál's Natural Approach to Celebrating World Beard Day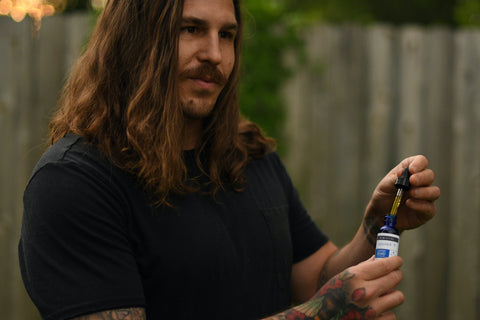 World Beard Day, observed on September 2nd, is a day to celebrate the art of facial hair and the pride it represents. For all the bearded gentlemen out there, this is the perfect opportunity to embrace and showcase your facial locks. And what better way to honor your beard than by nurturing it with the goodness of nature? 
Our Sir Vitál collection offers a range of natural products specially designed to care for your beard, ensuring it remains healthy, vibrant, and stylish. Let's explore how you can celebrate World Beard Day with natural solutions from Sir Vitál.
Beard Cleansing
Start your beard care routine with a deep beard cleanse. Regular cleansing helps remove dirt, grime, and excess oils that can accumulate in your beard. Our Sir Vitál Cleanse is enriched with invigorating essential oils like peppermint and rosemary and provides a refreshing cleanse while maintaining your beard's natural moisture balance.
Shaving and Post-Shave Care
Before you embark on your shaving journey, it's vital to prepare your beard for a smooth glide. Try using our Sir Vitál Condition Beard Oil as a pre-shave oil. This specially formulated oil acts as a barrier between your skin and the razor, preventing friction and irritation. 
Use a high-quality razor and shave cream for a close and comfortable shave. Our Sir Vitál Shave Cream creates a rich and creamy lather that cushions the razor's movement.  After shaving, apply Sir Vitál Soothe to calm and hydrate the skin, preventing irritation and ingrown hairs.
Grooming and Shaping
The key to a well-groomed beard is consistent maintenance. Our Make Your Own Beard Oil is the perfect daily companion in this journey. Using our four-step process you will start by identifying your beard goals, then select your specific skin type, add in your favorite scents, and finish by choosing your own ingredients to further customize your oil. 
Applying a few drops of beard oil not only hydrates and nourishes your facial hair but also tames flyaways and adds a healthy sheen. Massage the oil into your beard and the skin beneath it to promote healthy growth and prevent itchiness.
Finishing Touches
To keep your beard looking sharp throughout the day, invest in a high-quality beard comb or brush. These tools help distribute product evenly, detangle your beard, and ensure it stays in place. Gently comb or brush your beard in the direction of hair growth to maintain a well-groomed appearance.
On this World Beard Day, celebrate the magnificence of your facial hair by embracing a comprehensive beard care routine. Source Vital Apothecary's range of beard products offers everything you need to nurture, style, and flaunt your beard with confidence. Whether you're maintaining a beard or going for a clean shave, these products will elevate your grooming experience and help you achieve the look you desire.
Happy World Beard Day!
---