Video: 5 Minutes to Glowing Skin with Source Vitál Apothecary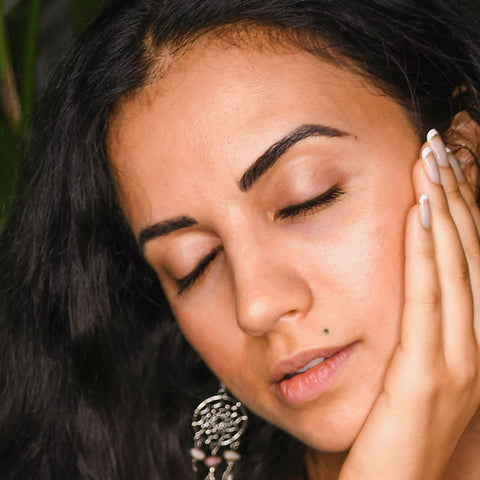 Natural Skin Care Routine for a Radiant Complexion
Who doesn't want radiant, glowing skin? At Source Vitál we know that sometimes you may only have five minutes to give yours self some skin love. Follow this simple and effective skin care routine to promote a glowing, radiant appearance using Source Vital Apothecary natural skin care.
You'll look like you just got back from an expensive facial, and still have plenty of time to get in a good book, meditate or veg out on your favorite TV show before getting some Zzzs.
Beauty Routine for Glowing Skin
Step 1: Cleanse your skin with our mild and creamy Geranium Cleanser. Well-suited for most skin types, this milky face wash promotes a feeling on balance and won't dry out skin or compromise the skin's protective barrier. Gently massage into the skin using vigorous, circular motions.
Made with 100% pure Geranium Essential Oil, known to bring harmony to the skin and senses, Rice Bran Wax and Aloe Vera for moisture and an eco certified cleansing solution that gently lifts away dirt, excess oil and the grime of the day.
Those with ultra dry and sensitive skin can substitute with Lavender Cleanser, and Lemon Gel Cleanser is a great option for those with oily, acne-prone skin.
Step 2: Rinse away the cleanser using lukewarm water and gently pat away any excess water.
Step 3: Keep skin feeling balanced with a hydrating toner. Mist the face with Sea Tonic, a mineral-enhanced water to nourish and prep skin for serums and moisturizer.
Step 4: Hydrate and Protect the skin.
Use 5-10 drops of Restorative Infusion, a specially blended face oil that hydrates with Avocado Oil and Camellia Seed Oil, and helps to improve the look of fine lines, wrinkles and premature aging with Evening Primrose and Rosehip Seed Oils. It also smells heavenly with an essential oil mix of Patchouli, Frankincense, Rosemary and Geranium, that also lend properties to fight the look of aging.
Choose the Face Oil Infusion that's right for you, or cocktail them for a custom face oil blend.
Step 5: Finish with a facial massage by using a Jade or Rose Quartz Facial Roller. Rolling in one direction (not rolling back-n-forth), start from the inner parts of the face rolling outwards toward the hairline, ears or jaw line.
Facial Rolling is a great way to reduce the look of puffiness, smooth out the look of fine lines and wrinkles, and encourage deeper penetration of your serums and face oils.
By now you should be feeling the glow. Cleansed, balanced, hydrated skin.
If you have dry or mature skin, finish with your favorite face cream or a luxurious serum like our SV23 Phyto Serum, made with 23 high-quality, active botanicals.
Glowing Skin Tutorial Video
Below, see how quick and easy it can be to love your skin with our how-to video. And be sure to check out our other videos over on the Source Vitál Youtube channel.
---