Understanding the Full Arsenal of Skin Care Products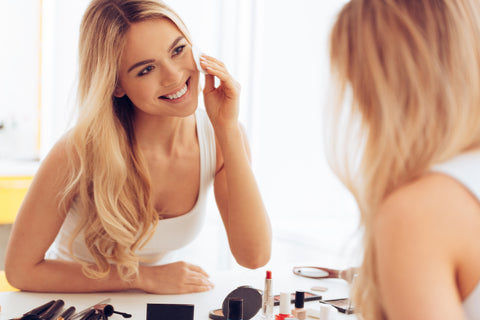 With the plethora of products on the market today, it's important to understand what these products are, how to use them, how often to use them, and identify the correct way to incorporate them into your skin care routine.
CLEANSERS
Cleansing may be considered the most elemental of skin care steps. Lather and rinse, right? Not so fast. The way you cleanse could be doing your skin a lot of good or causing plenty of trouble.
If you are experiencing redness, irritation, or breakouts and can't seem to pinpoint which product is causing the fuss, it's time to take a look at your cleanser.
Types of Cleansers
As with all other skin care products, there are different types of cleansers formulated for specific skin types.
Gel cleansers are great for those with oily skin or when your face needs a thorough cleansing, like after working out. There are milk or cream cleansers that work well on dry skin types and in winter months. Then you have cleansing oils and balms, terrific at removing makeup and clearing pores.
NOTE: Remember, if your skin isn't dirty no one says you have to wash it. A simple splash of warm (not hot) water, Micellar Cleansing Water or hydrating toner may be all it needs between daily washings.
MAKEUP REMOVERS
You know it's important to remove your makeup every single night. Did you know your facial cleanser may not be up to the job?
Makeup is made of oils and is designed to stay on skin. A gel or other light cleanser may not be able to bind to oils in makeup and remove them completely.
The best way to cleanse skin of makeup is with cleansing oil or balm, followed by a daily cleanser. Yes, even for oily skin types. Makeup remover wipes made with natural ingredients, like coconut oil, are also effective and easy on skin.
Have you tried micellar water? Miniscule oil molecules are suspended in water, making it great for removing makeup. Not only does it bind to and whisk away makeup, but cleans the skin without stripping away natural oils.
Simply swipe the skin with a cotton pad soaked in micellar water and follow with a daily cleanser, if you prefer.
EXFOLIATORS & SCRUBS
Dry, dead skin cells build up on the skin's surface, causing clogged pores, blemishes, flakiness, roughness, increased appearance of wrinkles, and uneven skin tone. Removing that dry top layer not only makes skin look better but allows products to better penetrate the skin and do their job.
Regular exfoliation is important to keeping skin healthy, but overdoing this step can cause major damage. Many acne skin care systems, for instance, come with an exfoliation product meant for daily use. That is simply too much sloughing and will cause redness, irritation, inflammation, dryness, and an increase in breakouts.
Once or twice weekly, depending on your skin's needs, is plenty of exfoliating. Choose an exfoliator that works with your skin type.
There are two types of exfoliants, physical and enzymatic.
Physical exfoliants remove the dead skin cells by sloughing them away. You know these as loofahs, exfoliating cloths and brushes, and sugar and salt scrubs. There are also granular scrubs made of ground coffee, nut hulls, fruit kernels, silt, and clay.
HELPFUL TIP: 

A few things to know before you start sloughing:
Always be gentle, no matter your skin type or the exfoliant used

Exfoliating once per week is usually enough, twice if you are experiencing acne or seriously rough skin

Never exfoliate broken or irritated skin.
With physical exfoliants, it is important to choose products that are not overly abrasive, as these can cause tiny tears in the skin, leading to irritation and possible infection.
Save the gritty scrubs for your feet and use a finer exfoliant on your face.
Dry, oily, normal, and combination skin types do well with physical exfoliants.
Enzymatic exfoliants are non-abrasive and ideal for more delicate skin types. Fruit acids and extracts are applied to the skin in mask or peel form, which loosen the sebum that holds the dead skin cells.
Rinse away and skin is silky smooth, no need for scrubbing. This type of exfoliant is appropriate for sensitive skin types (though you may want to limit time left on skin) and mature skin.
TONERS
Not everyone uses a toner. Wondering if a toner has a true purpose in your healthy skin care routine?
Toners are designed to do a variety of things - take that clean feeling one step further, ward off blemishes, balance oil production, or refine the look of pores.
Toners can even be used in place of cleanser when skin simply needs a refresher.
If you are treating oily skin, you'll benefit from a toner with antibacterial properties to keep skin clear.
Those with dry skin should select a toner that includes hydrating ingredients. Toning products made with astringents can be too drying for this skin type and may cause irritation.
Sensitive skin types will want a toner made with skin calming ingredients.
SERUMS
The popularity of serums may be relatively new to the beauty world, but are they ever important. These skin care beauties provide a wealth of healthy skin benefits in a concentrated dose. Made of active botanicals, essential oils, and floral waters, serums come in gels, lotions, and oil blends.
Oil serums are the perfect way to plump and smooth tired, sagging, deflated skin.
Use a calming lotion serum to tone down irritation and soothe sensitivity. Algae serums are well suited to all skin issues, from calming irritation, to balancing oil, to improving radiance.
MOISTURIZERS
Moisturizer is a big deal in any good skin care regimen. All skin types benefit from proper hydration. The key is to choose the right level of emollience for your skin.
There are three main types of moisturizer – lotion, cream, and oil.
Dry skin types benefit from a thicker moisturizer made with hydrating butters like Shea Butter.
Normal to oily skin types do well with lighter hydrators, like Aloe Vera and Coconut oil.
And facial oils work well on all skin types depending on which oils are used.
Yes, some serums are oil blends. If you are using a gel or lotion serum you may want to apply a facial oil on beforehand. There are many different types of oils used in facial oil blends. Lighter oils are used for oily skin types, to offer light hydration and balance.
Richer oils are suited to dry and mature skin types, softening lines and wrinkles and lending deep down hydration.
There are even oil combinations for brightening, smoothing, and treating discoloration.
Typically, a facial oil is applied before your moisturizer. This way, it delivers those skin nourishing benefits deep into the skin.
If you are battling super dry skin, try applying your facial oil and then your moisturizer to seal in emollient ingredients and prevent moisture loss.
Don't be afraid to get a good, nourishing nighttime cream to apply before going to bed. What's so special about a facial moisturizer for night? These are made with ultra-nourishing ingredients that go to work overnight. Plus, you don't have to be worried about greasy looking skin while you sleep.
MASKS
A true treat for skin, masks fix so many beauty problems. If you are getting ready for a big day, battling breakouts, or simply need a skin pick-me-up, this is your go-to product.
If you have oily or acne-prone skin, don't go for the drying effect. Instead, think balance,. Ingredients that regulate oil and clear pores benefit this skin type more than a product that leaves skin flaky and irritated.
Dry skin should use a mask made with hydrating ingredients that soften lines, plump the skin, and boost radiance.
To banish dull skin, try a mask made with fruit enzymes to resurface, even tone, and smooth the skin. An antioxidant-rich mask will prevent damage and restore health to mature skin.
TREATMENTS
Then there are the specialty products designed to treat specific issues. These items contain carefully targeted ingredients to address different skin ailments.
Anti-aging treatments support collagen and elastin, even out discoloration, soften wrinkles, and plump skin.
Sensitivity, due to birthright or circumstance, often responds to specialty products. Items formulated with super mild ingredients that give a soothing, calmed feel, and tone down redness and irritation, benefit upset skin conditions.
Rosacea may not fully go away but can be dramatically reduced with proper care. Learning what triggers your outbursts means you can work to avoid them.
Sun exposure, alcohol, and spicy foods commonly aggravate rosacea. Sun protection, nontoxic cosmetics, and non-abrasive products all keep this skin type calm, as do treatments made with ingredients that cut down on inflammation and tone down redness.
Eczema and psoriasis are often linked to diet. Intolerance to wheat, dairy, and eggs are common. Synthetic ingredients are also known to exacerbate these conditions.
Choose skin care products made with nontoxic ingredients, that are fragrance-free and include anti-inflammatories to calm eczema and psoriasis.
---