Toner: What's Standing Between You and Clear, Glowing Skin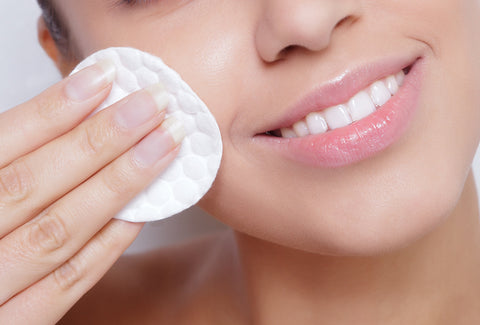 With so many beauty products cluttering the shelves these days, it's easy to get caught up in the latest and greatest. However, there is one product that has been around forever that often gets overlooked: toner!
What is a Toner, anyways?
In general, toner is a water-based liquid that can contain a host of different kind of ingredients from skin-loving plant extracts and essential oils to less desirable ingredients like alcohol, which can be irritating and drying for the skin. Toners are helpful at removing surface debris like oil and any remaining makeup left behind after cleansing. Some formulas of toners can soothe irritation and the look of redness and inflammation, reveal a smoother complexion, and diminish the look of blemishes and large pores.
Essentially the function of a toner is to complete the cleansing of the skin, removing all dust, pollution and impurities that could still be lingering after washing your face. The result is plump, glowing skin.
After cleansing, the skin can become a bit dry. This is the reason why it is important to use a gentle toner to help calm the skin. Traditionally, toners have been used to restore the pH balance in the skin after cleansing. The pH balance is a measurement of how of the acidity or alkalinity of a substance. For your skin, pH concerns the internal fluids that affect every cell in our bodies. Your pH is measured from 1-14, with 7 being neutral. Anything above 7 is alkaline and anything below 7 is acidic.
With that being said, the skin's optimal pH is 5.5, which keeps the skin looking radiant and also resists harmful bacteria. When the skin become too alkalinic it can become dry and brittle. Using a toner will help to recalibrate your skin to the optimal pH level, effectively balancing the skin and returning it to harmony.
Toners can also help other skin applications penetrate more rapidly. Think of toners as a primer for the rest of your skin-care routine.
Do You Really Need Toner?
The real question, are toners just a marketing tactic or do we really need to add the to our skin care routine? We probably all remember rubbing a super harsh astringent on our faces as teens. That cool tingly effect feels very satisfying, but could upset acne-prone skin even more.
The good news, toners have come a long way. Most brands have developed more gentle, nourishing formulas that do not contain harsh, ingredients that disrupt the skin's balance and can lead to signs of aging. Today's toners have become a way to hydrate the skin and are packed with active ingredients to pamper and soothe the complexion.
So yes, you really need toner. They are a great addition to a skincare regimen for those who need help with oily skin or large, clogged pores or want a nourishing formula that helps to make their other products perform at their best. Coupled with a good cleanser and moisturizer, toner can make a huge difference for your skin.
Why Ours are Different
Source Vitál Apothecary's Toners are unique and potentially unlike any you have used in the past. We think toners should be active and promote change in your skin, all the while keeping the skin's delicate pH balance.
Harsh toners can strip the skin of its essential nutrients and moisture. Many toners claim to control excess oil and prevent blemishes, but contain harsh alcohols, which completely strip the skin of essential healthy oils and can potentially make matters worse. You don't want your skin to be too dry because this actually leads to the production of more oil as a defense mechanism. When you irritate the skin's surface, you interrupt its ability to heal, which can lead to more breakouts.
The goal is to control oil, not get rid of it. Look for toners that are alcohol-free to avoid further drying out your skin. 
Best Practices
Toners provide the most benefits to your skin when used after a hot shower because steam opens up the pores. Smooth a small amount across your face and neck after cleansing your skin and before any serums and treatment products.
Toners are safe to apply both morning and night (unless the toner is an alcohol-based astringent), especially if you are oily. If your skin if on the drier side, stick to using toner just at night.
During the warm summer months, a skin toner can also come in handy to combat breakouts from sweat or sunblock. If your skin is suffering from oiliness during those sticky summer days, you can really benefit from using a daily toner. In the cooler months, it can be helpful to remove dry, dull skin for a fresher complexion.
Aromatic Emulsions
From the basic seawater mist to the purifying emulsions, Source Vitál's toners will trigger positive changes to your skin. Our Aromatic Emulsions are non-alcoholic and thus do not dry out the skin. Made with carefully chosen ingredients, such as vegetal and essential oils, these toners nourish and balance the skin for an even, clear complexion. The unique formulas also comfort the skin and heighten the senses with special aromatherapy blends. Use regularly to reveal glowing, healthy skin.
What is healthier for your skin than feeding it sea greens? Our Sea Tonic is made with skin super foods that are rich in vital minerals, giving a nourished, balanced feel to your complexion.
Made with dead seat salts, this mist helps draw moisture from the air, giving the skin a perky look and a supple feel. This easy-to-spritz sea tonic is perfect for all skin types to remineralize, soothe and energize your skin. Use to increase absorption of other skin care essentials, as a refreshing facial spritz after a long day at work, or to set your makeup with a quick spritz.
Made from a carefully formulated blend of oils, Aromatic Emulsion Balance is so much more than your typical toner. Once you witness how it benefits your complexion, you won't be able to resist adding it to your regular skincare routine. This lightly hydrating blend instantly soaks into the skin. Say goodbye to dryness and an uneven complexion and prepare your skin to better utilize your next skin care steps.
With regular use, this emulsion brings out the best in your skin, revealing an inner glow and youthful, balanced appearance. Skin will feel renewed and silky soft. Including rosemary, lemon and lavender essential oil, the delicate floral, citrus scent instills a calm state of mind.
If you have oily, congested or acne-prone skin, Aromatic Emulsion Pure is for you. This formula is made with our special natural essential oil blend that helps to diminish blackheads and blemishes, giving a refreshed and balanced look to the complexion. Skin will be clean, calm and rejuvenated, without a greasy residue or shine.
Aromatic Emulsion Pure is great for keeping your pores clean. Use after a hot shower, as steam opens up the pores. It is best to apply on areas of congestion in order to soften whiteheads, blackheads and help clear the skin.
Aromatic Emulsion Dry/Sensitive
Just because you have dry or sensitive skin doesn't mean you shouldn't be able to use a toner too! Improve the appearance of dry, sensitive skin with this natural, soothing facial toner. Dry skin tends to feel tight and uncomfortable, often producing a red and irritated complexion. Your skin is calling out for some moisture and hydration.
More like a facial essence, this emulsion makes use of skin calming essential oils like Tanacetum Annuum and natural moisturizers to offer a quenching boost of hydration. This toner also works quickly to diminish the look of redness whether from rosacea or neglected skin. While this version is suitable for all skin types, it is especially beneficial to dry, sensitive and upset skin.
---