To Spa or Not to Spa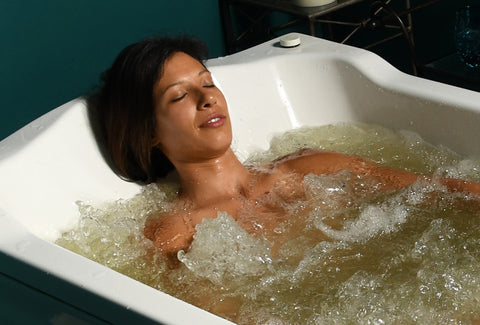 To spa, or not to spa … that is the question. The answer – yes! Spa treatments can provide a multitude of benefits, whether it be unwinding after a long stressful day at work, caring for the health of your skin, looking your best for a special event or relieving aches and pains. Spa visits may feel like a luxury but they can be very practical. Here are 5 benefits that a visit to the spa can do for you.
Stress Management
Stress seems to build much more quickly than we want or anticipate, so it's important to think about how we can manage the stress in our daily lives. Massage therapy is one of those remedies that helps manage the effects of stress. Our body can hold on to tension, resulting in stiff joints, tight muscles, headaches and even insomnia. Regular massages can lessen many of these symptoms and teach the body how to let go of negative energy.

We love the Signature Massage at Sanctuary Spa Houston. Technicians take a consultative approach to develop a massage plan that is best suited for you and your needs. Whether it be Swedish, Deep Tissue, Sports, Lymphatic, or any combination of techniques, you will receive a customized massage that is designed to best help manage your personal stresses. After this treat your body, mind and soul feel restored.

If you can't make it to the spa, find your bliss with some aromatherapy. Our aromatherapy-on-the-go products make it easy to take a few moments to give your soul some TLC.
Pain Management
Massage therapists are expertly trained to understand body mechanics and can offer a safe and soothing way to manage a host of bodily aches and pains. Whether you are dealing with a sports-related injury or suffer from a chronic pain condition like arthritis or fibromyalgia, a trip to the spa can be just what the doctor ordered. Just make sure that you first consult your physician, go to a licensed massage therapist and let them know about any limitations you may have.
Aging Gracefully
Ah, there is nothing quite like a great facial. The post-facial glow is so glorious we all try to bottle it. Truth is, it's pretty difficult to get the level of precision and clean without the help of a professional.

Similarly, like massage therapists, estheticians are trained and licensed experts. They are armed with the knowledge of advanced application techniques and have both the training and access to steam, specialty equipment and spa-grade products that are developed to produce visible and lasting changes in the skin.

The special care provided by estheticians also goes a long way to keeping the signs of aging at bay. Facial massage and exfoliation stimulate facial tissue, bringing life-giving Oxygen to the face. A great way to deep cleanse your skin and rejuvenate the appearance is through spa facials like Microdermabrasion.
This is a safe and effective treatment for smoothing skin texture. You will see a reduction in fine lines, acne scars, burn scars, and hyper-pigmentation. A device propels fine crystal particles onto the surface of the skin to buff away dead skin and imperfections. The vacuum action stimulates blood flow, which helps accelerate the skin repair process while suctioning the crystals from the skin. Unlike chemical peels, there is no peeling or crusting of the skin. This service is recommended to be done in a series of treatments.

Your skin can really benefit by incorporating monthly facials into your skincare routine; however, just because you're not getting a spa facial doesn't mean you can't have a luxury skincare routine at home. Extend the benefits of your facial at home and help fight aging with the Ageless Skin Kit Basic. This kit includes our Lavender Cleanser, Algae Serum Neroli, Soothing Cream, Silt Scrub and Jasmine Eye Balm. Great for dry and sensitive skin, this kit has ingredients that will help hydrate, and diminish the look of aging skin.
Good Hygiene and Personal Care
Some say cleanliness is next to godliness, and there isn't much that can take you to a higher place than the feeling of squeaky clean skin. Regular exfoliation and daily cleansing are a necessary part of our grooming routines that keep our skin in tip-top shape.

Between sweat, sun, and quality time outdoors, our skin goes through a lot during the summertime. To rejuvenate the mind and body and to get smooth skin that's ready for shorts, sandals or even bathing suits chose spa services, like Sanctuary Spa's Sea Salt Scrub that exfoliates and detoxifies the skin.. This scrub's algae extract and essential oils hydrate and exfoliate the body.

A relaxing Seaweed Wrap works to help reduce stress as it re-mineralizes and detoxifies the body. Using seaweed is an effective way to flush unwanted toxins out of the body, which allows healthy cells to function at their best. Body wraps like this are perfect for all skin types and helps soothe dryness, rash, or flaking skin. It's a great way to pamper your body after spending too much time at the office or shuttling kids around town.

Try scheduling body treatments like salt scrubs or body wraps into your routine once every three to four months to prep your skin and soul for changes in the seasons.
In between spa appointments incorporate this essential step into your healthy skincare regimen with our Silt Body Scrub. This gentle scrub purifies and protects skin against environmental irritants. It's made with natural colloidal freshwater silt, bentonite clay and jojoba seed powder to stimulate the removal of dead skin cells and give the skin a renewed appearance.
Seasonal Services
During the winter months we tend to stay indoors more often. While we are keeping out of the sun t is the perfect time to consider a Chemical Peel. This type of exfoliation uses a chemical mask that works to remove dry, dead skin to reveal fresh, rejuvenated skin underneath. Other benefits include the improvement of fine lines for a more youthful look.

Depending on the types of exfoliants used and the strength of the peel there may be a bit of downtime after this treatment. Exposure to sunlight can be damaging, so it is recommended to avoid getting chemical peels in the summer. Make sure you consult with a licensed esthetician to figure out if this treatment is good for your unique skin condition.

After your chemical peel, try our Cool Mask for the face. This revitalizing facial mask is made with skin-calming Aloe Vera and uber-nourishing Laminaria Digitate algae extract. Cucumber and Yarrow extracts have also been added to make skin feel soft and comfortable.

For those with sensitive skin or those who want to try a less aggressive treatment, our Aroma Peel is perfect at-home solution. It is made of all-natural essential oils and works like a much gentler version of a chemical peel. Apply once a week for six weeks to get similar results to a chemical peel, without any of the down time.

Taking time for self care has benefits that are good for the mind body and soul. When we take care of ourselves we are better prepared to handle whatever life throws at us. If you are able, spas can be a wellness retreat that is vital to our health. What are some of your favorite spa treatments? Let us know in the comments below.


---
1 comment
---
---