Three Routines to Get You Back to School Ready with a Healthier Mindset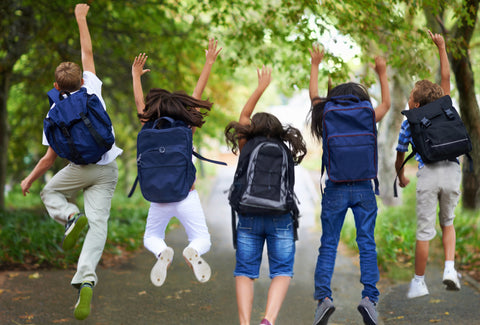 Back to school should be a time of starting fresh. A new year, new routine and new opportunities to create healthy habits. Of course, there's sometimes a little chaos that comes with the territory of figuring out new schedules, but the beauty of creating a new routine is that you have the power to create rituals that will help your whole family live healthier and happier.
Breathe & Move
Yoga and meditation is a daily routine that's beneficial for the entire family. Kids can benefit immensely from practicing yoga, even just for a few minutes each day! From increased focus and body awareness to learning how to breathe and deal with stress, the tools that yoga and mindfulness offer can help kids cope with difficult situations in the classroom. Not to mention the benefits that it offers adults, too. Try this mini-yoga and meditation routine in the mornings before school to get the day started on the right foot!
Three-part breath
Before you start moving, come to a comfortable seat (cross-legged, on your shins, or even sitting on a cushion) and close your eyes and bring focus to your breath. Three-part breath is the perfect way to learn how to breathe deeply, instead of rushing it as we often do in our fast paced society.
To practice, you'll break the breath up into "three parts" — the abdomen, diaphragm, and chest. Start by completely filling your lungs with air, and breathe into your belly, ribcage, and upper chest. When you're completely filled with air, exhale completely.
Repeat for several rounds to reduce stress and get grounded!
Morning yoga flow
Yoga is a great way to get connected to your body, improve flexibility, and increase strength through movement. And, contrary to popular belief, yoga doesn't have to take a ton of time or money. Practice yoga at home for a few minutes each day and reap the benefits. Try this simple routine in the morning to kickstart your day after your meditation session.
 Plan Ahead to Eat Well
The biggest barrier to eating healthy and sticking to our nutrition goals is usually time. It's easy to get caught up in crazy mornings and late evenings where making healthy meals drops off the priority list. The best way to stick with the plan, is to well plan. Meal prepping at the beginning of the week will keep you accountable, ensure the food in your fridge gets consumed, and save you time in the process! Here's a few meal prepping tips to get you on your way to a healthier week:
Stick to your grocery list.
Create staple proteins that can be repurposed into several different meals.
Use storage containers! Mason jars are an easy, affordable option.
Cook all your veggies and sides for the week in one go.
Consider opting for frozen fruits and veggies to lengthen the lifespan of your food.
Use spices and healthy condiments to make your meals more exciting!
Take advantage of your slow cooker and multitask while you make your meals.
Take a Health-Focused Approach
If you've been able to implement the routines above, way to go! But beyond adding new routines into our busy schedules, there are easy ways to make adjustments to our existing routines to make them healthier.
Do you drive everywhere? Consider walking when you can.
Audit the amount of TV and screen time your family has, then set limits.
Be proactive about spending time outside when the weather allows!
Look at the products you use on a daily basis. Shift away from the chemical-based ones and toward more natural options like our First Aid Oil, Multi-Sprays, and even get creative about mixing up essential oil based cleaning solutions.
As the chaos of the new year starts to settle, give these healthier routines a try. You might be surprised at how easy they become part of your normal rituals. What are your go-tos for a healthy new school year?
---