The Benefits and Uses of Ylang Ylang Essential Oil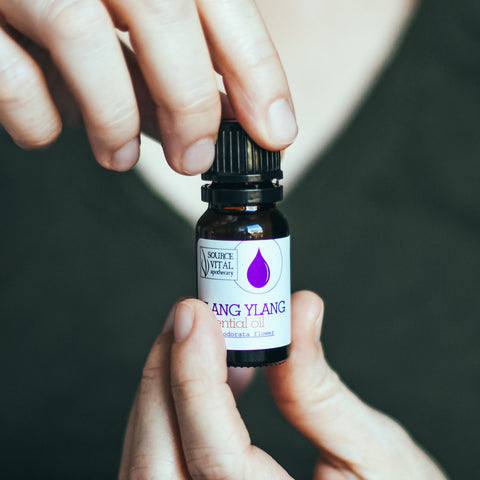 6 DIY Ylang Ylang Essential Oil Blends for Daily Life
Our sense of smell works primarily at a subconscious level. Our primitive brain is immediately and directly affected by the inhalation of aromatic essences. As we inhale essential oils, the micro-droplets are taken in and transformed into nerve messages. These can be used throughout the body to provide benefits or the mind, body and spirit.
When it comes to essential oils, Ylang Ylang is one of the most floral scents in aromatherapy. It translates into "flowers of flowers" and its aroma can be described as exotic, intensely sweet, and slightly musky. A fun fact, Ylang Ylang is one of the main notes in the famous Chanel No. 5 perfume.
The many uses and benefits of Ylang Ylang essential oil can be enjoyed when used aromatically, as well as topically. Below are our some of our favorite ways to incorporate this multi-use oil into your daily routine.
Set the Mood
Ylang Ylang essential oil's floral, uplifiting, scent makes it ideal for creating a romantic environment. It can act as a natural aphrodisiac, as well as encourage feelings of love and attraction.
Ylang ylang essential oil is ideal for diffusing in the bedroom, and we also love using it in massage. Try making your own romantic massage blend to open the heart to receiving love and share with that special someone.
"Where there is love" Massage Blend
6 drops of Ylang Ylang essential oil
1 drop Jasmine essential oil
5 drops of Palmarosa essential oil (or use 1-2 drops of Rose essential oil for a truly luxurious oil)
3 drops of Lavander essential oil
2 drops of Geranium essential oil
1 ounce carrier oil (such as coconut oil or safflower oil)
Balance Emotions
Ylang Ylang essential oil can help relieve the sensations of tension and stress by encouraging child-like playfulness and freedom. The aroma can help soothe the mind and calm the feelings of anxiety, anger and worry – something we can all use right now!
Adding this oil to an unscented body lotion or to a bath can help induce feelings of calm after a long day.

"Tension Release" Bath Blend
2 drops Ylang Ylang essential oil
2 drops Frankincense essential oil
Mix in the bathwater with some Dead Sea Salts and soak away your worries for 15-20 minutes.
Fight Fatigue
Ylang Ylang essential oil is also a great choice for boosting energy and enhancing your mood.
It can act as natural energizer and help you to re-emerge to tackle any task at hand. Combined with a citrus oil, Ylang Ylang can aid in getting you through the 3pm slump.
Diffuse this blend at work (or when working from home) to keep you productive and creative. 
Energy Boost Diffusion Blend
2 drops Ylang Ylang essential oil
2 drops citrus essential oil of your choice (we recommend Lemon, Orange, or Grapefruit essential oil)
Tackle Acne-Prone and Oily Skin
When it comes to the skin, Ylang Ylang essential oil can have a balancing effect on overly oily skin. For those with oily skin, prone to acne breakouts, Ylang Ylang can improve the feel of oily, greasy skin by promoting a sense of harmony that allows the skin to naturally balance the amount of sebum produced.
It also helps soothe and calm breakouts and promotes a beautiful natural glow to the skin.
Add a few drops to your facial cleanser or create your own DIY toner/spot treatment.
Cleansing Toner or Spot Treatment
2 drops Ylang Ylang essential oil
2 drops Tea Tree essential oil
2 tsp Witch Hazel
Promote Healthy Hair
Reveal healthy, thick-looking, shiny hair by incorporating Ylang Ylang essential oil into your hair care routine.
Ylang Ylang essential oil contains properties that boosts circulation to the scalp, which stimulates hair follicles that contributes to healthy hair growth.
It can also help prevent tangles and may also reduce scalp itchiness and the appearance ofdandruff.
Add a few drops to your conditioner to enhance shine or make your own scalp treatment!
Strengthening Hair Blend
10 drops Ylang Ylang essential oil
10 drops Rosemary essential oil
10 drops Lavender essential oil
½ cup liquid Coconut Oil or Argan Oil
Add to a squeeze bottle, shake well to combine. Apply to hair and scalp and massage. Leave on hair and scalp 1-2 hours before washing hair.
Ease the Feeling of PMS symptoms
Ylang Ylang essential oil can naturally ease some of the unpleasant symptoms associated with PMS. Use during that time of the month or just prior to menstruation to help relieve the feeling of stiffness, pressure, aching, and cramping when applied on the affected areas combined with a carrier oil.
Try this massage blend to support healthy feminine health. *Note, this oil is for topical use only.
Menstrual Relief Blend
5 drops Ylang Ylang essential oil
3 drops Lavender essential oil
1 drop Clary Sage essential oil
2 tbsp Carrier oil of your choice (such as safflower oil)
Apply to abdomen and lower back, or any other affected areas.
Ylang Ylang essential oil is a perfect addition to your daily life. It can help reduce unpleasant feelings and emotions, and heighten more positive ones.
Do you have a favorite way to use Ylang Ylang? If so, share it with us in the comments section below.
 ABOUT THE AUTHOR
Tr
acey Ellis is a beauty enthusiast with over a decade of experience in the beauty industry. You can find her in the lab, manufacturing Source Vitál Products. Tracey is a New Yorker living in Texas and spends her time cooking and spoiling her miniature husky, Tabasco.
Shop Ylang Ylang Essential Oil:
---