That Time When We Formulated Our First Product - Jasmine Eye Balm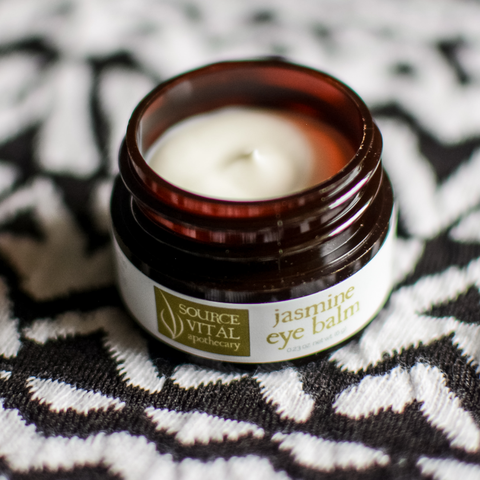 Did you know Source Vitál's first product was an eye cream?
The legend as told to us from our founders, Jerry Pope and Brea Gratia, recount them mixing up perspective batches in the kitchen at their home in Houston, Texas. Their daughters say they remember bowls of it scattered around until they created a version that met their standards.
Jasmine Eye Balm
The result was a thick, emollient cream with a balm-like texture. Featuring high-quality natural ingredients such as ultra-moisturizing Shea Butter, mineral rich seaweed extracts and precious Jasmine Essential Oil, both professional and retail customers have loved this luscious cream from the very beginning. 
One of the first signs of aging starts with the delicate skin around the eye area, so it makes sense that we would look to the eyes as a starting place for an incredible skin care routine. 
Customer Reviews for Jasmine Eye Balm
Don't take our word for it, check out what some of our customers have to say about our legendary eye cream. 
Great for my eyes and my relaxation!
"I received this in a beauty box, and loved it so much I purchased it again. I use it at night, and it makes a noticeable difference in my eyes—in the morning they look brighter and less saggy/wrinkly. The wonderful fragrance really relaxes me at bedtime, which is a huge plus!" - Mary G.
So hydrating
"Love this! I found Source Vital through Natch Beaut as well. I can't sing praises loudly enough. Everything I've tried has been too notch, but this product is one of my faves. It's so rich and hydrating, but not at all greasy. And no nasty chemicals! My whole face looks refreshed when I use this on my eyes. A Teeny bit goes a long way." - Kat S.
Loving the feel and scent!
"I am currently on my third pot of this delicious eye cream. My eyes certainly feel treated whenever I apply this creamy balm. Only a little is required and I am moisturized all day. I really love it and it smells divine!" - Ruby S.
If you have a favorite product or story from the past 30 years, let us know and we will feature it as a part of our 30th Anniversary series.
---