Take 25% Off for Amazon Prime Day and Support a Great Cause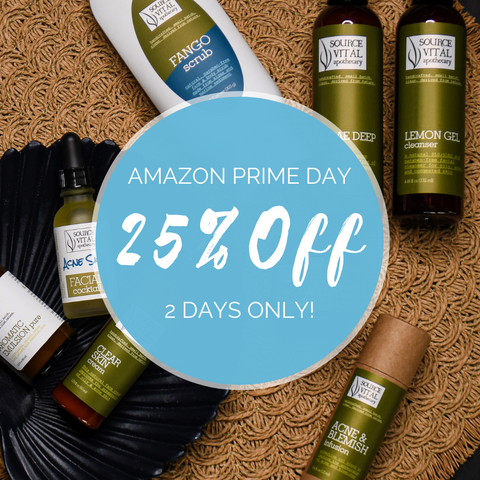 Save on Amazon Prime Day Deals & We'll Donate $1 for Every Order to Support Breast Cancer Prevention Services
Amazon Prime Day deals and shopping for a cause - that's what we call a great pairing.
After being delayed due to the COVID-19 pandemic, Amazon Prime Day is finally here. Now through the stroke of midnight on October 15 you can take 25% off our entire catalog of skin care, bath and body, grooming and wellness products on Amazon* and at SourceVital.com.
And this year, since Prime Day falls during our annual Breast Cancer Awareness Month campaign, we will donate $1 for every order made during Prime Day and the entire month of October. 
Use promo code SVPRIME25 at checkout on either Amazon or SourceVital.com to save 25% off now.
For Source Vitál Apothecary products that aren't on Amazon, such as our Custom Facial Cocktails or Bath Salts, or if the inventory has run out on Amazon, hop over to sourcevital.com, select your products and use the same discount code to get 25% off, plus free shipping on orders over $25.
Click

 

here

 

on Sunday to start shopping on Amazon now.
Click here to start shopping on SourceVital.com.
Prime Day deals end just before midnight on Oct. 14.
What to Stock Up On During Prime Day
1. Best Sellers
25% off those products you use on the reg sounds pretty great, right? All of our Deozein Natural Deodorants are included in this promotion. Choose your favorite scent and formula so you never have to go without!
Don't forget about our amazing facial cleansers - super gentle and effective Micellar Cleansing Water and Algae Deep Cleanse (now with Micellar technology).
2. Fall Must-Haves
Check out our newly revamped facial creams. Seasonal changes mean your skin needs some extra protection. Our line of moisturizers for the face are specially formulated by skin type to nourish and care for the skin.
Clear Skin Cream is a great choice for those dealing with "maskne" breakouts.
Maximum Moisture quickly quenches dry skin.
Soothing Cream is our most popular formula for dry/sensitive skin - plus it smells dreamy!
Age Defying Day & Night packs a big dose of antioxidants to prevent the signs of aging.
MerGel is a lightweight, hydrating formula that protects the skin from environmental damage.
Face Cream Unscented is a great option for anyone looking for a fragrance-free cream or prefers a simpler everyday face lotion.
Click here for more fall favorites.
3. Hand Sanitizer & Good Hygiene Products 
We are all concerned about spreading germs these days. Try one of our natural alternative to hand sanitizer - Cleaner Hands Spray for hands and surfaces, and Cleaner Hands Gel for on-the-go hand cleansing. Both formulas are made with at least 60% alcohol to meet CDC standards, and our exclusive blend of cleansing essential oils to purify and promote good health.
The Cleaner Hands collection also includes our 90% organic foaming hand soap, a bar soap and Cleanse Essential Oil Blend for diffusing or making your own DIY home cleaning solutions.
Bulk sizes and refills are available for most Cleaner Hands products.
4. Customized Products
Visit our website to create your very own personalized formulas for the face and body.
Customized products aren't available on Amazon right now, but you can still save when you shop at sourcevital.com or when you book a private in-person shopping experience at our Beauty Market in Houston.
Design the most effective face oil for your skin type. Mix and match ingredients to make fresh, spa-quality facial masks in the comfort of your own home. Create the bath soak of your dreams by selecting from our amazing aromatherapy blends, and our special natural elixirs to soothe achy muscles and joints, help you relax or hydrate dry skin. Handcraft a special beard oil to achieve the ultimate beard gorals.
The choice is your's.
$1 for Every Order in October Goes to Support The Rose
FACT: The risk of death by breast cancer is reduced by more than 40-percent among women who have mammogram screening.
That's why we're supporting The Rose and their mission of providing mammogram screenings and access to quality breast health care to all women - no matter their ability to pay.
During October - Breast Cancer Awareness Month, we will donate $1 to The Rose for every order, plus an additional $1,000 to the winner of our corresponding Instagram giveaway.
When you shop this month, you'll notice a pink sticker on your products thanking you for giving back to The Rose. 
Spread the Word on
 

Instagram

 

for a Chance to Win Big!

In addition to the donation above, we are hosting weekly giveaways on Instagram. You can enter for the chance to win pink, rose-inspired prizes, plus be entered to win our grand prize that includes a product basket worth $500 and $1,000 donation in your name to The Rose.

Head over to our Instagram feed to support a great cause and enter for your chance to win.  

It's quick and easy to participate:

Step 1: Visit @source_vital on Instagram
Step 2: Like our weekly giveaway post
Step 3: Tag 2 friends
Step 4: Follow @source_vital and @theRoseHouston 

Contest Rules

1. Must have a public Instagram account
2. Enter contest using the steps outlined above
3. One random winner will be chosen each week
4. Grand prize winner will be chosen at random from all weekly entries 

Winners will be announced each Tuesday, with the grand prize winner announced on Wednesday, November 4. Enter today to support a great cause and win some amazing natural products for the skin, body and spirit.

For more information about The Rose and our Breast Cancer Awareness Month campaign click here.

*Must spend at least $15 on Source Vitál products on Amazon to receive discount. Not all of our products are available on Amazon. 25% off discount on our web site is not applicable to accessories (including diffusers), non-Source Vitál or Sir Vitál branded products, equipment, and gift certificates. Wholesale is not included in this promotion
---